Always wanted your own hot tub but not quite flush with enough cash to afford the hefty price tag? Well as long as you've got a few square metres of space in your backyard or balcony (sorry to anyone in a tiny apartment—maybe borrow your parents' backyard?), you can now sink into your very own hot tub—albeit temporarily—thanks to TubFlix, a rental service providing inflatable hot tubs and movie screens to residents of Brisbane and the Gold Coast.
Stop picturing one of those collapsible rubber pools, because these hot tubs may be portable, but they are seriously luxe. Big enough to fit up to four to six people, they've got 120 extra-strong massage jets and soft, padded floors, with water that's heated up to 40 degrees—basically, you'll be in heaven.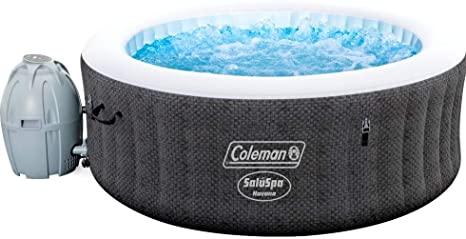 You can hire the hot tub on its own, either for a mid-week session or an entire weekend, but for a truly boujee experience you'll want to add on an inflatable movie screen, complete with a projector and sound screen for a hot tub movie night under the stars. The set up is perfect for a romantic date night, but you can also hire up to three hot tubs (you'll need a sizable backyard for this) for up to 18 people if you want to invite your entire crew over. Just stock up on plastic glasses for the vino and put yourself in charge of the movie choices—you can use any streaming service you subscribe to.
So what it'll it cost you? Well a weekend hire for one hot tub and the screen will set you back $450—but split that between four to six people and we reckon it's pretty reasonable. Happy with an intimate date night for two with a laptop screen? Book in a midweek session for $270 and win yourself some serious points with your significant other.
You can find out everything you need to know, including how much space you'll need, and book yourself a hot tub here.
Here's the best movies on Netflix right now for your movie night.
Image credit: TubFlix
Tags:
what the inflatable hair wash basin for