The Camping and Caravanning Club has partnered with equipment manufacturer Thetford to trial a new device that takes the hassle out of camping's least pleasant task.
The revolutionary Thetford machine is a new way to empty and clean caravan and motorhome cassette toilets in a more user-friendly way than ever before.
The Club will install a Thetford machine at its Kingsbury Water Park Site from 12-18 October, for the duration of the Motorhome & Caravan Show at the nearby Birmingham NEC.
All campers at the 150-pitch site during that period will be invited to try the system free of charge, and feedback on their experiences to on-hand Thetford team members.
The machine is simple and straightforward to use, thanks to step-by-step pictorial instructions. Simply place your toilet cassette system on a platform, and insert it into the machine.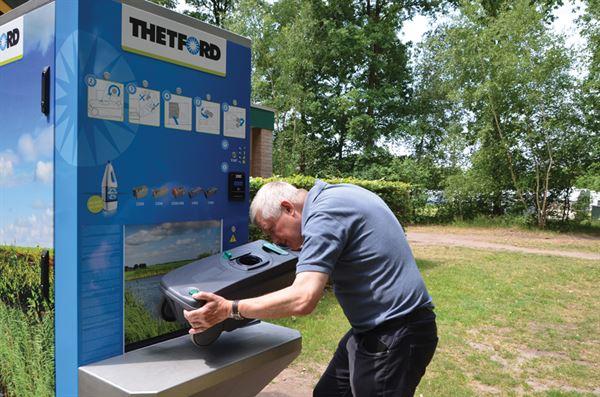 Then, turn the outlet pipe, remove the cap and within three minutes the machine empties, rinses and doses the cassette with toilet chemicals, ready to be used again. Even the cassette tank's cap is cleaned. To ensure optimal results, 2-litres of water is added to the dose of Thetford Aqua Kem blue to dilute the product.
While the machine is free of charge to use during its time at the Club's Kingsbury Water Park Site, ordinarily it would require swiping a Thetford pre-pay card or contactless payment card.
In Holland, where the machine is being trialled on 10 campsites, the cost for a single use is currently 3.50 Euros. If the machine is rolled out across UK campsites, the cost of use would be determined by the findings of this trial, as well as feedback from UK campers including those at Kingsbury.
There will also be a display model of the machine on Thetford's stand at the Motorhome & Caravan Show from 13-18 October (Hall 20, stand 52).
Bob Hill, Club Sites Director, said, "We're keen supporters of new developments in campsite technology, so we're excited to see what kind of response the machine generates from our members."
Paul Martin, Thetford Commercial Executive, said, "We're delighted to partner with The Camping and Caravanning Club for this exclusive UK first trial of our machine. The response has been hugely positive from ongoing trials in Holland, and we're confident it will be received just as well here in the UK."
Want to stay on a great campsite? Use ourCampsite Finder for the perfect motorhome stopover.
Tags:
how to install a thetford cassette toilet