By Sophie Hirsh
Feb. 2 2022, Published 4:59 p.m. ET
Despite the word "flushable" being used to market endless different brands of wet wipes, they typically are not actually so. In fact, wet wipes usually contain synthetic fibers (aka plastic), and they are often one of the worst culprits when it comes to sewer system clogs (fatbergs, anyone?).
Fortunately, there are a few inventions that aim to reduce the public's use of wet wipes — for instance, there's Pristine Toilet Paper Spray, an innovative and eco-conscious product that appeared on Shark Tank.
Article continues below advertisement
Keep reading to learn more about this spray, how the company did on Shark Tank, and a few other products that will help you keep your derrière clean with zero waste.
Pristine Toilet Paper Spray is a sustainable alternative to wet wipes, as seen on 'Shark Tank.'
Founded by first cousins and attorneys Brandon Karam and Jessica Karam Oley, Pristine Pristine Cleansing Sprays is the business behind Pristine Toilet Paper Spray, a product that you can spritz onto a piece of toilet paper before wiping, essentially turning any piece of TP into a wet wipe. After using, it's totally safe to flush down the drain, unlike actual wet wipes.
Article continues below advertisement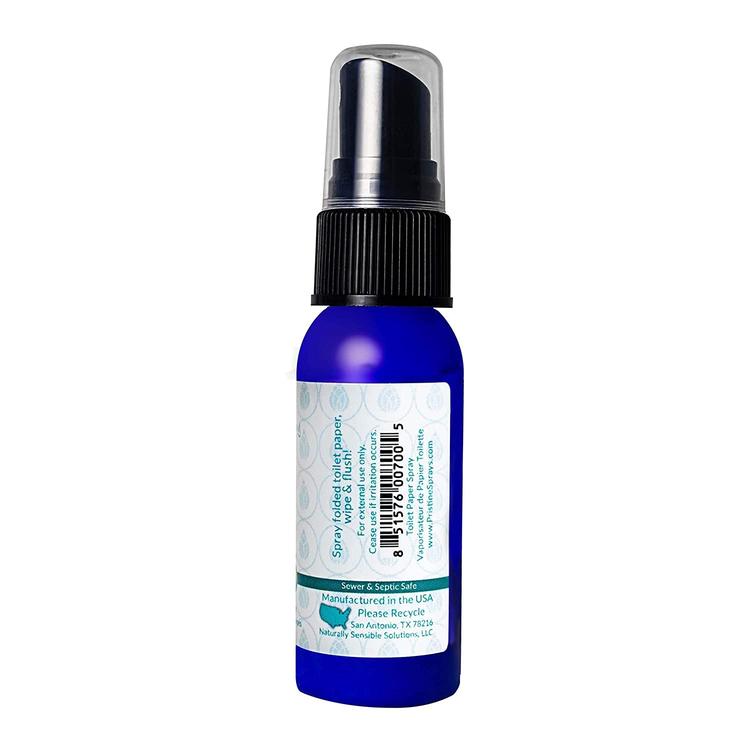 Karam and Karam Oley came up with the idea for Pristine when they saw a need for an easy, natural, eco-friendly way to wipe that was free of toxins, flushable, suitable for people of all ages (including babies in diapers), and portable.
Pristine Toilet Paper Spray comes in both unscented and a few naturally scented varieties, each of which is dermatologist tested, made with biodegradable and plant-based ingredients, septic and sewer safe, and not tested on animals. Pristine's products are also made in the U.S. by a manufacturer that is powered by 100 percent wind energy and USDA organic certified.
Article continues below advertisement
The company's goal soon evolved from one of natural and healthy personal care to a mission of protecting the planet. "What started as a personal quest to find a more natural and eco-friendly way to wipe, quickly transformed into a company mission to clean up more than just our own rear-ends," reads the website.
Article continues below advertisement
You can buy Pristine products on the company's website, as well as online from Amazon and Walmart; the company also makes body cleansing sprays and hand sanitizers sprays.
Did Pristine Toilet Paper Spray get an investment on 'Shark Tank'?
Brandon Karam and Jessica Karam Oley appeared on Season 10, Episode 10 of Shark Tank, which aired in January 2019. According to Shark Tank Tales, they asked the sharks for a $50,000 investment in exchange for a 20 percent stake in Pristine.
Article continues below advertisement
In the end, shark Lori Grenier gave them the $50,000 they were looking for, but for 25 percent of the company. Three years later, Pristine is still on the market, so it seems like the investment worked out.
There are many alternatives to wet wipes, from sprays to bidets.
That said, Pristine is not the only toilet paper spray on the market. There's also Fohm, a foaming product that you apply to TP before wiping. Fohm comes out of an electronic dispenser you mount in your bathroom, making it a tad fancier than Pristine, but less suitable for on-the-go No. 2s.
Additionally, Squatty Potty (another brand that appeared on Shark Tank) now makes its own toilet paper spray, called Pootanicals Instant Wet Wipe. It even comes in an "adventurer" variety, which is attached to a carabiner, for any movements made in nature.
We are also big fans of bidet attachments, which you can install on your toilet and use to rinse yourself off, before patting dry.
Green Matters' new book, Green Living, is the perfect guide to living an eco-friendly lifestyle for people at every stage of the process. You can order Green Living here.
Tags:
how to install toilet spray