Kolari Vision has announced a set of clip-in magnetic filters that fit between the sensor and the back of a lens. Compatible with the R adapter, or native RF lenses, these can be used to add rear filtering to RF lenses, or two layers of filtering when paired with the R filter adapter.
The company says that the R Magnetic Clip-In Filter for RF Mount can be used to quickly change the effective spectrum of a full spectrum camera.
Any of the clip-in filters can be used with a converted camera but when utilized with a regular, stock camera only the ND filters can be used for handheld shooting. Otherwise, only the 720 or the 850 NM filters can be used on unconverted cameras when utilizing a long exposure time and a bumped-up ISO.
Kolari alleges that its R Clip-In Filters are the only such filters on the market that attach via magnetic force, which the company says makes for an easy and hassle-free installation and removal of filters while also making it more likely you'll keep the sensor out of harm's way. As shown in the two videos below, the EOS RP requires the addition of a magnetic piece around the sensor called the Mag Mount that allows the clips to snap into place as the RP has a plastic inner mounting area, but the EOS R, R5, and R6 mounting area is metal and therefore do not.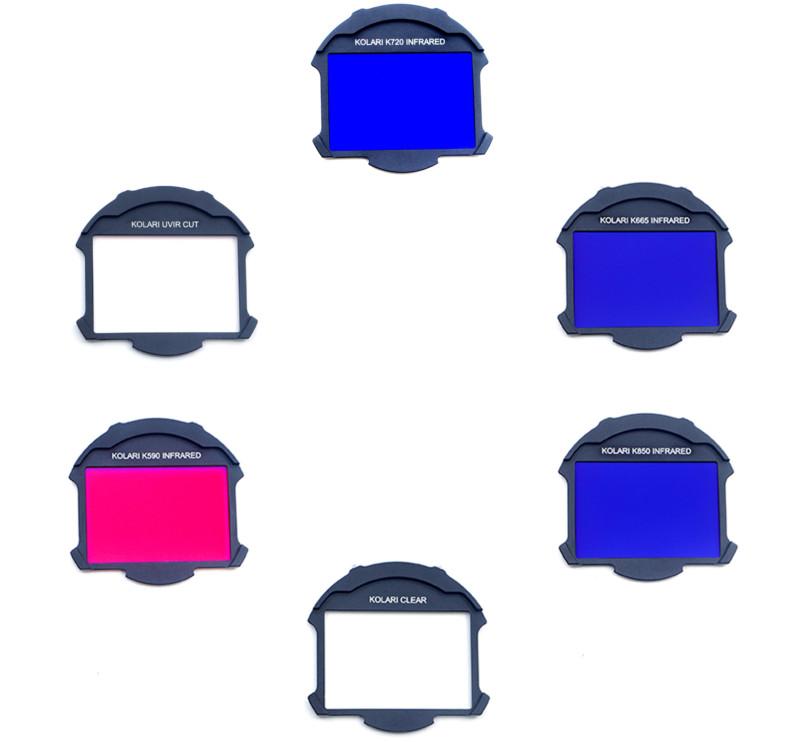 All these clip-in filters are also compatible with Kolari's line of EOS R Drop-In filters that utilize the Canon EF to RF Drop-In Filter Adapter.
Kolari currently offers 18 different filters that fit into the magnetic clip-in system: 590nm Infrared, 665nm Infrared, 720nm Infrared, 850nm Infrared, UV/IR Cut Hot Mirror Pro 2, UV/IR Cut Filter, and a Clear Filter (full spectrum). The company also has a huge array of ND in one through eight stops in one-stop increments followed by 10, 15, and 20 stop variants.
All of the filters are coated with the company's "anti-reflective and anti-smudge properties" that it says makes the filters much easier to clean while also can reduce stray reflections and artifacts that occur when shooting in bright, sunny light.
"Our wide selection of NDs, IR filters, and our UV/IR Cut filters are capable of turning your Canon EOS RP, R, R5, and R6 into a versatile multi-spectral machine without having to purchase multiple lens filters for each of your lenses," Kolari says. "Eventually, we plan to offer fine-tuned filters for different shooting scenarios, such as anti-aliasing filters, night sky filters, underwater filters, low light filters, and other filters you would use if you were shooting video systems like the RED camera."
https://kolarivision.com/wp-content/uploads/2021/05/Clip-Filter-Loop-OPTIMIZED-720p.mp4
The company initially launched the filters as a non-magnetic variation and eventually upgraded them to magnetic filters during its production process. As a result, anyone who already pre-ordered the non-magnetic filters was automatically upgraded to the magnetic version.
Kolari is accepting pre-orders for the filters now for $130 each and anticipates shipping units in mid-June.
Tags:
how to install mirror mounting clips