Photo: depositphotos.com
Outdoor showers can provide a convenient, inexpensive way to rinse off after work or play, and there is no easier way to wash a muddy dog. For those with bigger budgets, outdoor showers can be attractive garden features that combine useful function with personal pampering.
Outdoor showers come in a huge variety of styles, from basic models that attach to a garden hose to those with hot and cold water, rainfall heads, and multiple jets. Just ahead we investigate the key features of each and focus on some of the best outdoor showers for different situations and purposes.
Photo: depositphoto.com
Before You Buy an Outdoor Shower
While outdoor showers have many benefits, those looking at permanent backyard installations may encounter a variety of challenges. Unfortunately, in some cases they may not be suitable for a particular location. Climate, water supply, and privacy are key considerations.
Types of Outdoor Showers
Outdoor showers can be broken down into three general categories: wall-mounted, freestanding, or portable. Each has pros and cons that ought to be explored before a decision is made. The intended location and use will have considerable impact. As mentioned above, it may be important to consider the practicalities of water supply and drainage.
Wall-Mounted
Although some wall-mounted outdoor showers make provision for external pipework, most are designed to attach to plumbing that comes through the supporting wall, much the same as showers that are fitted to indoor bathrooms.
Wall-mounted showers usually offer both hot and cold valves. There may also be a central mixer lever. These components generally also anchor the shower to the wall. An additional wall bracket is usually provided to support the pipe that runs up to the shower head.
While often affixed to the outside wall of a building, they can also be attached to purpose-built walls in other locations. In these circumstances it is usually preferred to run additional plumbing underground where chances of accidental damage are reduced, as is the possibility of freezing.
Freestanding
Some of the best portable outdoor shower units are freestanding, but the term more often applies to models that are permanent fixtures that don't use a wall for support.
Freestanding outdoor showers come in a variety of styles. Many are tall structures with integrated controls and a fitted base. Others need to be bolted down. This will either mean fitting them to an existing hard-standing surface or pouring concrete. In either case, more work is involved, which could mean additional expense.
Freestanding outdoor showers needn't be an expensive choice, though some do come with premium price tags. They can offer tremendous flexibility in terms of both design and location. While provision of hot water can be a challenge, solar-powered models are a solution that may be worth looking into.
Portable
The simplest of portable outdoor showers can be nothing more than a shower head attached to a hose—a low-cost, go-just-about-anywhere solution. However, the range available is surprisingly complex.
Those fitted with a pole and base or tripod legs can be stood anywhere in the yard for a quick rinse. They can be very convenient poolside. There are battery-powered options that can run from a bucket of water. Gravity-fed versions can be mounted to RV or trailer roof racks. Others can be pressurized with a foot pump. If hot water is required, it can be provided via small gas-fired units. The best camping shower can be a long way from the basic cold water experience that many expect.
What to Consider When Buying an Outdoor Shower
The number of choices for outdoor showers is enormous. Even portable showers offer a wide range of options. When it comes to permanent installations, there are almost no limits to what is possible. The following section looks at the key features of outdoor showers and will help narrow down the aspects that are important to you, helping ensure you find the best outdoor shower for your particular needs.
Material
Materials need to be chosen carefully. Many regions of the U.S. drop below freezing at some time during the year, but rain and sun can be just as damaging over time.
For the outdoor shower unit itself, stainless steel is very popular. It looks great, is highly resistant to rust, and is comparatively easy to clean. Brass and copper are good alternatives. They develop a natural patina that some find very attractive, though some are nickel-plated or finished in other colors. Steel is cheaper, and usually chrome- or nickel-plated for protection from the elements, though these finishes can wear off eventually. PVC is perhaps least expensive, but it is vital that it contains UV inhibitors or it will quickly deteriorate in sunlight.
Pressure-treated lumber or other durable woods like cedar are popular choices for supports or underfoot, providing higher comfort than stone. However, the latter is much more durable. Tile is another option, as is concrete.
Design
Design choices are virtually limitless. Outdoor shower fixtures range from a basic shower head attached to a garden hose to models that incorporate all the features you would find in the best indoor showers.
There is also tremendous flexibility in terms of outdoor shower enclosure. A wide range of kits are available that include all necessary components and just need DIY assembly (though some might prefer to hire a contractor).
Those with a degree of design flair might want to borrow existing styles from their yard, whether traditional or contemporary. Privacy screening can be half- or full-height, or it can be nonexistent if space permits. When planning your outdoor shower, do bear in mind that some areas have restrictions. Be sure to check local building codes.
Water Pressure and Flow Rate
Household water pressure in the United States is generally somewhere between 40 and 60 pounds per square inch (psi). While low pressure can be a factor, with showers the flow rate in gallons per minute (GPM) is the key figure.
The Environmental Protection Agency (EPA) mandates that shower heads cannot exceed 2.5 GPM, but some states restrict this to 2.0 GPM. In California, Hawaii, and Washington, models cannot exceed 1.8 GPM. The regulations apply to outdoor as well as indoor showers. However, it is not necessary for the manufacturer to provide figures, and many do not.
Lower figures needn't necessarily mean poor performance, though even the best portable shower for camping is likely to offer significantly less flow than those hooked up to household supply.
Temperature Control
Many outdoor showers run from a cold water supply, but there are also plenty that introduce hot water. This might be controlled from individual taps or from a central mixer. Many are just like bathroom showers; the challenge is in getting the supply to them. The farther water has to travel outdoors, the more the temperature will drop, so this will be an important element in planning.
Having an outdoor camping shower doesn't mean going without hot water, either. Several models can be connected to standard propane gas tanks (either 20 pound or 1 pound), providing hot water in just about any location.
Shower Head
Most people have a preference when it comes to showerhead type, and this can often be accommodated. However, portable showers are likely to be fairly basic. They might have rotary adjustment for spray pattern, but little else.
The best outdoor shower fixtures offer shower heads for all tastes. It is possible to have both rainfall and handheld heads on the same model. High-end outdoor showers may also be fitted with massage jets.
Note: The height of the shower head or the length of hose supplied may be an issue. For example, the hose on our top battery-powered model is under 6 feet. Wall-mounted models shouldn't present a problem, but tall people in particular may want to check specifications on portable and freestanding models.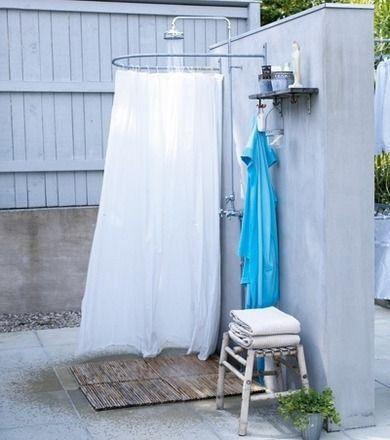 Our Top Picks
Now that we've covered the features available, it is now time to look at some real-world examples. The following incorporate many of the different choices available and represent some of the best outdoor showers in their categories.
Best Overall
1
gontonovo Outdoor Shower Faucet SUS304 Combo Set
Photo: amazon.com Check Latest Price
With such a huge selection of outdoor showers available, picking a single best model is challenging. However, few combine the quality and variety of choices of the Gotonovo at such an affordable price.
The main 8-inch-diameter rainfall shower head extends 14.5 inches, giving plenty of reach, and is also height adjustable. An additional handheld unit is provided on a flexible hose, and this can be either cylindrical or round. A simple lever switches between the two heads, and there's a central mixer for hot and cold. The underlying materials are stainless steel and brass, which should ensure durability. The shower is available in brushed nickel or matte black finishes. An adapter to allow the use of hoses rather than fixed water pipes is available at an extra cost.
Product Specs
Pros
Cons
Best Bang for the Buck
2
Homewerks Utility Shower Kit - WaterSense - 1.8 GPM
Photo: homedepot.com Check Latest Price
This Homewerks model provides outdoor showering for very little money. Most of the construction is chrome-plated brass, though steel is used for fittings. Castings aren't of the highest quality, meaning the shower is functional rather than particularly attractive. It does have a good flow rate, though the shower head is basic. However, the standard thread means it could easily be upgraded.
Hoses or pipework can be attached from underneath or above, and attaching it to a wall or other upright surface is straightforward. However, a little care will be needed with positioning as there is no height adjustment. A plug in the bottom allows easy draining for winterizing.
Product Specs
Pros
Cons
Best Solar-Powered
3
Giantex 7.2Ft 9.3 Gallon Solar Heated Shower
Photo: amazon.com Check Latest Price
At 85 inches tall but only 3 inches in diameter, the Wayime outdoor shower certainly makes an impression. The stainless steel column is durable and easy to clean. Stylish chrome-plated brass fittings and a foot spout maintain the sleek appearance. A rate of 2.5 GPM provides plenty of flow for the waterfall head.
A six-bolt base offers good stability. This is also where the water supply is attached. While this does keep everything concealed and discreet, it also means the shower would need to be taken down to resolve any leaks. While there are provisions for both hot and cold water, separate valves mean it can be used with cold water alone.
Product Specs
Pros
Cons
Best Poolside
4
Poolmaster Poolside Portable Shower
Photo: amazon.com Check Latest Price
One of the major challenges with having a warm outdoor shower at any distance from the home is the provision of hot water. Giantex solves the problem with this freestanding solar model. The black PVC body absorbs the sun's warmth and heats the water inside.
The theoretical maximum is 140 degrees Fahrenheit, which is well above the usual comfort level of 105 to 110 degrees Fahrenheit. A simple temperature control is fixed to the front. The 9.3-gallon capacity is sufficient for a quick shower, but once emptied can take some time to reheat. How long varies, as it is entirely dependent on the weather. When full, the Giantex weighs more than 70 pounds, so it needs to be mounted to a solid cement or fixed tile base for safety.
Product Specs
Pros
Cons
Best Freestanding
5
Wayime 85" Separable & Composable Outdoor Shower
Photo: amazon.com Check Latest Price
The Poolmaster is a lightweight, weather-resistant PVC construction that focuses on ease of use and portability. It connects to a standard garden hose and is operated by a simple on/off valve. It is a convenient way to rinse off after a swim, clean a muddy dog, or clean up after doing yard work. The hollow base is designed to be filled with sand so it won't topple easily.
The height of the shower head is 81 inches, accommodating taller users. The shower head has a 60-inch hose and can be used independently. Some assembly is required, and it is important to do this carefully in order to seat the washers properly and prevent leaks.
Product Specs
Pros
Cons
Best Camping
6
Hike Crew Portable Water Heater and Shower Pump
Photo: amazon.com Check Latest Price
Our choice for best camp shower is this multifunction model from Hike Crew. The floor-standing unit runs off of a 1-pound gas tank and any convenient water supply where the pump unit can be submerged. There is a three-pattern shower head, plus a flip-out spigot to deliver hot water for other uses.
Push-button control makes operation easy, and accurate water temperature is provided. There are safety systems for overheating and low water levels. The only drawback here is that an electricity supply is required. AC or DC from a vehicle port can be used, and three different adapters are included. A hook for the shower head would be nice, but there isn't one provided.
Product Specs
Pros
Cons
Best off-Grid
7
Camplux Portable Water Heater and Shower
Photo: homedepot.com Check Latest Price
The Camplux outdoor shower is another model that can add a touch of luxury to almost any location. There is a substantial folding hook that makes it relatively easy to hang the unit, which weighs just 14 pounds. Two 5-foot hoses are included, one to attach to a standard 20-pound propane gas tank, and the other for the shower head. D-cell batteries provide ignition.
There are convenient front-mounted controls for temperature and water pressure, similar to those found on many household tankless water heaters. An oxygen depletion sensor makes it safe to use indoors as well as out, though it is not intended for permanent indoor installation. Minimum water pressure required is just 3 psi. If still water is the only source, a Camplux 12V DC water pump could be used.
Product Specs
Pros
Cons
Best Rechargeable Battery
8
KEDSUM Portable Camp Shower
Photo: amazon.com Check Latest Price
For true go-anywhere showering, it's tough to beat the Kedsum outdoor shower kit. It comprises a battery-powered pump, hose, and a choice of either shower head or pressure spray (though the latter is not particularly strong). There are also two different hooks for the shower head, and the whole Kedsum outdoor shower kit weighs under 2 pounds. Water can be provided via bucket or natural water source.
Power comes from a 2,200 mAh, 3.7V battery that can run the pump for between 45 minutes and an hour. Adapters are provided to allow recharging via vehicle power outlets, portable powerpack, laptop, or mains. It can take up to 5 hours, depending on method, but a spare battery is included.
Product Specs
Pros
Cons
Our Verdict
The Gotonovo outdoor shower offers multiple options yet remains affordable. The Homewerks is a little rough around the edges, but it's still a great value. For those who don't mind a cool shower, the Poolmaster is an interesting and very portable alternative.
How We Chose the Best Outdoor Showers
We spent many hours investigating the wide variety of outdoor showers available. The object was to find solutions for diverse needs and different budgets.
Often our focus in product reviews is on particular aspects of performance where comparison is made between a number of similar models. That's not really the case here, where we have tried to differentiate between the benefits of the various different types of showers and provide models for many different locations.
Quality is always important. Although lightweight PVC and plastic units don't have the durability of brass and stainless steel, we tried to strike a balance between cost and suitability for the task expected of the unit.
FAQs
In the sections above we have provided details about the types of outdoor showers and their important features. We followed this up with real-world examples that illustrate the wide selection available. During our research we came across a number of questions of a practical nature, and we have answered those below.
Q. Is it expensive to build an outdoor shower?
Outdoor showers can be very affordable, and we have a budget-friendly solution here. Much depends on the materials used and the enclosure required. Prices can range anywhere from a few hundred dollars to upward of $10,000.
Q. Can I have an outdoor shower in a cold climate?
Yes, though some precautions may need to be taken. Portable showers can be used outdoors at any time, as long as they are not left to freeze with water in them. Permanent installations need frost-proof fixtures to prevent damage and should be drained down over winter.
Q. How do I make an outdoor shower with hot water?
In many cases a hot water pipe can be run from your existing household supply to an outside connection. If that's not practical, there are solar-powered outdoor showers and those that can be hooked up to a propane gas tank for hot water supply.
Q. Do I need a special shower head for outdoors?
No, though if it is going to be outdoors in all weathers, stainless steel or brass (which is often nickel- or chrome-plated) is recommended.
Q. What kind of pipe do I use for an outdoor shower?
Copper or PVC pipe can be used, depending on installation conditions. The pros and cons of each need to be investigated. Temporary outdoor showers can use ordinary garden hose.
Q. How do I make an outdoor shower with a garden hose?
At its most basic, all that's required is a way to affix a shower head to a wall or post and fittings to attach the hose. A number of packages are available.
Q. How do I attach a shower head to a hose?
It's a question of finding the right hose adapter. Many showerhead fittings are ½ inch in diameter, whereas garden hoses are typically ⅝ inch. However, it's important to check. Garden hoses can be anywhere from ⅜ inch to ¾ inch. Adapters are widely available.
Tags:
how to install a freestanding tub faucet on concrete