Savant has been stretching its scope in smart home lighting in recent years with its acquisition of GE Lighting and collaboration with USAI Lighting, implementation of Daylight Mode, new Ascend keypads and even lighted mirrors with partner Robern. At last month's International Builders' Show in Orlando, Fla., the company was excited to preview new smart low-profile downlights with built-in color tunability.
Angela Larson, senior vice president, customer operations at Savant, highlighted the intelligent, wafer downlights in the company's Orange County Convention Center booth as the next step in the progression of the GE Lighting acquisition impact.
Savant was showing the lineup, which is now known by the Cync branding and is ideal for builders and integrator partners seeking to bring intelligence, circadian wellness aspects and colorful flair to their customers – with affordability and ease of installation in mind.
"The entire [smart lighting ecosystem] is configured on the tablet, so there is no proprietary software configuration tools and one of the cool things about it is you can actually install everything and the homeowner could actually come and commission it themselves," she says of Cync smart lighting. "Depending on your service level, you could have the electrician install it and leave it alone."
Larson described the Cync line in the booth as more of an entry-level solution for the builder community but a robust one featuring smart light switches, smart bulbs, lighting strips, plus cameras, thermostats and plugs.
State of the Industry: Unfinished Business
Despite unfinished projects, the custom electronics industry still managed to grow a healthy 7.6% in 2021. Download for free today!
Cync Dynamic Lighting Beyond the Bulb & Into Fixtures
"But the most important thing … we're moving beyond the bulb into the fixture space. Cync fixtures – and they have the color tunability of the light bulb but we've moved it into the fixture," Larson enthuses of the new low-profile downlights.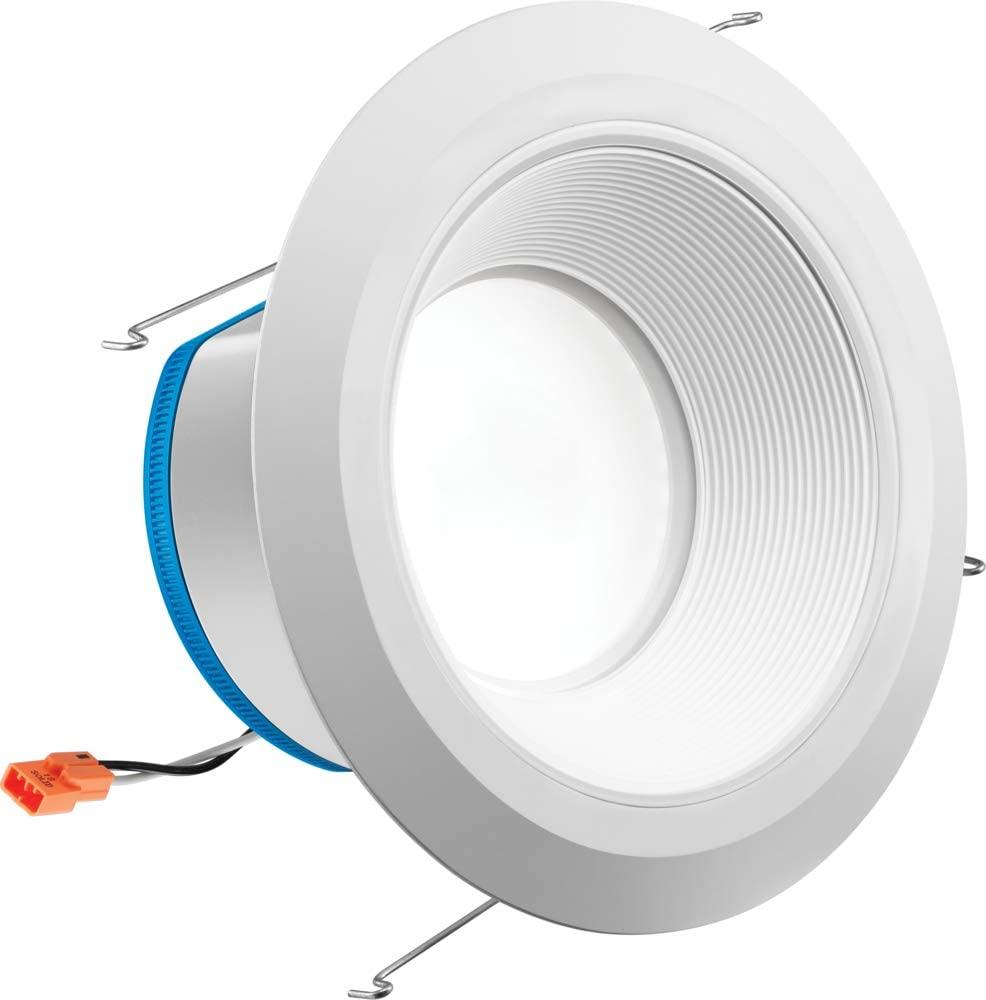 "From a builder perspective, that means they can upgrade great rooms, they can upgrade master baths, all sorts of spaces and now have dynamic lighting."
The Savant App enables control of white tunability, color temperature, saturation and more. Furthermore, she adds that the canless fixture is a "completely simple retrofittable fixture" that can pop into the ceiling and clamp to the drywall.
The smart wafer downlights aren't meant to compete with loftier fixtures in the luxury homebuilder market, but represent a solution that suitably and intelligently complements the Cync ecosystem. She says they are anticipated to carry an MSRP starting at around $60 with a target launch for dealers in April.
"We're making that builder-grade fixture really smart," Larson says. "It's super easy to install, it's a lot of fun to show the builders here with the demonstration. They're going to install fixtures anyway, so it's a really great option for them to say, 'Hey let's upgrade a space or two to have this kind of dynamic functionality."
Savant Power's Smart Panel Message Resonates with Builders
Related: Savant's GE Lighting Rebrands C by GE as CYNC
The company also showed its Savant Power solution to builders, demonstrating how the company's circuit level intelligence can interoperate with a variety of battery and inverter solutions "to bring it all under one consumer experience," Larson says.
She says the message that resonated with builders IBS was how Savant was simplifying and streamlining today's potentially complex area of energy management that may involve batteries, generators, solar, etc. With the Savant Power Companion Modules in the electrical panel, "I can see it all from one screen," Larson says of the homeowner's energy dashboard.
"By making the panel smart, it lets us give all these [energy management features]. What's really resonating is we're making any panel smart," she says. "You're going to use the same panel you've always used, we're just going to make it smarter. That's sticking"
Tags:
how to install mirrors on ceiling