Soaks Bathrooms in Belfast was crowned this year's Bathroom Retailer of the Year in the kbbreview Retail & Design Awards and was a finalist for Bathroom Showroom of the Year. Chris Frankland talks to MD Wayne Lyons (pictured) to find out what it meant to them
For many winners, a sticker in the window, the trophy prominently displayed in the showroom and magazine adverts are the usual ways to celebrate victory at the kbbreview Retail & Design Awards.
But Wayne Lyons (pictured), managing director of Soaks Bathrooms in Belfast, is not one to do things by half. For him, it was ten 96-sheet [3m x 12m] in-your-face back-illuminated billboards for two weeks in the centre of Belfast and Dublin. His 'Slam Dunk for Belfast' campaign cost him the grand sum of £13,000 and he followed it up with 50 normal-sized billboard ads.
Lyons elaborates: "It's good long-term for brand-building. And when people start to look for a bathroom, they'll think 'what was the name of that showroom that won that award?' It's planting the seed.
"It is about the image of the company and the quality of the products we sell. We wanted something to stand out."
He tells me that the feedback from the campaign was excellent and helped strengthen Soaks's position in the medium to high-end market.
And there is no doubt in Lyons's mind what the award meant for Soaks: "For Soaks as a business, it was really fantastic. We had all of our sales staff over at the awards evening and we were very pleased to win. It is down to my staff, who have done a fantastic job and it's been great for our brand perception. We put a lot on social media about winning which helped us get into high-end interior designers as it gives us an exclusive position in the market."
"Winning the award was the best evening of my life. The people on our table took a video of us winning the award. I must play it on my TV at home about three or four times a week! I get butterflies each time."
Lyons adds that Soaks are no strangers to billboard campaigns – especially for shower toilets.
"We introduced shower toilets to Northern Ireland," he explains. "We are the number-one seller of shower toilets in NI and are the sole supplier for Toto. We are known for it, thanks largely to the billboard campaigns we have run for the past five years. We want to be known as the place to go for them. We have 12 working models in our showroom from different manufacturers – Toto, Geberit, Roca, Crosswater, Villeroy and Boch. We also have a top-of-the-range Toto model in one customer toilet and a top-of-the-range Geberit in the other."
Washlet toilets are an area of the market Lyons believes in vehemently.
He enthuses: "Toilets have stayed more or less the same for the past 100 years. Geberit introduced their wall-hung frame 30 or 40 years ago and that was probably the only real innovation in that time. It's only in the past four years that toilets have changed, with rimless technology and shower toilets. I think people are becoming more aware of cleanliness."
And to get them off to a flying start, Lyons had a stroke of genius…
"We fitted them [Toto] into the customer toilets at a couple of Japanese restaurants in Belfast and have advertisements on the backs of the cubicle doors. We've had those in the restaurants for around two-and-a-half years and we definitely get leads from them. If you look at the restaurants' reviews online on TripAdvisor, a lot of people mention them. If people have used them and liked them, there's more of a chance they will go for one when they next change their toilet."
Lyons tells me that Soaks has experienced continuous growth in shower toilets sales. They even have a working Toto toilet on their exhibitions stands so people can see what it does and they always run billboard campaigns to back it up.
"It's all about brand-building. Especially in bathrooms," he says. "Bathrooms aren't an impulse buy. Customers don't wake up one morning and say I'm going to buy a bathroom. It's something they've put a lot of time and effort into thinking about. So if we can have the brand and the corporate image set out in the right way, then we're the first company that comes into their head when they go to choose a bathroom – which we have done quite successfully."
Another key part of that strategy is exhibitions.
Lyons says: "We have been doing exhibitions for 11 years. We currently show at five – three in Dublin and two in Belfast. It has probably been one of the marketing tools that has built our reputation in Ireland and around 40% of what we sell is across the border. We have an 8m by 6m stand with four open sides so you can walk all around.
"The stand has iPads on the wall that customers can interact with, TV screens showing a video of the showroom and a working Toto washlet."
He adds that they also do a lot of merchandising at shows. "We do scale rulers, tape measures, pens and Soaks bags. We typically give away 2,000 to 3,000 goody bags. The shows we do are self-build shows and Ideal Home shows, so when they get a free branded tape measure, pen and scale ruler, they are things the customer is more likely to use. It keeps the brand awareness with them."
You might also like: Fiesta renews eight manufacturing apprenticeships for 2020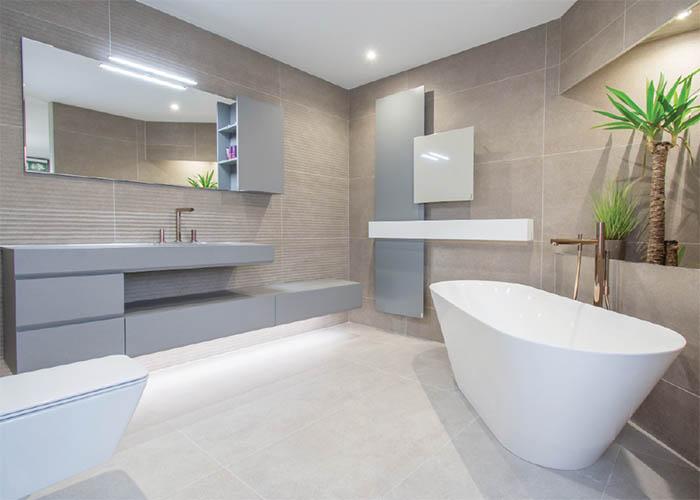 Established in 2006 and employing around 15 full-time staff in its 7,000sq ft Belfast showroom, Soaks has made sure it moves with the times and Lyons is a firm believer in the power of social media.
"That's an important part of our marketing strategy," he tells me. "We have 16,500 followers on Facebook and we have a counter system in the showroom. When someone 'likes' us, it flicks up. That encourages people to like us."
But a scattergun approach is not the way to do it, as he confirms: "Social media is all about having the right followers. We only target the UK and Ireland – mainly Ireland.
Soaks attends five shows a year. Three in Belfast and two in Dublin
"We also target our advertising to people who like other medium to high-end brands, people that follow Louis Vuitton, BMW – only people that like those pages see our adverts. We also target those who have liked the top-end bathroom brands we sell. We sell a lot of Hansgrohe. People who like that tend to be architects, interior designers and people with an interest in new houses."
And it seems to be paying off as Lyons confides they are consistently seeing 20% sales growth year on year. I ask what he attributes that to:"The main thing is customer service. If someone recommends us to a friend, they are more than likely going to buy from us. So we bend over backwards for everyone.
"If there's a delay with a customer's Italian vanity unit, which is out of our control, we will explain it to them and pay the cost for a fitter to go out and fit it when it does arrive, and we will compensate the customer with bathroom accessories, vouchers, etc. There's a cost in doing that, but in the long term there is value in it – it's very important.
"We often get customers who have products where the chrome has started to pit, such as on a pop-up waste, and it's because they have used bleach on it. So we just hand them a new one."
In common with many bathroom showrooms, Soaks does not employ its own fitters but has 12 teams it can recommend to customers. "With the scale of business we have, it is extremely difficult to manage supply and fit. A lot of what we do is for people building new houses, so they already have a plumber on-site."
But don't get the wrong idea. Service is key here. Soaks has more than 100 displays – around 26 of those full lifestyle sets. They offer a full design service and employ six full-time designers using the latest 3D and 4D software from Virtual World – and 95% of its sales are complete bathrooms as opposed to individual components. "We're not really interested in selling somebody one tap."
And Lyons is a firm believer in experiential retail.
"We have a working toilet display area with 12 toilets – eight washlets and four normal toilets, showing rimless technology and tornado flushes. We also have a working shower area that Hansgrohe have told me they think is the biggest in Europe. It's especially good for up-selling technology."
Soaks is also adding a 1,000sq ft extension to its showroom to showcase high-end brands mainly to interior designers and architects, with brands such as Armani by Roca, Gessi, Cielo, Glamora and Mastella.
And it will not have room-set displays. "We have found that high-end interior designers don't tend to want to see room sets," Lyons explains. "They want to see products, because room sets would be doing their job for them. They can work better seeing 12 different basins side by side. And high-end customers tend to use their own interior designers."
But Soaks makes sure it caters for all needs. They have toilets from £120. As Lyons explains: "It's a very difficult because you don't want to alienate your high-end customers by devaluing your brand with lower-end products. We only supply branded products that we have tested and are happy with."
And so where does Soaks go from here? Well, one area they are concentrating on at the moment is digital photo screens in the showroom.
"When someone walks into a bay, very often they won't realise that a vanity unit is available in 12 sizes and 25 finishes," says Lyons, "so we have introduced digital screens. They have a PIR built in so that they turn on when a customer walks into the bay. It also meant that we could get rid of a lot of sample displays that spoil the look of a display and just gather dust. I see them as silent salesmen."
The whole showroom experience is very interactive. "We are also going to create a new working spa area with working steam rooms and system baths."
That apart, Lyons says: "We will continually research the market worldwide, look out for new brands and be the first to showcase new trends. We will be visiting ISH, Cersaie, kbb Birmingham and Salone del Mobile. It is very important to discover new emerging brands in their infancy and build relationships with them early."
So expect Soaks to be at the top of its game and be going for another slam dunk in the future.
Have something to say? Email the editor
Tags:
how to install geberit wall hung toilet