Successfully organizing an entryway can reap huge rewards. An organized entryway will make leaving the house and returning a more efficient and speedy process for every family member.
The best strategies will also ensure the space is a clutter-free one, allowing the decor to shine, and the entryway to be a beautiful part of the home rather than one you merely pass through.
While creating adequate storage is an important entryway idea, how this and the whole of the space is organized is equally crucial, and here we look at the ways you can make it ordered and efficient.
Organizing an entryway
As a drop zone for everyone who comes into a home, the entryway can easily become cluttered and dysfunctional. But with good tactics for organizing an entryway – and efficient entryway storage ideas – even the smallest version can be neat and highly usable, as well as chic.
1. Consider what the entryway is used for
The first step in organizing an entryway is to think about exactly what it is – or should be – used for. 'Kids' school bags? Shoes for the family? Extra bags? Mail? Hats and gloves?' asks Andrea Wolf of Organize Detroit.
After that Andrea recommends emptying the space, and sorting the items into categories. 'Once your space is emptied, you do a round of keep, donate and garbage for every category,' she says. 'The goal is to lighten your load.'
2. Think climate when organizing an entryway
The methods adopted for organizing an entryway will, of course, have to take account of the climate where you live. Is space required for footwear for inclement conditions? In which case you will need tactics to organize shoes.
'You can use a boot tray to collect any rain or snow boots,' suggests founder and lead interior designer for Homedude Dan Wiener.
This can also make a seat or bench a must-have piece of furniture. 'Here in the Midwest, we have to deal with winter boots and a lot of sloppy weather, so most people take their footwear off when entering a home. Make it easy and convenient for guests to sit and do so,' says Amy Leferink of Interior Impressions.
3. Cater for coats
The approach to organizing coats in an entryway depends on whether or not there's a closet in the space. If there isn't, you might like to consider entryway closet ideas. In the meantime, try these tactics: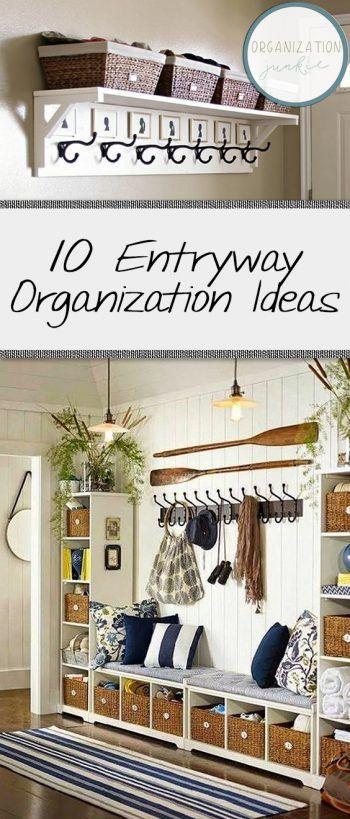 'If you don't have a coat closet, add hooks to the wall for coats and use a table with drawers to manage accessories,' suggests professional organizer Lisa Malone. 'If you have a coat closet, keep it strictly for coats, shoes/boots and hats, gloves and accessories. If you keep the closet limited to these items, it is easier to keep organized,' she says.
4. Make space for bags
Have a system for bags and backpacks when organizing an entryway because they can quickly fill the space. 'The best solution for the busy professional and family is to have a hook designated to each family member,' says Kim Jones of L+K Home Organization. However, this is just for items used daily, she stresses.
Consider creating a place for other items above hooks. 'A shelf above the hooks can store bins with each person's name on it and that's also where they get their stuff and return it at the end of the day,' says professional home organizer Brenda Scott of Tidy My Space. 'This helps to reduce lost items or finding them when rushing out the door. '
5. Keep shoes under control
Shoes can easily cause clutter in the entryway, so good shoe storage ideas are a must. 'Ideally, the shoes that are stored at the entry are shoes that are used daily, such as children's sneakers or daily work shoes/boots,' says interior designer Sara Chiarilli of Artful Conceptions. 'This is not the place to have every shoe stored as the closets for each bedroom should contain shoe storage.'
While shoes can go on a mat or rack, many experts recommend a container – especially in a home with kids. 'While there are dozens of clever shoe racks on the market, I find that with kids it's easier just to have one big bin or basket that shoes can get tossed into,' says author of Living Small Laura Fenton. 'If you can tuck this under a bench most of the time, all the better.'
7. Keep track of keys in the entryway
It's crucial that keys aren't mislaid, and each person's set is easy to locate when heading out. Cheryl Smith, owner of professional organizers Consider It Done Transition Services, suggests organizing them on a narrow entryway table – something to bear in mind when considering entryway furniture ideas.
'I like to add some decorative baskets to hold incoming mail, keys and other small items,' she says. 'Those baskets can be labeled so the same items can be dropped in there every day.'
7. Find a place for umbrellas
If umbrellas are used routinely in the region where you live, a place to put them is invaluable to stop the entryway becoming messy.
'This can be a traditional umbrella stand or more creative with cool tall vases and artistic or antique hooks,' says Sara Chiarilli. It's a great entryway mudroom idea, too.
8. Deal with incoming and outgoing mail
While mail can go on to an entryway table, if there's not room for one of these, a wall rack or basket will make use of otherwise redundant vertical space.
Meanwhile, sorting the mail as it's brought in can be a worthwhile habit to get into. 'Give yourself a few categories to sort by (example: to read, to pay, coupon, etc) and place in a bin,' suggests Kim Jones.
Consider an 'outbox' for mail and other items, too. 'A favorite tip that I discovered while writing my book was in professional organizer Shira Gill's home,' says Laura Fenton. 'Gill has an "outbox" near her front door. This is a basket where she can put items that are on their way out of the house, like packages that need to be returned or library books that must go back.'
9. Ensure ease of use
An organized entryway is also one that allows for easy passage into the home. 'A mistake I see a lot is choosing too small of an area rug,' says Amy Leferink. 'If you go with a doormat-size 2 by 3 rug, it doesn't allow anyone to step into the room and it feels very awkward. I would suggest a 3 by 5 rug at minimum.'
Include a mirror, too, to make the space functional. 'Every entry should have a mirror for one last check when walking out the door,' says Sara Chiarilli. 'They also make the space feel larger and this is super important in small entries.'
And if there's room? Entryway bench ideas – especially those that include storage – are a handy refuge for items you are taking with you when you go out, and of course, they're ideal for sitting on (rather than hopping about) when putting shoes on.
10. Maintain entryway systems
An organized entryway is unlikely to stay that way without regular attention. Professional organizer Lisa Malone recommends the following schedule.
'Weekly: if your entry table starts becoming a dump zone instead of a drop zone, you can quickly pull out any items that don't belong.
'Monthly: pull out any items that do not belong, like items that got stashed in the closet or got mixed into the bin. This task may take some time because you should dig a bit deeper like making sure gloves and shoes have a matching pair.
'Quarterly or half yearly: swap out the seasonal clothing and accessories. This gives you an opportunity to trash or donate any items that are damaged, missing a match (shoes, gloves, etc), too small or out of style.'
What do you store in an entryway?
The items you bring into your home can be stored in the entryway. Think coats, shoes, bags, keys, mail, umbrellas, and so on.
'Make a drop zone that works for the size and number of people in the home,' advises Brenda Scott. 'The drop zone should include something to sit on to help with shoe removal (a bench with hidden storage is great for backpacks or mitts/scarves/hats, grocery bags or bins). If you don't have a closet at the entryway, then install hooks for coats, backpacks, and purses. In the drop zone, there should be a spot for mail and keys.'
How do you declutter a small entryway?
To declutter a small entryway, be strict about how much you keep there. 'Only keep the shoes that are worn daily in the entryway,' says Kim Jones. 'For other shoes, place those in a closet or elsewhere to keep this space decluttered and make it easy to find shoes that are worn daily.'
The same goes for coats and bags, which should be limited to those used regularly.
Tags:
how to install mirror closet doors