If the words "Meow Wolf" leave you a little confused, don't feel bad. The unassociated words were separately pulled out of a hat by a group of anti-establishment artists and combined to become the name of an art collective that opened its first, interactive entertainment experience in Santa Fe in 2016.
The story begins in 2008 when a group of 10 artists were creating temporary interactive art installations during the day, while working second jobs to make ends meet. Although unable to garner respect in the sophisticated, high-end art world of Santa Fe, the art collective had a vision and an intense desire to create something permanent the public would pay to experience.
By sheer coincidence, George R. R. Martin, the novelist and creator of the "Game of Thrones" fantasy was living in Santa Fe in 2015, and when presented with the nebulous idea of what the artists envisioned, he invested $2.7 million to purchase a space for the project in a vacant bowling alley in an industrial neighborhood. The rest is instant history and one of most unexpected successes in the art world.
People are also reading…
When the Santa Fe Meow Wolf art experience opened, 400,000 visitors, or nearly six times the population of Santa Fe, entered through the doors its first year. (Actually, you do not enter through the front door, but more about that later.)
What has followed are two more Meow Wolf locations opened in Denver and Las Vegas in 2021. Both openings had been delayed due to the pandemic.
Describing the wonderland of creative consciousness expression that is a Wolf experience is a bit of a challenge. Words like "museum" and "gallery" will not even come close. Imagine exploring a combination of St. Louis' City Museum, and a maze of escape rooms that proliferate like a line of branching dominos. Some of those rooms are accessed by tunnels, secret passageways or simply by looking behind an unassuming closet door.
Add a large dose of Disney-type fantasy decorating every wall, ceiling and floor where each space explodes in a profusion of light, sound and visual art that places you directly inside a fantasy world.
Some rooms have psychedelic images swirling on the wall, while in another room walls are covered with larger than life, bizarre faces with eyes you peer into. The next room may be where each step makes music, or a saloon where the mirror reflects a halo above your image. Other secret doors open to elevated walkways or a slide in a tunnel (which makes it hard to know where your kids went).
Now, try to tie it all together by uncovering hidden clues that form an underlying storyline as if you were playing the game Clue. Visitors are encouraged to open every door and pull on every knob. A coat closet inside a bedroom may actually be a portal into another series of rooms and a new fantasy world.
Erin Barnes, the Meow Wolf Denver public relations manager says that "while each exhibition has its own storyline and appeal, they all exist within a greater Meow Wolf universe. The general consensus of a visitor is that they're going to have to come back again and again. It is difficult to process it all in one visit."
For most visitors, attempting to unravel the story behind the art is too much to attempt on the first visit, and wandering room to room is enough of a sensory experience. In fact, because there is no path to follow, it might be enough of a challenge for some just to find the exit after a few hours of immersive entertainment.
Each of the three Meow Wolf experiences is unique. For Denver, 100-plus artists from Colorado were selected based on proposals they submitted, and then given complete creative freedom of expression to design a space providing their art could be tied into the underlying storyline.
An additional cadre of 200 artists and technical experts employed by Meow Wolf full time help create the larger creative spaces like the elevated walkways and tunnels visitors encounter, and the technical wizardry needed to power interactive installations.
Visitors do not get a guarantee they will have fun with the purchase of a ticket. They do not need one. It is an unwritten understanding everyone will leave with a sense of awe at what a group of unrestrained artists can create, and a truly one-of-a-kind experience.
Here is an overview of each venue:
Santa Fe: The Meow Wolf House of Eternal Return
$35; meowwolf.com/visit/santa-fe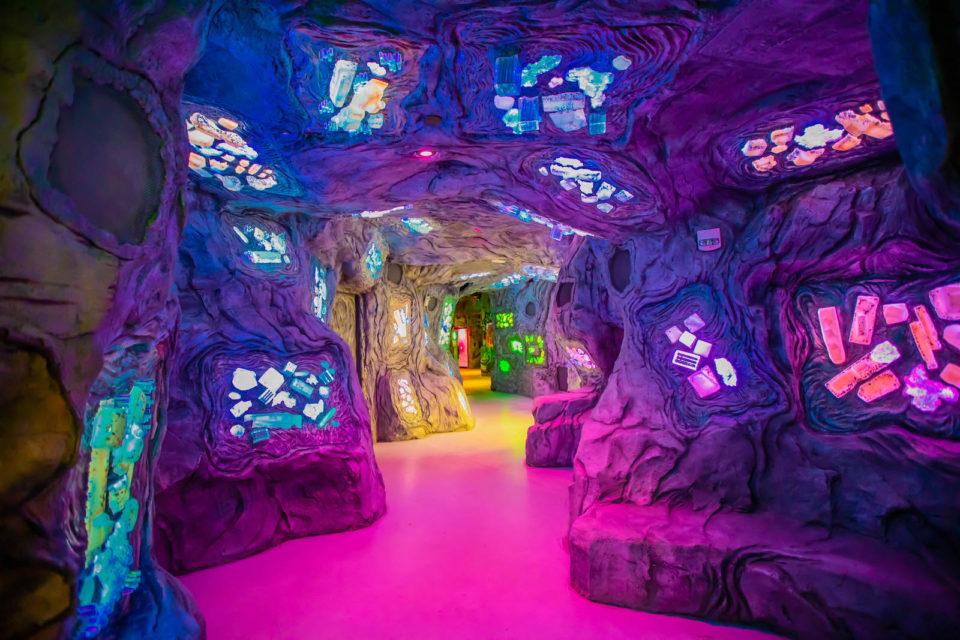 What appears to be a welcoming, full-size, two-story Victorian home adorned with a nice front porch and white gingerbread trim on the outside, has now welcomed more than a million visitors. Each has entered the House of Eternal Return after climbing through a clothes dryer in the utility room of the home (or the refrigerator in the kitchen, or the fireplace in the family room) to discover a 20,000 square foot, multidimensional mystery maze of distinct, interconnected spaces including an enchanted forest, luminescent caves, space-age corridors, neon mastodon skeletons, laser harps and secret portals to magical worlds.
Those interested in the challenge of tying it all into a neat package are informed the house harbors a secret. The residence was once inhabited by the fictional Selig family, who disappeared after experimenting with interdimensional travel by tapping into a mysterious force known as "The Anomaly" with the purpose of bringing back deceased family members.
The anomaly caused the house to fracture open, revealing paths to alternate dimensions. A secret government organization called the Charter was able to contain the Anomaly's effects and passes off the containment warehouse as an art installation, but then "something happened" that led to the family's disappearance and apparently warped the nature of time and space.
Visitors are challenged to piece together the narrative on their own, first rifling through the mailbox, clothes, furnishings, books and personal photos and papers of the family members while exploring the unexpected world hidden behind the house. If you choose to solve the mystery, everything in every room and every piece of art on the walls and tables is a clue.
Las Vegas: Meow Wolf's Omega Mart
$49; MeowWolf.com/visit/ las-vegas; Omegamart.com
For the second location, Meow Wolf ventured to Las Vegas. Instead of a stand-alone property, this attraction is the anchor tenant at Area15, described as "the world's first purpose-built experiential art, entertainment, and event district."
"Omega Mart in Las Vegas has blown us away with how popular it is in a market that is already saturated with entertainment," Barnes says.
Similar to the Santa Fe location, Omega Mart is also off-the-beaten-tourist path in an area of warehouses well removed from the famous Las Vegas Strip.
Entry into this 52,000-square-foot immersive art experience is through the aisles of the "world's most exceptional supermarket." At first glance the grocery store appears as if it were a typical grocery store. That is, until you start reading the descriptions of the hundreds of original items stocked on the shelves.
You will not find a bin of green apples, but there is a bin of "happles," each grown with a smiley face as part of the apple skin. Or how about a can of Nut Free Salted Peanuts described as "100% salt." Then there is a box of cereal with the name "Honey Clumps of hmm…" advertised as "a naturally boneless breakfast solution." Whale Song is "a deodorant that's both an antiperspirant AND an antidepressant."
If the product can be picked up, it is most likely for sale and is useable, wearable or consumable.
However, if you open a cooler door in the refrigerated section of Omega Mart, you unexpectedly enter one of several portals leading to 60 unique rooms of unpredictable immersive art where the operation of the grocery blends with the story behind the store. In this instance the art fantasy world meshes with themes examining American consumerism and corporate responsibility.
Denver: Meow Wolf's Convergence Station
$45; MeowWolf.com/visit/denver; convergencestation.com
Denverites waited four years as Meow Wolf planned and constructed its latest location, a four-story, 90,000-square-foot custom-built attraction.
"Before Convergence Station opened, we were fairly confident that the community would be engaged, thanks to the overwhelming demand and great reviews we were seeing during our preview events," Barnes remembers. "We had no idea just how hungry people are for immersive art. We sold over 35,000 tickets during the first 24 hours that tickets were on sale."
Barnes predicts for the first full year of operation in 2022 attendance will exceed a million guests.
When you step into Convergence Station, an interplanetary transit hub where different worlds connect, it feels like you've entered a futuristic transit station. Guests enter a bright lobby and take the tram line to one of four different stations in "the Convergence."
If you are into the challenge of determining how it all fits together, here is the official storyline from the Meow Wolf website:
"Convergence Station is home to sprawling city streets, alien biomes, sentient mechs and more! The Quantum Department of Transportation (QDOT) has created an exclusive travel opportunity from their station in Denver, Colorado to the Convergence of Worlds, where memories are currency. Just under the surface of Convergence Station lies a cosmic mystery about four forgotten women, and a mythological gateway to the infinite."
Barnes says there are costumed actors employed at each of the three venues to interact with guests to make each venue even more of an immersive experience. "We have dozens of performers employed in Denver who play custom characters, and they bring the interaction to a whole new level," she says.
0 comments
Tags
Watch Now: Related Video
Study: Most Americans feel better if their home is clean
Study shows link between using the internet as an escape and increased depressive symptoms
Study shows link between using the internet as an escape and increased depressive symptoms
Spring clean your house the right way with these simple tips
Spring clean your house the right way with these simple tips
Best Irish beer to celebrate St. Patrick's Day
Best Irish beer to celebrate St. Patrick's Day
Stay up to date on life and culture in St. Louis.
* I understand and agree that registration on or use of this site constitutes agreement to its user agreement and privacy policy.
Tags:
how to install led strip behind mirror