Estimated read time: 7-8 minutes
This archived news story is available only for your personal, non-commercial use. Information in the story may be outdated or superseded by additional information. Reading or replaying the story in its archived form does not constitute a republication of the story.
LAYTON — Lisa Zollinger decided to treat herself to a birthday pedicure this year, spending $43 on the beauty treatment.
But the pedicure's cost began to climb when, about 10 days later, Zollinger's foot began to redden and swell, causing pain and prompting her to visit an urgent care. Blood tests led to a referral to the emergency room, where Zollinger was diagnosed with cellulitis.
"(It's) an infection caused by bacteria that you can pick up, well, you can pick up in numerous ways," she said. "It can also be picked up by a pedicure. From what I understand, it can cause death."
Four emergency room visits and two rounds of IV antibiotics later, Zollinger believes the nail salon's lack of sanitation was to blame. Her theory was supported by doctor's observations, she said, and prompted her to reach out to the Davis County Health Department.
"I called and reported what happened," she said, noting that her complaint led to an eventual inspection of the salon. "Are they only (inspecting) when somebody like me calls and complains?"
Put simply — yes. The KSL Investigators surveyed health departments spanning nine counties and learned most, including Davis County, only inspect nail salons if a complaint is filed. Some don't even go that far, instead turning the matter over to the Utah Division of Occupational and Professional Licensing (DOPL) from the start.
The state agency investigates nail technician licensing violations and, as seen in complaints obtained by KSL through a government records request, often takes action against a salon. But not all complaints make it to the division and since not all health departments regularly inspect without a complaint, issues that aren't reported can fall through the cracks.
Even those that are reported can be difficult to track down, requiring customers to reach out to different agencies to learn which salons they may want to avoid.
According to the complaints obtained by KSL from health departments statewide, concerns reported by patrons cover a gamut from nail fungus and lost toe nails to improper ventilation to concerns about sanitation and disinfectant practices. Others raised issues with specific tools.
In one complaint, a woman called the Weber-Morgan Health Department in January to report that a "cheese grater looking thing" was used on her foot.
"Took a big chunk out of her heel," the complaint states. "She put her bloody heel back in foot bath. Concern for sanitation procedures. They are reusing files."
In that case, inspectors from both Weber-Morgan Health Department and DOPL visited the salon, leading to the removal of the tool, called a microplane. DOPL clarified to the department that only licensed estheticians, not nail technicians, were licensed to use the instrument.
In other instances, inspectors visit, educate and offer reminders of safety practices. At a salon in Midvale last year, a customer complained that "workers were sharing equipment and not cleaning after each client," prompting a visit from the Salt Lake County Health department. They noted a lack of instruction on how to properly disinfect instruments and advised the manager as to correct practices.
Eric Peterson, assistant director of environmental health at Salt Lake County Health Department, said sanitation issues are the most common issue they see.
He said tools should be cleaned and sanitized between each patron and, if there is any doubt, he encourages customers to ask. He said they often have to help salons with the type and amount of cleaning solutions.
"Our primary goal with all the business we regulate is to be a partner," he said. "We want to provide advice, guidance, help them understand hygienic practices."
He said potential patrons should survey the overall appearance and cleanliness of a salon — both the facility and staff — before using their services. He offered another place to look as an indicator of a salon's cleanliness: the restroom.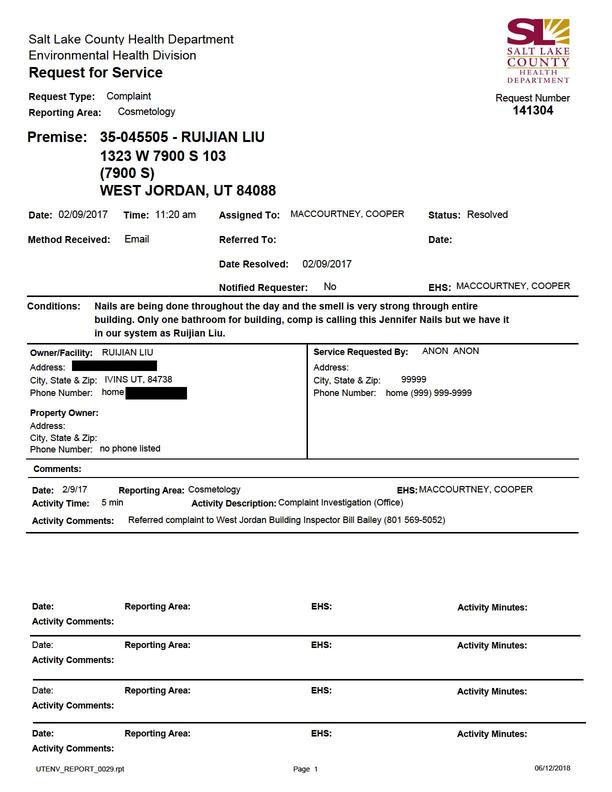 "Pay attention to the toilet and the hand sink, and make sure they're maintained in a clean, good state of repair," he said. "It's kind of an indication of their overall cleaning practices."
This was seconded by Sherry Bradford, who is the nail technician program advisor for Ogden Weber Technical College, who said the bathroom "is a tell tale sign of how clean they are."
She described various things customers should expect: technicians with washed and gloved hands, clean, fresh towels for each client and tubs that are lined or are properly cleaned between each patron.
"It takes at least 10 minutes to clean a pedicure basin," Bradford said. "If they're just wiping it out and sitting you down, you wouldn't want to sit in that chair."
She warned against other "red flags," such as technicians who draw blood, dab it away and continue on or the use of unpadded cuticle sticks. She said anything that can be disposed of after a single use, such as a nail file or buffer, should be. Metal tools should always be properly cleaned between uses.
"Sanitation is the number one thing I think (customers) should be asking and, also, if their nail technician is licensed," Bradford said. "You can never over-sanitize, you can never over disinfect, you can never be safe enough."
Peterson, from Salt Lake County Health Department, encouraged any customers with concerns to file a complaint online. He said his department is also planning on making inspection reports available online by the end of the year.
"We get a lot of requests for records, inspections, and we want to make them easily available, to the public," he said.
Other health departments surveyed by KSL said they don't field enough complaints or have the manpower to post the inspection reports online.
Customers looking for a simple way to see if their salon has passed inspections and has a clean safety track record, find the responsibility lies with them to check both with DOPL and their local county health department.
---
"You can never over-sanitize, you can never over disinfect, you can never be safe enough." — Sherry Bradford, Ogden Weber Technical College
---
While DOPL has a revamped website and a search function where customers can, and should, turn to check a salon's history, the KSL Investigators found these state reports don't always paint a complete picture of what the county health departments might see, hear or investigate. And because many counties don't post the results of their own inspections to their websites, residents who live there, and are likely to get pedicures there, can't easily access information that will let them know a salon's track record.
While any member of the public can request the same inspection reports obtained by KSL, some departments may require a formal records request, which can take a week or more to be completed. Still, the information is available for those willing to make the effort to obtain it.
"If somebody requested the information, it's public information and we would provide it," Bob Ballew, public information officer for the Davis County Health Department, said. "They could certainly call us or stop in and ask for that information."
Dave Heaton, of Southwest Utah Public Health, which oversees five counties, said their agency does not inspect nail salons. But he pointed out that there are other resources available for customers willing to do their homework.
"You can do online research, you can do social media and check their reputation," he said. "You can always talk to the manager and you can go online to DOPL."
He said that since their agency doesn't regulate salons, that responsibility falls to DOPL. Utah County Health Department said they also send all complaints to the state agency.
Many of the complaints obtained by KSL were investigated by the state division and led to citations being issued. Consumers with concerns or complaints should contact their local health departments or file their complaints directly with DOPL.
The KSL Investigators contacted a lawmaker who says he wants to draft a bill that will require county health departments to begin posting their inspection reports online.
Ultimately, Zollinger believes she can trace her infection back to a pumice stone used on her feet, which experts said are impossible to sanitize due to the tiny holes that cover the surface.
She just hopes her experience will serve as a warning to others of the risks they run when they walk into a nail salon.
"I don't want this to happen to anybody else," she said. "If I can help one person not get this infection, I think it would make a lot of difference."
Review inspection reports obtained by KSL here.
×
Tags
UtahBusinessEMILEY DEWEY, DEBBIE DUJANOVIC and MARK STEVENS
Tags:
how to clean a sink wash basin nail salon