After making brown sugar country ribs (if you haven't tried this pork recipe, you are missing out!), I chopped the meat off the bone to use in my kitchen sink fried rice recipe. Why is it called kitchen sink fried rice? Because you can throw in whatever you have in the fridge or pantry.
Use whatever meat you have leftover or on hand. Ground beef, chopped steak or brisket, ground chicken or chopped, cooked leftover chicken, pork or even sausage are delicious in this fried rice. Vegetarian? Leave it out! If you don't want to use frozen vegetables, throw in leftover or fresh vegetables like broccoli, carrots, corn, green beans, peas, mushrooms, snow peas or sugar snap peas. Anything goes in this quick rice recipe
This easy fried rice recipe is a complete meal, though who wouldn't love a crispy egg roll with it?
Cuisine: Asian Prep Time: 10 minutesCook Time: 10 to 15 minutesTotal Time: 20 to 25 minutesServings: 4 to 6
Ingredients
Here's how to make it:
Heat the oil in a large skillet. Add the onion and green onions and cook until crisp-tender, about 2 minutes. Add the garlic and cook 30 seconds.
Add the chopped meat and cook, stirring, about 2 to 3 minutes.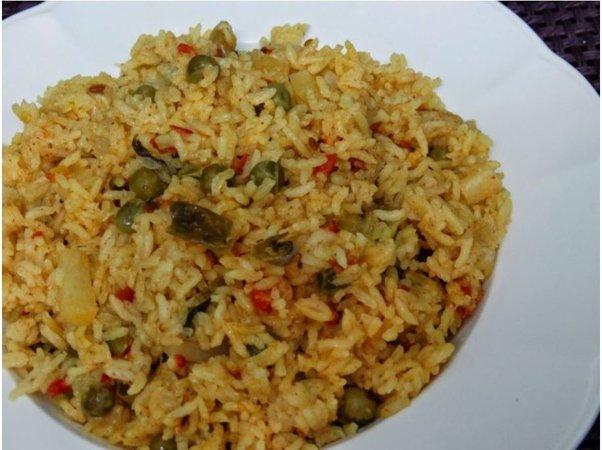 Add the rice and cook, stirring, about 2 to 3 minutes.
Season with a little salt and black pepper (I use a lot of black pepper). Add soy sauce, sweet soy sauce and Maggi seasoning, to taste, or desired seasonings. Cook, stirring, about 2 minutes.
Add the frozen vegetables and cook, stirring, about 2 to 3 minutes.
Make a hole in the center of the rice. Crack desired amount of eggs into the hole. Cook, stirring them in the center of the pan gently, until just set, then stir to distribute them throughout the rice.
Add more chopped green onions. Taste and add more soy sauce and other seasonings, if needed.
Kitchen sink: being or made up of a hodgepodge of disparate elements or ingredients
Need help converting cooking and baking measurements? Here are some handy kitchen conversion charts.
Take 30 seconds and join the 30Seconds community and follow us on Facebook to get recipes in your newsfeed daily. Inspire and be inspired.
Related Products on Amazon We Think You May Like:
Low Sodium Soy Sauce $3 & Up
Boil-in-Bag Jasmine Rice $2 & Up
Sweet Soy Sauce $3 & Up
Maggi Seasoning $3 & Up
White Rice $2 & Up
Vegetable Oil $2 & Up
30Second Mobile, Inc. is a participant in the Amazon Services LLC Associates Program, an affiliate advertising program designed to provide a means for us to earn fees by linking to Amazon.com and affiliated sites.
Tags:
why do wash basins have hole