Do you want to add a touch of luxury and comfort to your bedroom? If so, a hanging chair may be the perfect addition. These chairs are becoming more and more popular, and it's easy to see why. They provide a unique and comfortable way to relax in your home. But with so many different options on the market, it can be hard to know which chair is right for you. In this blog post, we will discuss the benefits of hanging chairs, places to put them and notes on having them. Hope this article will help you decide if a hanging chair is right for you.

Advantages of Hanging Chair
Access to de-stress
They are very comfortable and provide a great way to relax. They can be used indoors or outdoors and are perfect for any room in the house. Hanging chairs are also very stylish and can add a touch of class to any home.
Easy to install
Another advantage of hanging chairs is that they are very easy to install. Most chairs come with all the necessary hardware and instructions. Hanging chairs are also very sturdy and can support a lot of weight. This makes them perfect for people of all sizes and shapes.
Save space
Hanging chairs are also a great way to save space. They can be easily folded up when not in use and stored in a closet or under a bed. This makes them perfect for small apartments or homes with limited space.
Places to Put Hanging Chairs
Bedroom
One way to relieve stress is to have a hanging chair for bedroom. Instead of the conventional sitting spots we're used to in our bedrooms, why not treat yourself to a hanging chair for your evenings? To make this room even more inviting and distinctive, add a couple of accents like a fake fur blanket and a pair of soft plush pillows that are made without harming animals. Are you still undecided? Why not try a hanging chair unit that is supported from a support frame before purchasing one that will be permanently installed from the ceiling if you're not sure where you'll put it.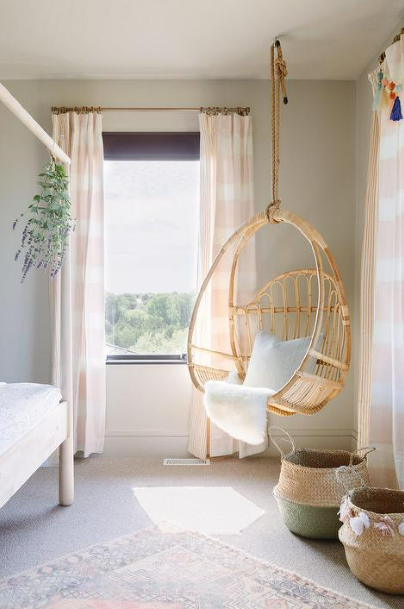 Courtyard
It's beneficial to sit on your outdoor hanging chair. It has a restful and calming effect, which might help to relieve depression, and it also cleans your mind. It's also a bacteria-fighting strategy. In the long run, it can even boost your immunity by avoiding being trapped in the room. Just by being outside and breathing some fresh air, you may enhance your attention. Being surrounded by nature can give your brain a break from everyday overthinking and simulation.
Notes on Buying Hanging Chairs
There are a few things to consider before purchasing a hanging chair. First, you need to make sure that the chair is safe. There have been some reports of people falling out of hanging chairs, so it is important to choose a chair that has a safety strap or harness. You also need to make sure that the chair can support your weight. Some chairs are not rated for larger people, so it is important to check the weight limit before you purchase. Finally, you need to decide where you are going to put your chair. Hanging chairs can be hung from the ceiling or from a stand, and each option has its own set of pros and cons.
Conclusion
If you are considering purchasing a hanging chair, we hope that this blog post has helped you make a decision. These chairs are a great way to add comfort and style to your home, but there are a few things to consider before you buy. We hope that you will find the perfect chair for your needs, and we wish you luck in your search.