This newly-built home, with nearly 9,000 square feet of interior space, is equipped with several features buyers may struggle to find elsewhere: a main level owner's suite, 15 acres of surrounding land, an open floor plan on the ground floor, and a modern, Craftsman-style interior.
The home, "doesn't look like your typical McMansion," said listing agent Tanya Johnson, of Keller Williams Realty. The property is listed at $1.75 million, after a $100,000 price reduction.
She said whereas older-style homes of comparable size in neighborhoods in Ashburn and Aldie "had the cherry cabinetry, stainless appliances and the granite" countertops, this Purcellville house already has "the in-look, [which] is more of a white cabinetry or gray cabinetry with quartz" countertops and a more open floor plan.
The top two levels of the home feature more than 6,000 square feet of space, and a walk-out basement includes an additional 2,700 square feet. The property would be ideal for "Anybody that wants a newer home with more privacy and more space," Johnson said.
The home's exterior has a gray shiplap (interlocking wooden boards arranged to create contiguous siding) façade with masonry trim beneath its windows on the ground floor. White wood trim around the windows, doors and corners pops against the steely gray siding, while roof shingles with an asphalt hue accentuate the home's contemporary aesthetic.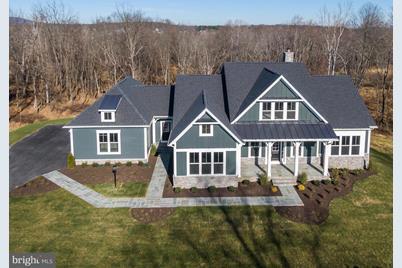 Upon entering the main level of the home, owners and guests alike will be struck by the hand-distressed hardwood floors with a mahogany hue that stand out against the bright white trim and light interior walls.
The open floor plan allows visitors to walk straight from the front door to an enclosed deck at the rear of the home where they can take in views of the wooded landscape behind the property. A fireplace with elegant masonry trim stands in the center of the main floor, between flights of stairs leading to the upper and lower levels and opposite the craftsman-style kitchen.
Beneath a ceiling with recessed lights and beveled trim arranged in a grid pattern overhead, the kitchen features crisp white cabinetry and walls, stainless steel appliances and pendant lights that hang over an island with deep blue millwork, drawing guests' eyes to the center of the space. Walls behind the cooking and prep surfaces are lined with a white tile backsplash, and a pot-filler faucet is situated above the range.
Johnson emphasized that with this property, buyers would be able to purchase a brand-new home, with an interior Craftsman style that she described as "so in," out in the country. She also highlighted its separate catering kitchen, which she described as being like "a big, blown-up butler's pantry that's open."
"I came home and told my husband that I want a catering kitchen," she joked. With four bedrooms, 4.5 bathrooms and a four-car garage, Johnson touted the home's space, styling and amenities as features that make it a unique buy in Purcellville.
Tags:
how high to install a pot filler faucet