Whether looking through windows, skylights, or shower doors it is likely that you are peering to the other side of a glass and project of Lacey Glass at Home. The locally owned and operated glass company has been installing residential windows, mirrors and shower doors since 1980 when Phil Zeutenhorst started Lacey Glass.
Fast forward over 35 years and now Lacey Glass is the leading glass shop in the Pacific Northwest and the biggest advocate for natural daylighting in the area. Specializing in slope-glazing and dynamic daylighting, some of the commercial glass works are magnificent showpieces. Yet it is the residential work and customers of Lacey Glass at Home that are at the heart of the nearly four decades of the small, local, family owned business.
Tina Zeutenhorst joined the business in 1988 and has been steadfast in her commitment to family, the needs of local homeowners and providing superior customer relations. "What we do in a larger sense for our well known commercial projects we can do on a smaller scale for the individual homeowner. It may not sound fancy to say we installed all the mirrors in someone's house but we take great pride in making our customers happy and completing quality work. Most of our residential work is practical and functional – and we are very good at that."
Lacey Glass at Home can help with anything from small replacement glass for a picture frame to a major remodel or new construction. Lacey Glass at Home takes care of glass needs from exterior windows and doors to interior shelving, cabinet glass, mirrors, shower doors and skylights.
Jeff Pearson, is the go to guy at Lacey Glass at Home. With over twenty-five years experience installing glass showers and mirrors, Jeff is a proficient glass installer.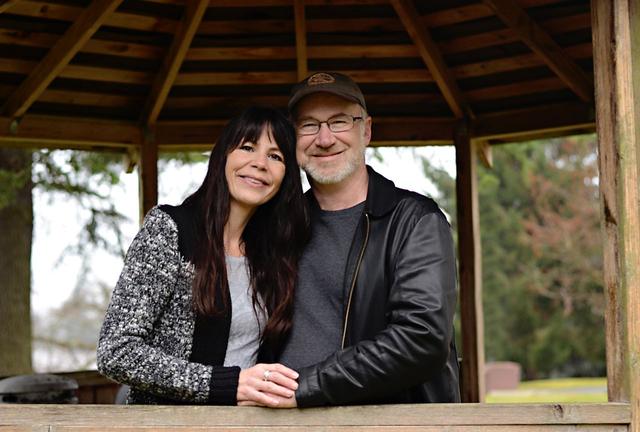 "Bathroom remodels are very common projects. We have a lot of customers wanting an update and to have more of a spa bathroom. Our frameless glass shower doors and mirrors are the best. We have superior glass installation whether it is something functional or more artistic. Really though, most of our residential work is in service and repairs," explains Jeff.
"I fix a lot of broken windows or doors and windows that just do not open and close like they used to. Sometimes just the glass needs to be replaced not the entire window frame because the seal has worn out. We can supply the glass and make the repair," Jeff explains.
"Many of our customers have been advised that they would need a whole new unit when actually they only need a part and it is a simple, cost effective repair," he adds. "We have a strong reputation for being fair and honest. The customer relationship and quality work are what are most important to us."
While Jeff and the Lacey Glass at Home installation crew are experts in their craft, not everyone wants their products installed by an expert. Lacey Glass at Home provides the glass and materials for DIY projects as well as offering occasional inspiration on the Lacey Glass at Home Facebook page.
Whether help with a custom DIY project or an extensive repair, Lacey Glass at Home has the expertise for projects of any size as well as offering one of the largest selections of glass products. They provide free estimates either by stopping by their impressive showroom or by completing an online form. Estimates and some products are available next day.
Lacey Glass at Home1210 Homann Drive SE in Lacey360-459-8411
Sponsored
Tags:
how to install timberline shaving cabinet with mirror