If you're dying for a real vacation right about now, we have good news—and bad news. While spring break might still be canceled, that doesn't mean you can't bring the magical vibes of travel into your home with some fresh decor.
After scouring Instagram for the hottest looks, we're here to bring you these top five favorites. From European-style lamps and vintage accents to tropical-colored tiles, these bathroom looks have a little something for every would-be traveler. Here are five trending decor styles from the 'gram—plus all the details on how to steal the look.
1. Box-framed wall lights
You may not know this one by name, but you'll certainly recognize the industrial-chic vibe of these wall lights from @houseofbeau13.
"This is a great example of a trend that started in outdoor decor and became a hugely popular style for all types of indoor lighting," says Natasha Nicolaou of NatNico Designs.
"The materials have an industrial feel, yet the box frame is light and delicate enough to not be overwhelming in a small space," continues Nicolaou. "This makes the box frame sconce perfect for adding just a touch of industrial style to a bathroom."
Get the look: Give your polished powder room an old Europe vibe with these dark bronze-finish brass wall lanterns from The Home Depot.
2. Antique-style mirror
Nothing screams "WC" quite like an antique-styled mirror like this one from @_havensent_.
"This past year has seen homeowners going for more bold and playful design choices in bathrooms," says Nicolaou. "Where there's bold design, you will often find a gorgeous ornate gilt mirror."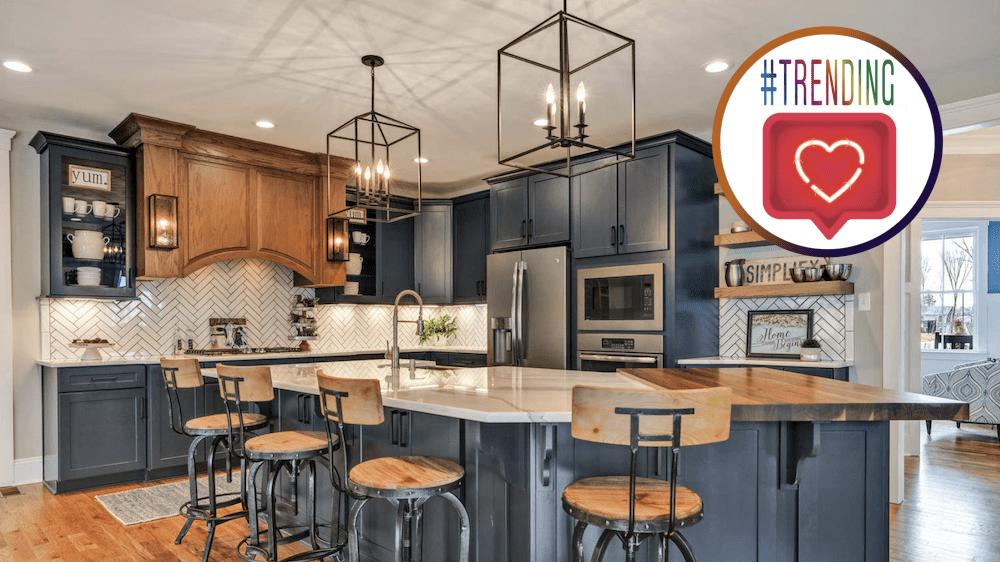 "The vintage gilt mirror is a trend we have seen pop up in every room of the house over the years, and it's finally found its time to shine as the crown jewel in bathroom design," she adds. "They add a vibe of glam and vintage style to a bohemian or industrial-style bathroom, and they fit right in with the playfulness and color that's trending in bathroom tile and wallpaper."
Get the look: Round off your bathroom's playful vibes with this modern accent mirror from Wayfair.
3. Bold and beautiful shower tile
Claim your home to stay up-to-date of your home's value and equity.
If your dream destination involves more palm trees than castles, you're going to love this colorful shower tile from @thehouse.andme.
"Don't be afraid to use a bright, bold tile in your shower," says Daniel Javor of Next Luxury. "Just balance it with soft neutrals in the rest of the bathroom.
"Bathrooms tend to be smaller spaces, making them perfect for splurging on a bold tile that would be too overwhelming or expensive to use elsewhere," he continues. "Color is influential on your mood and mental state—so choose a soothing blue or green, or even an energetic yellow, orange, or red."
Get the look: Shop this Loft Mata Hari polished glass tile.
4. Extra-long medicine cabinet
Another thing we find ourselves missing these days are quirky hotel rooms. Switch up your bathroom mirror into something functional and fun with one of these XL medicine cabinets featured by @nziarko_.
"It's about time this became a trend," says Nicolaou. "I have no idea why we've put up with tiny little medicine cabinets and tiny little mirrors for so long, but I'm so happy with all the choices that are offered now.
"With storage space at a premium in the bathroom, these extra-long cabinets are the perfect answer for those of us with countless creams, lotions, and serums in need of stashing away—and who wouldn't want a bigger mirror?" she asks. "The perfect combination of form and function, this is a trend that will stick around for a long time."
Get the look: Upgrade your bathroom storage with one of these Searle surface-mount framed medicine cabinets from Wayfair.
5. Oval vessel sink
With space being of the essence, there's no better solution to efficiency in a bathroom than one of these oval vessel sinks featured by @holzhausliebe.
"If you're remodeling your bathroom, a vessel sink is a great choice because it's stylish, easy to install, and gives your bathroom a contemporary look," says Javor. "An oval shape is nice because it's thinner, making it perfect for use in narrow bathrooms, and the long length also gives you more options with faucet placement."
Get the look: Bring some contemporary space saving into your bathroom with this matte stone Wisteria oval vessel sink from The Home Depot.
Tags:
how to install a vessel sink faucet