Food & Wine
By Cory McCoy
ORDER REPRINT→Richland, WA
A Richland couple is hoping to turn a long vacant restaurant building into a family friendly hot spot.
Joey Casados and his wife Amanda Thavone said they are on track for a January 2022 opening of their new-era taphouse in the old Dupus Boomer's building.
Boomer's was intended to anchor the Swift Corridor Project in downtown Richland, but closed after just more than a year in business.
Developer Greg Markel said at the time it was a difficult decision, but he was confident the property would find the right tenant.
The Swift Corridor Project is a long-term development by the city that included construction of a new city hall, and will eventually see Swift Boulevard extended east to the Columbia River.
The aim is a revival of central Richland and walkable neighborhoods.
Casados and Thavone hope their innovative approach to Flight Tap & Table will light a spark in downtown Richland.
New-era taphouse
What is a new-era taphouse?
Casados and Thavone don't want to own just another bar or restaurant. Their goal is to create an environment where you can have a great time with a wider variety of options than the current competition has to offer.
From the moment customers walk in the door, Flight Tap will look to set itself apart.
Whether it is sampling craft beer, getting together with friends to share some small plates or doing flights of Mimosas with brunch, Flight Tap will have you covered.
"We're not focusing on the persona of a bar, we're focusing on the experience of a new era taphouse," Casados said.
"We're going to not only specialize in craft beer, but also small plates. I feel like being a taphouse with 44 beers, it's very easy to get away from the kitchen and stay there, but I feel like we have an equal passion for the front side of the business and the (kitchen). Not to mention, craft beers that you won't be able to find at other bars."
The flights aren't just for the drinks, Thavone said. Traditionally flights consist of a sampling of several beers or cocktails in smaller glasses, but at Flight Tap, diners wlll be able to try the food options in "flight" format, as well.
Cocktail flights are set to include favorites such as mimosas, bloody marys and margaritas.
Tri-City natives
Casados, 34, and Thavone, 31, are both from the Tri-Cities.
While Amanda was working toward her registered nurse's degree at Columbia Basin College, Casados studied business. He describes himself as a serial entrepreneur.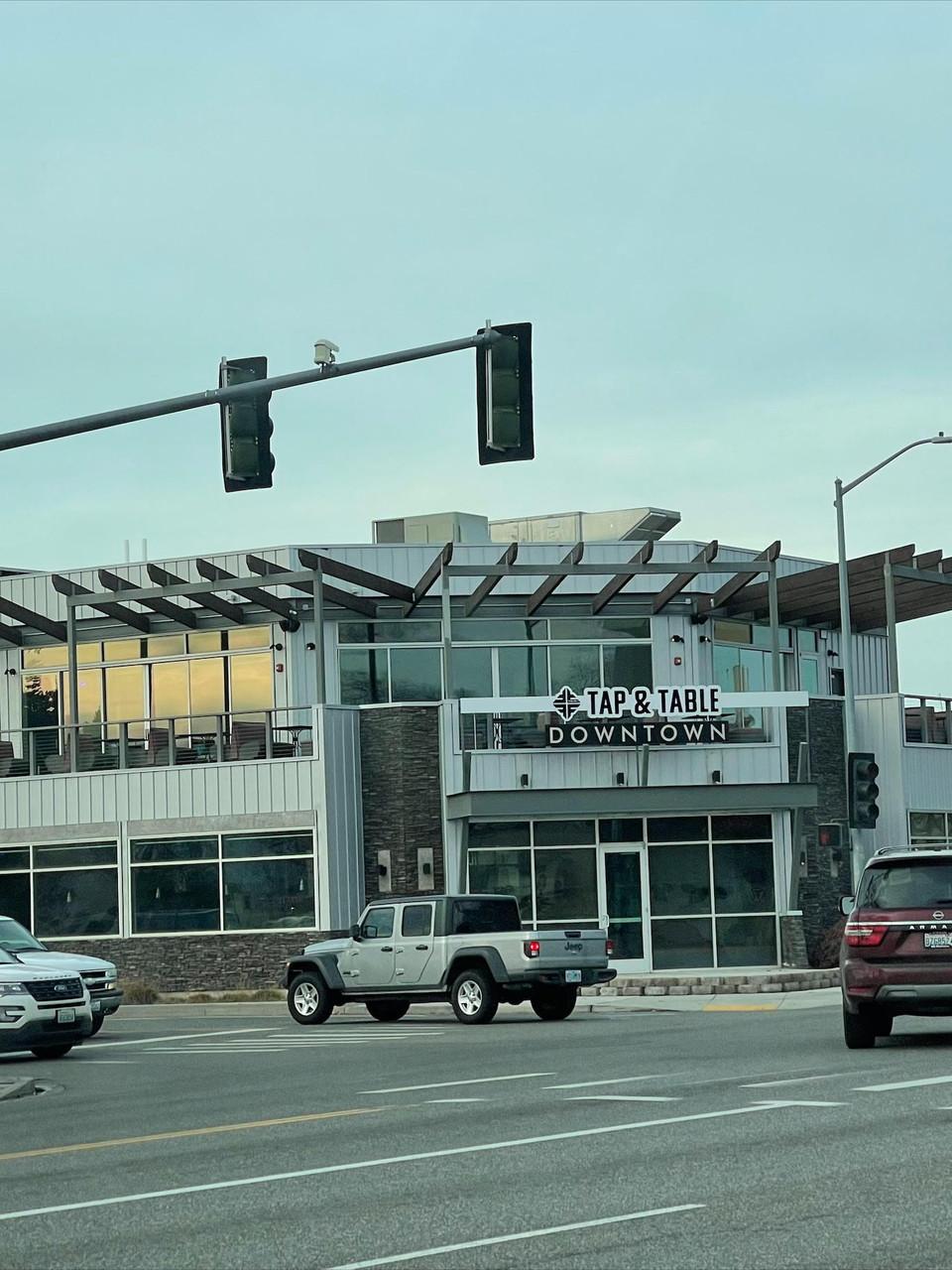 They said they are passionate about being local business owners, and are grateful for the opportunities the community has given them. While they had long-term goals of opening a taphouse, the opportunity to get into the Boomers building spurred them to into action.
The couple was putting the finishing touches on the interior of the restaurant the week of Christmas.
Seating at the entry will include some swings, next to a "selfie wall" designed for taking photos with family and friends.
They also will have more than 30 TVs for watching games, and offer deals sure to turn heads.
"We have a special that's going to be every day, all day. It's going to be 'buy any food item, and you get your first drink for 99 cents," Casados said.
Their chef was in the kitchen working on perfecting the menu, which will offer items such as sliders, tacos, wings and other small plates.
The taphouse will offer membership options with its "Mile High Club." Members will receive discounts, earn free merchandise and more.
Casados said he's particularly proud to offer so many craft beers from the Pacific Northwest. Some of the Washington breweries that will be on tap include Balebreaker, Great Notion and Dru Bru.
Shipping delays
Merchandise has begun coming in, but pandemic supply chain issues were causing some delays on other items.
The main holdup right now is the exterior signage, but they're confident it'll be going up within the next few weeks.
"It's been very very hard as far as shipping times and turnaround. It's just been one of those things," Casados said.
"We're on schedule, and it feels great to be on schedule, especially in this time (of uncertainty). We're super excited for that, but there are just going to be some things that are going to be a little delayed."
They've also began hiring and training. Though they don't have a specific opening date, they're confident that Flight Tap & Table will open next month.
The right time
The 7,500 square-foot, two-story building at the corner of Swift and George Washington Way has sat vacant since just after Christmas 2017.
While the location might seem daunting, Casados knows it well. He co-owns TeaHaus just next door.
"There was always something about this building. Even before Teahaus, my wife and I had it in our minds that we eventually wanted to open a taphouse," Casados said.
"Every time we passed by this building … we always wondered why it sat for so long. ... Fortunately for us, we knew who the Markels were and it grew from there."
Casados believes the building is the perfect location to launch an innovative new concept. He said it took some time for the growth to catch up to their vision, but when the opportunity presented itself, they knew they had to act.
"When it came to this building there was no 'right time.' It was just a matter of working a deal with the Markels. They fell in love with our business plan," Casados said.
They're particularly excited about the opportunities that will open up as the Swift Corridor project nears completion.
With an expansive second floor, complete with a sweeping patio, Casados said extending Swift Boulevard to the river is going to create some amazing views for customers.
He also hopes to see more parking added as the city develops the lot across the street where the former City Hall was demolished, and eventually moves the old fire station on George Washington Way.
Great expectations
The couple said they're taking the lessons they've learned during the pandemic to heart, and are ready to make adjustments should the ongoing pandemic throw a wrench into their plans.
They also said they've been blown away by the community's response.
"A lot of people are very excited for the 'old Dupus Boomer' building to be back open after five years. The community has been giving us nothing but blessings, and congratulating us for finally getting this landmark of a building back open," Casados said.
"It makes me feel good, because it feels like we're doing not only something for ourselves and our future, but we're doing something for the community. They see this beautiful building each and every day on their way to work and for it to sit for so long, it was just one of those things where everyone wondered and asked."
The couple said they know that they have big shoes to fill, and are going to do their best to live up to the expectations the community has.
Cory McCoy
emailCory is an award-winning investigative reporter. He joined the Tri-City Herald in Dec. 2021 as an Editor/Reporter covering housing and development. His past work can be found in the Tyler Morning Telegraph and other Texas newspapers. He was a 2019-20 Education Writers Association Fellow, and has been featured on The Murder Tapes, Grave Mysteries and Crime Watch Daily with Chris Hansen.
Tags:
how to change wash hand basin tap