Make more of a compact cloakroom or en-suite loo with our smart downstairs toilet ideas. A cloakroom is just the place to experiment with a new style you might not be confident enough to try in a bigger room.
A great area to express your individuality and creativity, a separate loo can be a nod to your fun side, without changing the overall style of your house. However, balancing bold design and function can be tricky in such a small space.
Downstairs toilet ideas
If you are working with a small, possibly awkward downstairs toilet or cloakroom, clever storage ideas and space-saving fittings are essential. Fold away cabinets and chests or towel rails under basins are just two ideas that could save you valuable inches in a tiny cloakroom.
Use your bathroom idea to express your individual style: Fun, bold wallpaper, a wall mural or a printed blind will add flair and creativity to your room. Add contemporary touches, such as statement fittings in bold chrome, or exposed brick walls for an edgy, industrial feel.
Take a look at these cloakroom and downstairs toilet ideas to transform your confined yet essential space.
1. Make a strong statement on the floor
Image credit: Future PLC/ Colin Poole
Ever wanted to really express your decorating self but lacked the confidence to totally commit? This small space is the perfect place to try something more daring. Here's your chance to be brave and experiment with styles and colours you might usually shy away from. When the space is verging on the small side, we recommend adding interesting to the floor instead of the walls to avoid making it feel too enclosing.
2. Keep it classic in a downstairs toilet
Image credit: Future PLC/ Rachael Smith
A tongue-and-groove wall panelling idea visually frames this stylish cloakroom and the handy shelf at the top acts as a mantelpiece to a host a selection of glass vases. The eau-de-nil colour is a relaxing choice and works beautifully with the period tiling in the compact space.
3. Opt for a space-saving corner sink
Image credit: Future PLC/ Claire Davies
Look for smart solutions to save space in a very limited cloakroom. Utilise a corner sink to free up valuable space to move around in. This downstairs idea is especially effective if your door opens directly onto the sink – the smaller the design, the less restrictive it feels. Seek a corner storage unit to sit beneath the sink to save further space.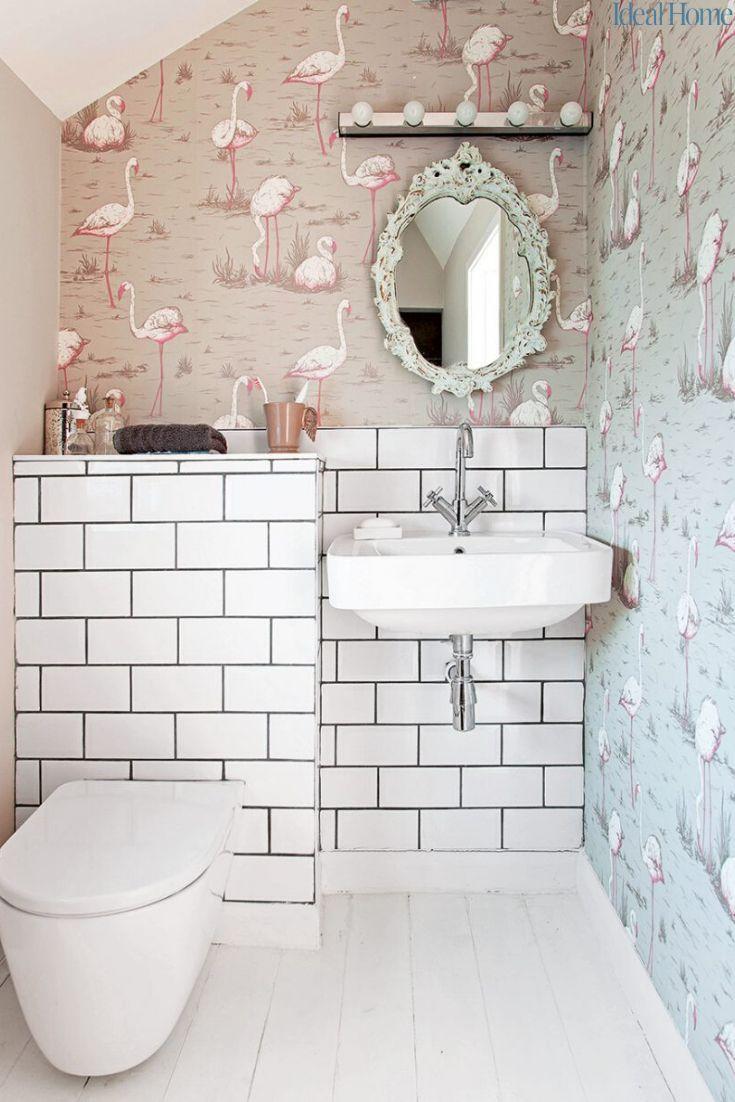 4. Build bespoke storage
Image credit: Future PLC/ Jamie Mason
If starting your cloakroom design from scratch consider building bespoke storage to make it feel less imposing. A recessed cubby hole helps to emerge the storage into the wall, making it more streamlined. Adding lights above helps to create the perfect spot to display bathroom essentials which enhance the scheme, such as house plants, scented candles and luxury products.
5. Get creative with chalkboard paint
Image credit: Future PLC
Chalkboard paint is the gift that keeps on giving, allowing you to change the outlook as and when you feel like it. As a downstairs toilet idea it creates an opportunity to write welcoming messages for guests or memorable famous quotes to ponder while using the room. It's a great idea or a family bathroom to add an element of fun to toilet training.
6. Choose a sliding door to save space
Image credit: Ripples
Look for space-saving designs to be smart within limited spaces, such as this sliding door solution. While it's highly advised to choose an outward opening door in a small cloakroom to make the room feel bigger, that can prove tricky when the room in question is located in a hallway beneath the stairs.
An outwardly opening door could prove hazardous to passing members of the household and quests. When space is really tight try a sliding door instead, to mean the door takes up literally no space inside or out.
7. Transform the space with a bold theme
Image credit: Future PLC/ Georgia Burns
A small space is the ideal place to unleash your creativity when it comes to a decorating scheme.As this compact cloakroom proves, with a wild safari animal theme. Using a captivating wallpaper on all walls, hanging framed animal prints and dressing all levels with house plants solidly cements a theme. This on a larger-scale might feel too overwhelming, but in this simple and smalls pace it helps to add definition.
8. Add value to your home
Image credit: Future PLC/ Mark Luscombe-Whyte
Adding an extra cloakroom to your home will not only ease pressure on your existing facilities when it's busy, it can also add value to your home if done well. It might take less space than you imagine, too.
If it's relatively simple to run water to your box-room or smallest bedroom, if it sits above the kitchen or is next to an existing bathroom, for instance, then it's worth thinking about changing it into a cloakroom, downstairs loo, or even a bathroom.
9. Be bold with blinds or flooring
Image credit: Future PLC/ Rachael Smith
Who said colour blocking was only for fashion? It's also very effective in this small cloakroom. Simplicity is key with a dramatic yellow floor which bursts out from the white back-drop and bathroom suite
The same bold colour is repeated in the botanical window blind idea to enhance the sunny effect.
10. Get creative with wallpaper
Image credit: Future PLC/ Rachael Smith
The cloakroom is a good place to express your creativity as this flamingo wallpaper proves. The Cole & Son Flamingos 66/6042 wallpaper is an on-trend motif and is effective in the small space.A pretty mirror, lighting and accessories add to the feminine style while metro tiling with dark grout balances the look. Once fashions change this small space can be easily updated with just a few rolls of fresh wallpaper for a whole new look.
11. Build in clever storage
Image credit: Future PLC/ Brett Charles
Space is nearly always limited in a cloakroom, meaning you need to seek smart bathroom storage ideas. These cupboards and shelves built around the toilet not only creates essential storage but also hides the cistern for a streamlined finish.Whitewashed or weathered timber creates a rustic, coastal look enhanced by marine blue-coloured soft towels.
12. Choose a floating vanity unit
Image credit: Future PLC/ Jamie Mason
A floating or wall hung vanity unit will create the illusion of space and is handy for keeping storage baskets tucked beneath. Continue the clean and simple style with calming eau-de-nil metro tiling mounted half-way, fresh white walls.
A three-tiered mirror adds interest and a vintage twist. Spot the palm tree print in the reflection (on the opposite wall) which has tropical flavour.
13. Maximise the space
Image credit: Future PLC/ Tamara Cave
Rather than blocking off the entire width of the wall next to the cistern and pipes, use the unused space for storage. This little cubby hole is ideal for stashing spare loo rolls and hand towels – and when the door is shut, you'd never know it was there.
14. Be brave with pattern
Tags:
how to install a downstairs toilet