Wainscoting has always been a sought after feature in homes. And, now with the best wall paneling ideas becoming increasingly modern looking, it's totally worth exploring all the DIY wainscoting options and ideas to add your own spin on this classic wall decor. Whether you want to add wainscoting to your bathroom, living room, dining room or bedroom space – and whether you're a total DIY novice or fairly confident – this is an achievable look for everyone, and for all budgets too.
Our step-by-step guide will take you though the tools you need, the measurements to consider, and more, for a stress-free job well done. Plus, we've called in a few industry pros and DIY wainscoting fans for inspiration and expertise. Mike Katona of ShabbyChicHouse.com did up his bathroom with wainscoting and the finish is gorgeous. He says, 'I'm a DIY & home improvement blogger and my wife and I love wainscoting. In fact we just remodeled a small powder room in our house and installed traditional wainscoting boxes, a chair rail as well as crown molding. Wainscoting is amazing at transforming a plain/boring room and giving it a bit of class and elegance.'
What material is used for wainscoting?
You'll find lots of dupes out there which can make DIY wainscoting even cheaper than it already is. John Todd of Elite Remodeling says, 'You can use wood, plywood, plastic or MDF.'
Steve Booz, VP of marketing and product development at Royal Building Products notes that, 'Wainscoting is common throughout the home, seen mostly in dining rooms, kitchens, and bathrooms. Wainscot applications can range from simple in design to intricate installations, and range from 34" to 54" in height based on style of architectural design. Regardless of design, you'll find that PVC bead boards, V-groove & Nickle gap options are easy to use and install. Royal PVC trim & moldings are beautiful, durable and easy to work with.'
The material you use is more or less up to you, the look you want and your budget.
You will need:
'In regards to tools, my all-time favorite tool for wainscoting is my laser level. A laser level is an amazing tool as it will project a laser on all 4 walls of the room helping you make sure that all of your wainscoting boxes or chair rail are a perfect and equal height.' Adds Mike.
Booz notes, 'You'll only need a few basic tools, such as a cut-off saw, hammer or nail gun and an entry to intermediate skill level to properly install.'
1. Plan out your panels and their height
Use a pencil and a tape measure to mark out exactly where you want your 'panel' to be and what size and shape you are going for. You want all of the wall panels in your room to be the same distance away from the edge of the wall so the overall look is uniform. They should also all be at the same height, and the same distance from floor and ceiling.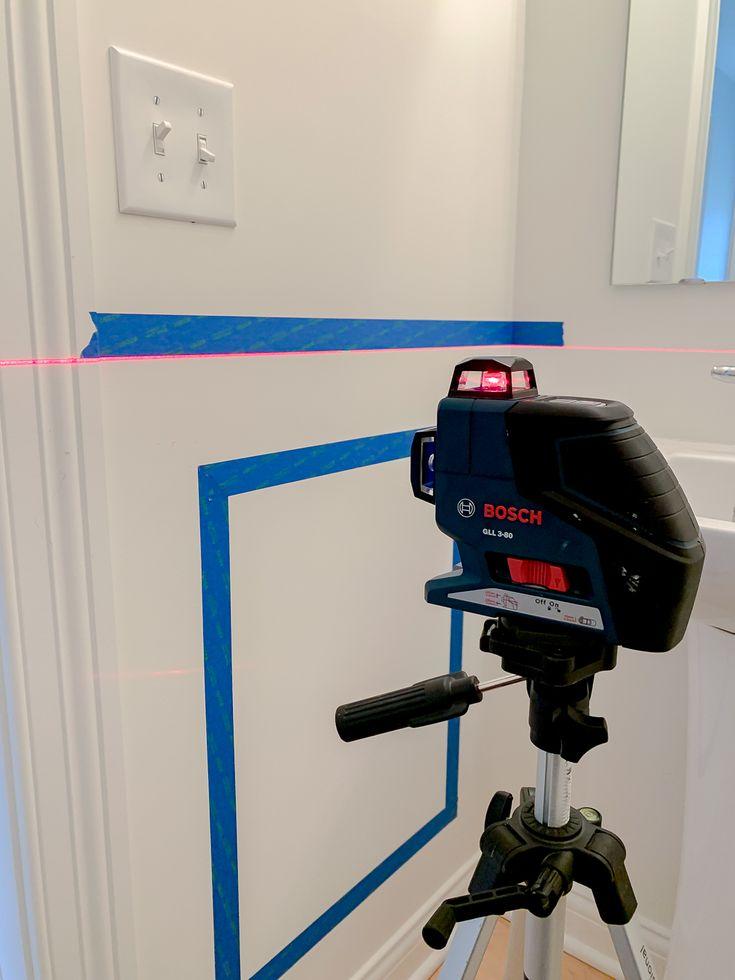 You could go for one panel on each wall, or you could create multiple panels that go halfway up the wall and then add a line of trim (typically called a chair rail) along the top. In Mike's bathroom DIY wainscoting he recommends 'The simplest way to install or start a wainscoting project is by planning out your chair rail and boxes with painter's tape. This allows you to visualize the boxes/chair rails and take measurements before you cut your wood.'
Dan Bailey, President of WikiLawn Austin Lawn Care notes, 'Using a level, mark a line for the top of the panels. Wainscoting is usually 32 inches tall.' But, the height of your wainscoting depends on the look you want, of course.
2. Work out how much paneling you need and prep your walls
Bailey says 'To determine how much paneling you need, divide the total linear footage of the room by the width of the panels in feet. Next, remove any molding that exists and take off outlet covers. You may need a utility knife, a pry bar, and/or a screwdriver for these steps.'
2. Cut your panels to size
Once you have planned out your wainscoting design, you can start cutting your panels to size based on the lengths and widths you have chosen. You will need to cut each piece at a 45 degree angle so that they fit together nicely. For the best result we would recommend using a miter saw or miter box.
Once you have cut all your pieces, lay them out as they would be on the wall on the floor just to check they all join together nicely.
3. Place the trim on the wall
Use a level for this, not just the pencil marks you made originally. Take the top section of your panel and use a level to ensure it is straight, again use a pencil to mark all the way along the piece of trim so you know exactly where you are going to glue it to your wall. Repeat for the bottom section and then the two side pieces. 'Install the wainscoting from left to right using construction adhesive to hold each panel in place. The top should be flush with your level line.' Adds Bailey.
4. Secure the wainscoting in place
To secure your wainscoting to the wall start with a strong wood glue/adhesive for your chosen material. This could be enough to hold the panels, but if your walls aren't completely flat, you should secure them with nails then fill in the holes with decorators caulk.
5. Fill any nail holes
Let the glue dry and if you needed to use any nails, now is the time to cover up the holes with filler (which you'll need to sand back smooth once dry). 'As you secure panels with nails, make sure you're accounting for where the outlets are.' Adds Bailey.
6. Paint your panels
Next you can start to paint. For a seamless look that makes the panels appear like they are an original feature of the house use the exact same color as the walls underneath.
Bear in mind that you may have to prime your wainscoting first, but just follow the recommended advice on the paint you have chosen.
How can you DIY wainscoting for less?
James Judge, a Phoenix designer, has one of the most budget-friendly wainscoting ideas going, that is simple yet sure to make a great impact. 'Simply install a piece of trim on the wall and then paint that trim and everything below it an accent color. This is low cost, DIY, and still makes a big visual impact,' he says.
'To embrace this DIY hack for wainscoting, I recommend using a simple piece of 2" trim board because it will create definition against the wall. Use a nail gun and/or wood glue to secure it to the wall depending on the type of construction, add caulking to finish off the nail holes and create a clean line where it meets the wall. It's also important to add caulking along the existing baseboards on the bottom so that there are no gaps... And then you're ready for paint!'
'I opted to paint the wainscoting 'Chinchilla' by BEHR Paint (PPU24-093) to create a visual contrast against the light walls. The end result adds dimension, style, and warmth to a room without breaking the bank!'
What is the easiest way to do wainscoting yourself?
Todd adds that the simplest way to DIY wainscoting if you want fuss-free results, fast is to, 'Outline the frame with a pen where you plan to mount wainscoting.. Put wood glue at the back of the panel and glue the wall frame. Attach the panels and nail them with a space of 10 inches. The easiest way will be to start from the corner by securing a panel with nails. Then you should accommodate the wall outlets and proceed installing other panels spaced from18 to 28 inches apart. Continue until you reach your next corner. If you do not have room to place the panel in the second corner, you should just cut it with a jigsaw or circular saw.'
What is the best height for wainscoting?
'Anywhere from 28 to 36 inches up from the floor is the right height for chair rail molding.' Says Todd.
'When it comes to height - It really depends on the space but a safe height is 30" to 36" because that's the average height of a chair rail molding (The piece of wood that prevents a chair from damaging the wall).' Adds Judge.
Does wainscoting make a room look bigger or smaller?
Booz notes how wainscoting can have an effect on how large a room feels. 'Wainscoting can make a room feel taller when placed one-third of the way up from the floor. Place two-thirds of the way up from the floor to make a room feel more intimate.'
Tags:
how to install 3 tape hole bathroom faucet