So, your bathroom is looking a little dated—or maybe a lot dated. You're overdue for a refresh, but you don't have the budget to bring in a team of pros for a gut rehab, and you're not exactly the handiest homeowner in the world.
OK, here's the good news: There are plenty of DIY projects you can tackle yourself when you're ready to breathe new life into an old bathroom. And we promise, these projects are foolproof, even for total newbies. Promise.
Ready to get started? Here are some low-risk, high-reward projects that will take your dated loo from dingy to daaaaaang! in no time.
1. Swap out soft goods
Photo by mango design co If you don't know the difference between a Phillips and a flathead screw, there's still hope for you. For the easiest bathroom makeover ever, simply replace your ancient shower rod, get a new shower curtain, and update window treatments.
"Only tackle the items on your list that you are confident you can handle," says Leah Tuttleman, corporate interior designer for Re-Bath.
After all, one of the most common mistakes homeowners make is taking on projects that go beyond their expertise, she says. There's no shame in keeping your projects as simple as possible, and you'll be amazed by what a difference a new shower curtain and window treatments can make.
It's an easy an opportunity to inject personality and color into your bathroom.
"A natural-finish Roman shade or plantation shutter is a quick update, and a colorful scatter rug brings color and soft texture to the space," says Caroline Harmon, senior trend and style analyst for Lowe's.
While you're at it, check out the rest of your bath linens to see if towels or robes could use an upgrade.
2. Spruce up your vanity
Photo by Mission Builders LLC "If you don't feel comfortable replacing your entire vanity, try just upgrading small features, like the faucet," says Harmon.
A matte black faucet, for example, creates a sleek, modern look. Gold hardware can give your vanity an on-trend update.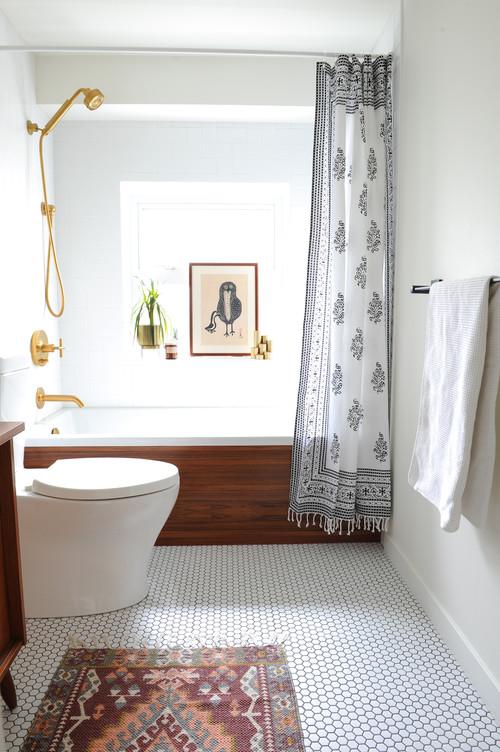 "Replacing your mirror or cabinet knobs are two other quick and easy projects that will transform your space in an instant," Harmon says.
3. Give your tub or shower the spa treatment
Photo by niloufar_winkler It's easy to give your shower a luxe upgrade, no power tools required.
"Add a teak bench or shower mat to give an element of nature to your shower area," Harmon says. "You can also change the shower head to a new Bluetooth shower head, which not only updates the look of the space but infuses therapeutic properties as well."
You can install a new showerhead in about an hour or less—and all you need for the job is a wrench and some pliers.
4. Add storage
Claim your home to stay up-to-date of your home's value and equity.
Photo by The Basket Lady Who couldn't use more bathroom storage? Harmon suggests adding a wicker basket to the back of the toilet for an easy and attractive solution.
"Not only is it nice to have it handy, but the wicker adds warmth and texture to any bathroom," she says.
If you want to take your DIY skills to the next level, Harmon suggests trying a beginner-friendly project, like installing wall shelves.
5. Paint the walls or put up wallpaper
Photo by Hannah Brown A small powder room is the perfect palette for experimenting with bold colors and designs.
"Powder room projects reflect the homeowner's personal taste, color, and style," Tuttleman says. Paint the room a bold new color, or put up removable wallpaper that's easy to swap out if you change your mind down the road.
Afraid to commit? Use wallpaper or paint to create an accent wall instead of coating the entire room in a new color or pattern.
6. See your bathroom in a new light
Photo by Adaptive Building Solutions "If you want to tackle a small project that will transform your bathroom in a big way, new lighting will do the trick," Harmon says.
New sconces, vanity lighting, or overhead lighting can bring your tired bathroom into the 21st century.
Swapping out an existing light fixture is an easy project that takes only a few minutes. If you want to add all-new lighting, however, you should bring in an electrician to help with wiring.
7. Give grout new life
When was the last time you deep-cleaned the grout in your bathroom? If you can't remember, it's probably time to tackle this project.
Cleaning grout doesn't require any special skills—just some elbow grease and a few common household cleaning products, including vinegar, baking soda, and bleach. A deep clean can make stained, mildew-ridden grout look new. You may fall in love all over again with your old shower or floor tile once the grout is squeaky clean.
8. Show the toilet some love
If your old toilet is working properly, you probably don't need to replace it. But it's never a bad idea to replace an old toilet seat with a new one. You can also use it as an opportunity to install a slow-close toilet lid. Cool!
Tags:
how to install a roman tub faucet with shower