When we don't stay on top of keeping the garage organized and clean, it can be overwhelming to find what we need. Take bite-sized steps to get it cleaned and organized and soon your garage will be the envy of the neighborhood.
The garage floor
Pull everything out of the garage. Be cautious when moving boxes and other things that haven't been moved in a while. NEVER reach in or behind an area you can't see, as there could be unpaying renters with sharp teeth lurking. Wear sturdy gloves such as ThornArmour or Helix® 1070 Gloves.
Sweep the floor. Remove oil stain and other spills with a thorough power wash.
Refinish the floor: Epoxy. Epoxy is not paint. It is a rigid plastic material formed from resins and hardeners. This durable coating won't be damaged when you drop a hammer on it or move a heavy toolbox around. Choose from a variety of colors. It's even more effective when topped with a protective urethane seal that can repel oil and gasoline without staining, although battery acid will ruin it.
Installing an epoxy floor is not a DIY job. There are many steps involved. The process takes about three or four days.
Professional installers will grind down the floor and prime it. Cracks will be fixed. The next day, they will cover the floor with the epoxy flooring. After that, they apply a clear polyurethane topcoat to make the floor more stain resistant. The clear coat will take 48 hours to completely dry.
To maintain an epoxy floor, just sweep it. Clean up spills with a wet mop and diluted TSP (trisodium phosphate) or a nonchemical cleaner. Properly maintained, an epoxy-covered garage floor will last for 15 or 20 years, even if you drive and park your car on it.
Stained concrete: Acid stain is muriatic acid with a color pigment added to it. When you put the acid on the floor, it opens the concrete and allows the color to penetrate, so the color becomes part of the makeup of concrete rather than sitting on top of it.
Organize the garage
Keep, donate, sell: It's pointless to organize the garage if you don't get rid of anything. You are just moving the clutter back in.
When professional organizers like Rosie Certified Partner, Get Organized with Bridges & Co., take on this type of project, they completely empty the garage first.
Sort through everything. Keep items you know will be used. Donate, sell, or toss the rest.
Get Organized with Bridges & Co., suggests utilizing ceiling and wall space. Overhead storage is a great place to store less frequently used items.
Take full advantage of wall space by using wall mounting shelving and hook systems. Hook systems allow multiple items to be stacked on one hook and allow for easy access to items.
Plastic totes work well with cabinets and overhead storage. Clear totes allow you to see the contents easily. Plus, critters, dust, and moisture can't get in.
Now that you have cleared the clutter and reorganized the space, you will have room for a car and possibly and exercise area or hobby bench.
Cleaning the car
Don't put a dirty car in a clean garage. Get it spic and span, preferably at a reputable, professional car wash.
Arizona Department of Water Resourcesreports that washing a vehicle at home can use 80-140 gallons of water, which is more than the amount used at a commercial car wash!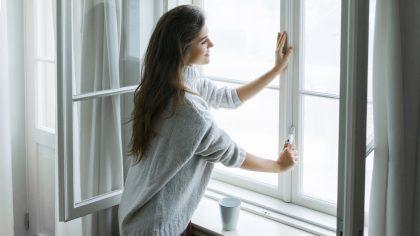 However, if you are determined to wash your car at home, the EPA suggests:
•Wash your car on a pervious surface such as grass or gravel (not concrete or asphalt) so water is filtered before reaching a water body.•Use nontoxic, phosphate-free soaps.•Use soap sparingly.•Minimize runoff by reducing water use, using a spray nozzle to restrict water flow.•Wring out sponges and rags over the bucket or in a sink, not the ground.•Empty wash water into the sink or toilet, or the grass if you wish to dispose of it outside.•Use waterless car wash products for spot cleaning or a car wash kit, which redirects water from storm drains.
The City of Phoenix notes that vehicles are covered in everyday chemicals they encounter on the road which will travel down the driveway, along the curb, into a catch basin, through a pipe, and into the nearest wash or river. This water goes untreated.
Even if the wash water evaporates, the chemicals remain on your driveway or street until it rains, then are picked up by the rainwater and carried to a wash or river. When you wash your vehicle on a permeable surface, like your lawn, the water is filtered, and these chemicals can soak into the ground.
Always remember to use biodegradable soaps and waxes such as JAWS Multi-Purpose Cleaner.
Popular Mechanics offers these steps to washing your car at home.
Assessment — Before hauling out a bunch of supplies, determine how dirty the car is. Maybe it just needs a dusting, rather than a wash and wax.
Read product labels — Before applying anything, read the labels. Not all automotive cleaning products are all-purpose. The wrong product could damage the paint, clear coat, or other finishes inside and out.
Clean the interior – Get rid of the trash, vacuum, dust, and wipe down all surfaces.
Three-bucket system — Keep one bucket filled with clean soapy water and another bucket with just water. The water-only bucket is for rinsing your cleaning mitt before dunking it back into the soapy bucket. The third bucket should include a mix of cleaning products and water that's only used for your wheels, as these are often the dirtiest parts of your car.
Wash the wheels — Don't get cleaning products on the tires. The tires could spray the product onto your paint when you drive the car afterward. Spray your wheels down with water. Use a separate hose or bottle for this part.
Clean the headlights — Headlight restoration kits can be found at most automotive stores. Use masking tape to cover the other surfaces around your headlights. Wipe your headlights down with your cleaning solution and clean them off with a moist cloth when you're done.
Wash your car — Rinse the car with water to remove larger pieces of dirt. Then add soapy water from your bucket to the exterior. Make sure the soap is designed for washing cars. Liquid detergents and dish cleaners can strip away the wax and even damage the paint.
Dry off your car with a microfiber towel or lightly moistened chamois. Wax doesn't stick very well to water.
Wash the windows — Some household glass cleaners contain ammonia that can damage a car's exterior window finishes. Use a window cleaner made for car windows.
Polishing — Polish can be applied by hand or with a dual-action polisher.
Keep a spray detailer and clean microfiber cloth in the trunk for quickly removing dust, overspray, and bird droppings on the go.
Organize the car — Now that the car is clean, keep it that way with after-market organization and protection products such as WeatherTech®. Their products are made in America and fitted for specific models.
Get Organized with Bridges & Co. suggests these items to keep you from searching through piles.
•Coupon organizer•Reusable grocery bags•Trash can•Tissue caddy•Errand basket
Once your cars and garage have been cleaned and organized, your family can place their bets to see how long it will last.
Join Rosie on the House every Saturday morning from 8 a.m. to 11 a.m. on KTAR News 92.3 FM. If you'd like to send us questions or comments, email mailto:info@rosieonthehouse.com. Follow us on Twitter and "Like" us on Facebook. For more do-it-yourself tips, go to rosieonthehouse.com. An Arizona home building and remodeling industry expert since 1988, Rosie Romero is the host of the syndicated Saturday morning Rosie on the House radio program. Call 888-767-4348 with questions and comments.
ShareComments
Tags:
how to paint wash basin