Beautiful new bathroom trends for 2022
Gallery View| Expand View
Update your bathroom for the year ahead
Dulux
Now, more than ever, bathrooms are seriously big deals for homeowners as they seek to relax and recharge away from an increasingly stressful and chaotic world. Going beyond spaces for simply bathing or showering, they have become our own stylish sanctuaries for all-important mindfulness and self-care, and are being given just as much care and attention as the main rooms of the house (and deservedly so!). As budgets are being reassigned upstairs, Nicky Rampley-Clarke rounds up the hottest ideas to inspire your bathrooms for 2022 from statement vanity units to custom basins...
Statement vanity units
Dulux
With the rise of #shelfies comes a proper reason to spruce up our vanity units. Whether painted in glossy black paired with metallic accents, such as this beauty from Dulux, or upcycled from a vintage sideboard with modern handles (see slide 18), a posh platform for displaying trendy toiletries has become the hottest must-have in the home. Instagrams at the ready...
Trending terrazzo
Casa Curated
Once the preserve of floors in Spanish restaurants back in the 70s, terrazzo is a huge trend, with its signature flecks affording a sense of retro style to contemporary bathrooms. Interiors influencer @Casa.Curated uses them to spectacular effect in his spa-like space in Hither Green, South-West London, both on the striking floor and in the his-and-his sinks offset against stunning dark-green tiles. "I wanted to create the kind of warmth and comfort not always associated with bathrooms," he says. "While terrazzo is currently having a resurgence, I think it has a timeless finish that's been around for centuries. Plus, it's unique and sustainable to boot."
Biophilic design
Unsplash
According to the 2022 edition of Pinterest Predicts – an annual report published by the social media planning tool – biophilic design is going to be huge this year, with people craving a connection to nature to comfort them during difficult times. This extends to the bathroom where plants are plentiful, green is the go-to colour, and natural materials are the thing. Lauren Lear, associate designer at interiors firm A.LONDON, says: "With the emergence of biophilic design, the use of lots of natural elements and plants is also on the rise, both of which help to reduce anxiety and stress after a tricky few years." In short, it's all about bringing the outdoors in – rain showers, botanical prints, you name it.
Spa-throoms and wellness features
Victorian Plumbing
Did someone say 'spa day'? Enjoy five-star amenities from the comfort of home with everything from hot tubs, saunas and power-showers providing all the facilities of a spa in your own space. Claire Duncan, owner and designer at Surrey-based Inspirational Interiors, says: "If we've learnt anything over the last couple of years, it's that we all need to spend more time on self-care. By creating an oasis of calm in the bathroom, together with the amenities to match, we can all create a spa-like experience to escape to from time to time." Fluffy dressing gowns and face masks entirely optional.
Green rooms
Dulux
From kitchens to bathrooms, green rooms always comes out on top in online searches and in 2022 it's going to be trending on our walls and cabinetry, as well as on our ceilings! Marianne Shillingford, creative director at Dulux, says: "Nature is a great soother in times of stress, and it's also precious and worth protecting. Hence a shift away from the simple elegance of white towards earthy shades like blues, greens and browns that enfold us in the arms of Mother Nature herself." While we've certainly moved on from the avocado bathroom suites of yesterday, the fact we're gunning for green is proof that fashion does come full circle, albeit with a modern update for a whole new audience.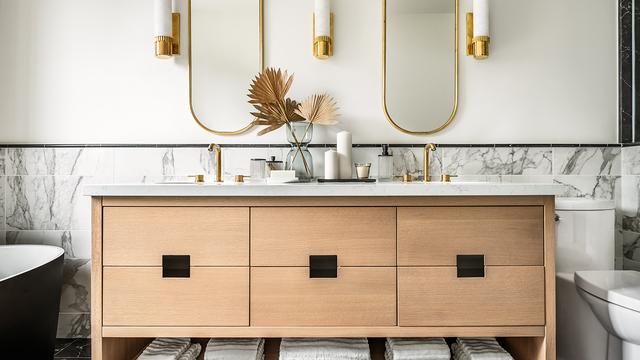 Sustainable materials
Matalan
Sustainability has finally shot up the agenda and is trickling down to the choices we're making when designing our bathrooms. Natural materials have become as important as inspirational style, with the likes of wood, stone and wicker providing sustainability we can surround ourselves with, while brands with genuine eco-credentials are being consciously chosen by consumers. Luckily, a lot of sustainable designers are also producing beautiful and fashion-forward furniture and fabrics, so going green in the home has never been so appealing.
Curvy shapes
Thomas Anderson
Finally: curves are back. According to Pinterest, harsh lines and sharp angles are giving way to curved shapes this year, and it's about time. Think smoother silhouettes in our baths, cabinetry and basins as we embrace organic shapes and tactile surfaces that create more welcoming environments than we've seen before.
Marble everything
Casa Curated
Did marble ever go out of fashion? Apparently not, according to London-based interiors influencer @Casa.Curated. "It's funny how this beautiful material has had such a resurgence when its beauty has been adored for millennia." His Calacatta Viola has been laid out in a herringbone composition in the guest bathroom to accentuate the naturally busy pattern of the material. Crisp and clean, the stone creates a minimalist look while still making a statement and bringing unquestionable luxury to the space.
Aged brass
Victorian Plumbing
"From bottle traps to towel rails, brushed brass is a popular finish as it offers tonnes of versatility," says Antonia Clayson, bathroom design expert at Victorian Plumbing. "It creates a balanced and welcoming feel as its rich undertones add warmth to cooler colours." Brass has been superseding chrome in popularity for several years, adding more warmth than its counterpart, but now aged brass is having a moment. Adding more character than its parent, and complementing pretty much any scheme, it's achieved by chemically advancing the ageing process to create a pleasing patina. Dark in some areas, and light in others, the unlacquered finish has become the last word in luxe. And all without looking brassy, ironically.
Industrial Inspiration
Dunelm
As striking now as it was in the 90s, Crittall doors and exposed pipes aren't going anywhere anytime soon, both in city and country bathrooms. The iconic look continues to lend an air of urban cool to spaces with black frames popping against classic white tiles to create the vibe of a New York loft apartment. Keep things updated for 2022 by replacing exposed brickwork with polished concrete instead and mix in some vintage elements — such as lighting, reclaimed flooring or an upcycled vanity unit — to stop it feeling cold and clinical.
A bath in a bedroom
Soho House
Taking its design cues directly from boutique hotels (think Soho House), those with spaces big enough are experimenting with baths in their bedrooms, creating a luxurious and opulent look and feel. Typically free-standing, the trend isn't for everyone, but when it's done right it's a thing of absolute beauty. Before jumping in, make sure to check with a builder whether the bedroom floor is able to take the weight of a full bath and have a plumber professionally fit it.
Styling it dark
Frontline Bathrooms
#StyleItDark has been trending on social for the past couple of years, and while elsewhere in the home things are getting lighter and brighter, the bathroom is finally turning to the dark side. From deep blues to lush emeralds and bold black, we're creating cocooning and comforting environments for rest and relaxation, best offset against gleaming metallics and dazzling lighting. The beauty of this trend is that sometimes it'll take no more than a couple of tins of paint to achieve the look, and it works well with a classic white bathroom suite.
Sanctuary style
Lights4fun
It's all about setting the scene for your own personal sanctuary at home this year. But as well as furnishing bathrooms with all the creature comforts of a spa, homeowners are keeping them clean and calm, as well as free of clutter, for zen-like spaces in which they can truly switch off. Make sure to add fluffy white towels, candles and a signature scent to create a deeply relaxing ambiance.
Statement sinks
London Basin Company
2022 will also see some bold decorators move away from plain white sinks towards statement pieces that bring colour and pattern into wash spaces. Companies such as London Basin Co. are using Middle Eastern and global influences to design striking countertop basins that transform bathrooms into true works of art. Anna Callis, its founder and designer, says: "For years, bathroom design has been minimal, with simple lines set in neutral colour palettes. Now, more and more people are interested in adding some personality to their bathrooms or cloakrooms. Thus, decorative elements have become a trend, and the introduction of statement basins is a simple but effective way of creating a focal point whilst adding a touch of drama."
Bathroom wallpaper
Wall Sauce
Washable bathroom paint is finally giving way to statement wallpaper as style wins over practicality (it was only a matter of time). Sealed with a matt decorator's varnish, and best avoided directly behind the bath or basin, quality paper can stand the test of time, and add punch to otherwise plain walls. Plus, it's usually cheaper than tiling! Go busy and bold with colour and pattern, or plump for a mural that tells a story. James Greenwood, brand interiors expert at Graham & Brown, says: "Although wallpaper in a bathroom may seem like a faux-pas, you may be surprised by how well it can work for making a statement. In particular, we're seeing a rise in wallpapers with bold design used in downstairs cloakrooms – often the only bathroom guests will see. We love our Aquarium Deep for a quirky conversation-starter."
Wet rooms & walk-in showers
Victorian Plumbing
With increasingly hectic lives and convenience a priority, we're opting for showers over baths, and are giving them the budget and consideration they deserve. Hence the rise of wet rooms and walk-in showers, with smaller cubicles giving way to larger enclosures with statement tiles or mosaics. Not only that, but their features are being given much-needed upgrades, too. Antonia Clayson, bathroom design expert at Victorian Plumbing, says: "Fluted shower screens are taking walk-in showers to the next level. Their unique vertical grooves act as an Art Deco touch but add an element of privacy, too, bringing elegance and practicality to your bathroom."
Vintage furniture
Dorma
Mixing old with new has become the secret ingredient in creating a stylish bathroom that's truly bespoke rather than off-the-shelf. A vintage sideboard can become a platform for a double sink vanity or an armoire is easily used as a place for storing towels. Add bench seating creates a spot for taking a breath after a steamy bath. Smaller ways of fusing the traditional with the trendy include adding modern taps to a classic bath or period faucets with a modern sink. Experiment and have fun; there are no longer any rules!
Feature lighting
Tile Mountain
From illuminated mirrors to dimmer switches, our attention has turned away from bright practical lighting in our bathrooms, and towards creating a subtle glow. Lauren Lear, associate designer at A.LONDON, says: "With people spending more time at home, they want their bathroom to feel as personal and considered as the rest of the house, leaning towards bolder design choices. Other than the obvious lighting that's required in a bathroom, decorative features are often overlooked. Lately, there's much more demand for statement light fixtures, meaning more exciting designs with the required IP rating coming to market. It's about time!"
Oversized tiles
Tile Mountain
Oversized tiles can make even the smallest of bathrooms seem bigger, so it's hardly surprising that large-format is having a moment. Improvements in manufacturing and advancements in printing mean that concerns around breakages and quality of scaling-up are a thing of the past. "We've seen a huge rise in the popularity for large format tiles being installed in bathrooms regardless of the room's size," says Colin Lincoln-Evans, buyer at Tile Mountain. "Not only do these tiles create real impact, but due to the fewer number of grout lines necessary for their installation, they create an air of space and a seamless aesthetic, especially when the same tiles are used on both the walls and floors."
Love this? Follow us on Facebook for more interiors inspiration
Share the love
16 January 2022
Interiors
See more on this topic
Comments
Be the first to comment
Do you want tocomment on this article?You need to be signed in for this feature
Share the love
+ Add Comment
Tags:
how to paint wash basin