Claudine has opened its doors in Singapore's Dempsey Hill, and it offers an enjoyably irreverent take on the 1930s chapel it inhabits.
London practice Nice Projects – led Simone McEwan and Sacha Leong – conceived Claudine's interiors, working the converted chapel's historic elements including wrought iron grilles and a stained glass window into the new design.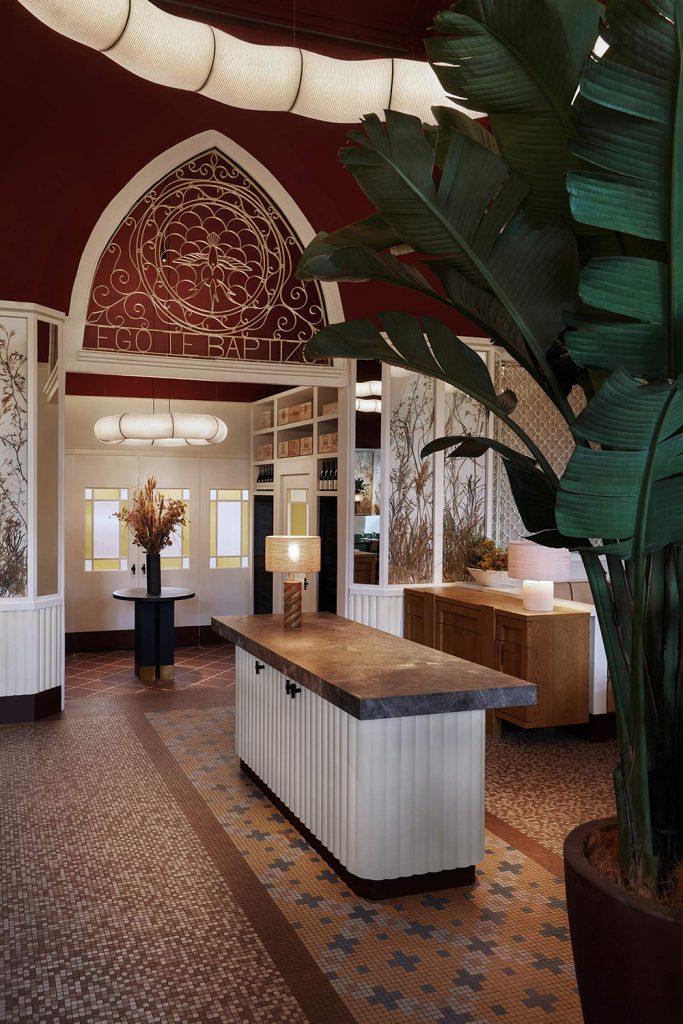 But the duo hasn't relied solely on the building's period features for impact. Walls are half-panelled in dried flower artworks, made by Singapore designers Humid House using local plant life. They contrast the former chapel's deep red gabled ceiling and mosaic patterned floor. Dried grasses encased in glass even wrap around the Singapore restaurant's front desk.
Nice Projects also installed a striking, 15-metre light installation that winds through the space like a snake or a spine, drawing the eye to the original stained glass as well as the ceiling overhead.
Guests sit on pink banquettes that line the edges of the former chapel, or in mint green tub chairs and sofas. Bistro-style dining chairs bring back a taste of the classic French brasserie, echoed in Claudine's menu of onion soup, bouillabaisse, steak flambé and frites.
39C Harding Rd, Singapore 249541
Chandigarh's Tin Tin Restaurant is a labyrinth of geometric pattern
Berlin's LOK6 is dipped in a terracotta colour palette
Luchetti Krelle gives Sydney stalwart the Pumphouse a facelift
Tags:
who installs bathtubs near me