Photo: hotspring.com
A relaxing soak in a hot tub can work wonders on both body and mind: It can reduce stress, eliminate aches and pains, and improve sleep quality. Soaking in a hot tub can also reduce water usage in the long run because you don't drain it after every use as you do a bathtub. Unlike a swimming pool, a hot tub is never out of season. If you're thinking about buying a hot tub, there are several sound reasons to justify the purchase.
Here are the picks for some of the best hot tubs for your home. Before jumping in with both feet, however, be sure to learn about the features you should look for and other factors to consider when shopping for a hot tub.
Photo: amazon.com
Types of Hot Tubs
Almost all hot tubs fall into one of three categories: portable, in-ground, or inflatable. If you are new to the hot-tub market, this is the first decision you should make to narrow down the best options for your home. Read on to learn about the advantages and disadvantages of each type and their approximate costs.
Portable
Though they're not a cinch to move around, prefabricated, installed hot tubs are technically considered portable because they can be drained and relocated. They are made of durable molded material, operate in all types of weather, and are built to last for decades. Prices typically range between $3,000 and $6,000.
Installed portable hot tubs offer a lot of flexibility in terms of placement. They can be set up on a patio or with a deck surround, or even vaulted into the ground. If you are diligent about cleaning their filters and covering them when not in use, portable hot tubs are relatively easy to maintain. You can purchase them in a variety of seating and jet options as well.
In-Ground
In-ground hot tubs are built in place using either a rigid pre-molded liner or a flexible liner. They are often connected to, or adjacent to, in-ground pools. The cost of in-ground hot tubs averages between $12,000 and $20,000.
In-ground hot tubs can be built with materials, colors, and design elements that match your home's landscaping or décor. The shape and size options for custom-built, in-ground hot tubs are virtually unlimited.
Inflatable
Inflatable hot tubs are the fastest and simplest type to set up and are easiest to transport. Many can be packed small enough to fit into the trunk of a car. This kind of hot tub is also suitable for season-long use, with water quality and maintenance requirements similar to other hot tubs. Prices vary from $500 up to about $2,000.
Inflatable hot tubs aren't just affordable, they're also surprisingly durable and comfortable. The disadvantages of inflatable hot tubs are that they don't have molded seating (in fact, some don't have seating at all) and they're not suitable for use in temperatures below 40 degrees Fahrenheit. On the upside, inflatable hot tubs are easy enough to move inside or deflate when the mercury dips.
What to Consider When Shopping for the Best Hot Tub
Whether you're shopping for your first hot tub or your ninth, you have lots of decisions to make in order to choose the one that's best for your home. Size, material, shape, and seating are among the factors prioritized when narrowing down this list of some of the best hot tubs for the home.
Size
"Size" encompasses several characteristics of a hot tub, including seating capacity, seat style, and water depth. Think about how many people you'd like to fit in your tub, what you'll use the tub for, and where you will put it.
Seating capacity does not always correlate with water volume or a hot tub's exterior dimensions. Upright seats generally use less horizontal space but may require greater depth. Reclined seats use more horizontal space but may sit shallower. Also think about the sizes of the individuals who will use the hot tub because user height and ideal water depth are directly related.
As you calculate the right-size hot tub for your desired location, it's important to allow enough space to be able to maneuver around it comfortably. Make sure there is enough clearance between the tub and the adjacent walls or drop-offs to easily enter and exit the tub, and perform maintenance on the unit.
Material
Hot tub shells are made from a variety of materials at a variety of price points. The most common materials for installed/portable and in-ground tubs are vinyl, rotomolded plastic, and acrylic. Stainless steel and inflatable PVC are sometimes also used.
Vinyl hot tub shells are made by placing the liner over a frame made of another material, like cement. Vinyl is often used when the tub is connected with an in-ground swimming pool. It is a relatively inexpensive material, but it does not retain heat well, and it is susceptible to cracks, tears, and fading.
Rotomolded plastic is made by adding plastic powder to a mold, heating it to its melting point, then rotating the mold until it is coated with a smooth, even layer. Plastic is durable and lightweight, which makes it easy to move and assemble. The downside is that it does not retain heat well and could mean higher operational costs for the buyer.
Acrylic hot-tub shells are heat and vacuum molded from a single sheet of acrylic. The acrylic is reinforced with either ABS plastic or resin and fiberglass. Acrylic is highly resistant to wear and tear and retains heat well. It is also heavier than plastic, which makes it a better option for a permanent, in-ground hot tub than one you plan on moving around.
Stainless steel offers extreme structural durability and longevity. It is the go-to choice for direct wood-heated hot tubs and is also well suited to conventional applications. Steel tubs can also be customized with tile, stone, and other finishes.
Because inflatable hot tubs are built for repeated inflation and deflation and have to be fairly puncture resistant, they are usually made from UV-protected PVC plastic. This material provides long-term resistance to cracking, fading, and general wear and tear and holds up well to repeated moves.
Shape
There are four basic hot tub shapes from which to choose: round, square, rectangular, and quarter circle. Aesthetics aside, there are functional reasons for choosing each one.
Round hot tubs maximize the available space, giving the maximum amount of in-tub space with the smallest possible footprint. Round is the preferred shape for inflatable hot tubs because it is a strong shape that spreads the strain of water pressure over the entire wall. The symmetry of a square tub allows equal seating on each side, and the additional space in the center of the square allows for more seating configurations. Rectangular hot tubs offer the biggest variety of seating styles, including fully reclined seating. Quarter-circle, or triangular, tubs are designed to fit into corners, utilizing what would otherwise be dead space.
Indoor vs. Outdoor Use
Hot tubs can be installed either indoors or outdoors. Indoor use requires planning for delivery, floor support, humidity control, water and drain access, and more. The cost to retrofit an existing space adequately could significantly increase the overall project price.
Most hot tubs are installed outdoors. Outdoor hot tubs need a firm, level foundation such as a concrete pad, gravel, or reinforced deck. When planning an outdoor setup, be sure to think about things like lighting, drainage, access to indoors, and how close the tub needs to be to power and water sources.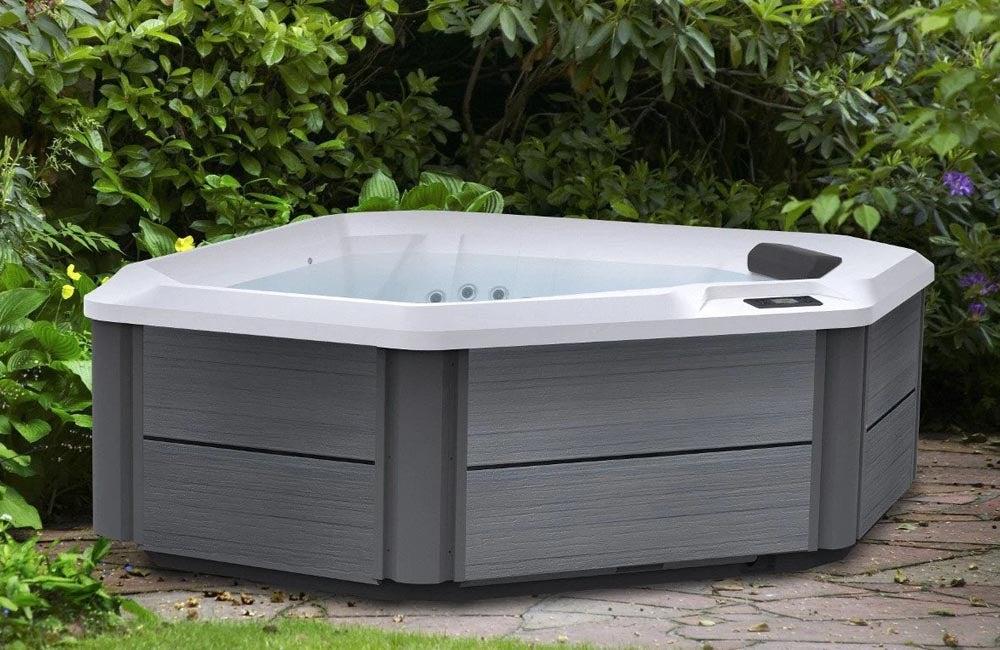 Jets
Hot tub jets are therapeutic. The pressure of a stream of aerated water relieves stress and soreness in muscles and joints. Jetted hot tubs can have 12 to 50 jets—or more—that target the neck, shoulders, upper and lower back, thighs, calves, and/or feet. The tub with the most jets isn't always the most therapeutic, though. The variety of jets and where they are positioned count for a lot too.
A hot tub's jets are important to buyers who want targeted hydrotherapy and less important to those who just want a nice hot soak. If you're on your feet all day, look for a tub with jets that will massage your feet. If you're dealing with low-back pain, you'll want your tub to have jets that target that area. Pillow jets, or adjustable jets that are situated behind the head and neck area of a tub's seat, may be the most important element if you regularly deal with neck pain. Don't be fooled by high jet/pump counts. Look for a great experience, not necessarily more hardware.
As mentioned earlier, the types of jets a tub has matter. Most jets can be adjusted for more- or less-intense water pressure. Rotational jets move air and water in circles for a basic massage effect. Directional jets apply a steady jet onto a single area for a deep massage. Pulsing jets produce a rhythmic effect that can soothe sore muscles. Multi-massage jets consist of a large number of small holes that divide the water into multiple streams. Cluster jets provide a simple non-adjustable flow.
Seating
The best hot tub seating is comfortable for the user, therapeutically appropriate, and spacious enough to contain all of the people who will be using it.
The first thing to figure out is, how many people will use the tub regularly? There should be ample seating for everyone, but not so many seats that you waste space—and money. Larger hot tubs use more water and water treatment chemicals and cost more to heat than smaller tubs do.
A hot tub's seats should relieve pressure points and accentuate the feeling of buoyancy but not actually cause a user to float. For therapeutic use, the best position is upright with your knees slightly higher than your bottom. Water jets should accurately align with the body parts they are intended to treat. If you don't have pain issues or therapeutic concerns, a more reclined position may be most comfortable.
Filtration System and Pumps
A standard hot tub filtration system uses a large jet pump to filter and clean the tub's water. This pump usually works on an automatic timer, but some systems allow users to schedule the filtration cycle. In cool weather, tubs with standard filtration turn on frequently to heat the water. These systems are inexpensive to purchase, but their power consumption can significantly increase your electricity bill.
Circulation pump filtration systems use much smaller pumps to continuously circulate water through the filters to clean and heat the tub. This kind of filtration system runs around the clock, but its small pump uses less power than a standard filtration system. Some circulation pump systems still require periodic circulation through the large jet, but even these use less energy overall than standard systems.
No-bypass with circulation pump filtration systems have an added feature to keep a hot tub's water as clean as possible, even during use. Regular filtration systems have bypass suction fittings that divert water from the filtration line back through the jets while the unit is working. This sends water back into the tub before it has been filtered. The no-bypass with circulation pump system filters all water before returning it to the hot tub, keeping it continuously clean.
Most hot tub filters are made of corrugated polyester fabric. Also known as "paper" filters, they have been the industry standard for decades. Used alone or combined with a microfilter, they last up to two years.
Some hot tubs use ceramic filters that last up to four years. They offer up to twice the cleaning area of other cartridge types of the same size. Although the upfront cost is more expensive, ceramic filters can cut the total operational cost over time.
High-volume hot tub pumps circulate water through the filtration system and power the jets. Circulation pumps (used for filtration only) measure between 1/20 and ⅛ horsepower. The pumps that power the jets measure from 2.5 to 3.0 horsepower.
Additional Features
Choosing a hot tub is kind of like buying a car: After selecting the right model by size, seating capacity, jet configuration, filtration, and cabinet design, you may choose to add even more options and upgrades. A cover—either a simple vinyl fabric model to keep out rainwater and debris or a heavy-duty hardtop cover for insulation and more durable protection—is a popular add-on for hot-tub shoppers.
Some hot-tub manufacturers offer water-cooling options that bring the temperature down quickly if the water is too hot for your liking. In-tub and exterior lighting options promote safety and can enhance the mood. Media-friendly hot-tub options abound too: Integrated entertainment systems let you listen to music or watch videos as you soak. Bluetooth, smartphone, and hands-free capabilities offer maximum control, even when you're away from home.
Our Top Picks
Whether you want a new hot tub for simple relaxation or intense hydrotherapy, this list has some of the best hot tub options to suit your home.
Best Overall
1
Sundance Spas Optima 880 Series
Photo: sundancespas.com Check Latest Price
The Sundance Spas Optima 880 seats six to seven and features loads of upgrades for comfort, convenience, aesthetics, and safety. Three hydrotherapy seats offer variations of deep, full-body immersion with armrests and wrist jets; acupressure jets; soft-tissue hip jets; oscillating deep-tissue relief for the neck, shoulders, and back; and soft soothing jets at the hips. Fluidix jets replicate the feeling of eight different hands-on massage varieties and operate without bearings that can clog or parts that can wear out. An air blower and air-only jets deliver soft-tissue massage and optional aromatherapy for an even more soothing experience.
The Sundance Spas Optima's proprietary circulation pump filtration system includes nature-inspired UV-C technology that neutralizes waterborne pathogens. The recirculation pump operates silently to keep water clean while the tub is not in use.
Other terrific bells and whistles on this tub include multicolor LED lighting in the tub's interior, including backlit grab bars. Its glowing color touchscreen control and icon-driven menus are easily visible day or night and are compatible with the optional SmartTub System. The tub's UV-resistant cabinetry with a tool-free quick-release door and exterior indicator light make it easy to maintain. Dimensions are 89 by 89 by 37.5 inches. The tub weighs 924 pounds when empty and holds 410 gallons of water.
Best Bang for the Buck
2
Intex 28439E Deluxe 4 Person Inflatable Spa Hot Tub
Photo: amazon.com Check Latest Price
The Intex 28439E is an inflatable hot tub with several upgrades that make it a better choice and better value than its competition. The tub is controlled by a wireless panel with up to 48 hours of operation per charge, and its soft yet durable and puncture-resistant Fibertech PVC material feels plush to the touch. Two premium foam headrests add comfort, while 140 high-powered bubble jets add a soothing calm to the experience. A multicolored LED light increases visibility and adds to the ambience.
The insulated cover that comes with the Intex tub helps prevent heat loss, and its built-in hard-water treatment system makes water gentler on skin. Its dimensions are 77 inches in diameter by 28 inches high. The tub weighs 88 pounds when empty. Volume is 210 gallons.
Best Therapeutic
3
HotSpring Jetsetter LX
Photo: hotspring.com Check Latest Price
The HotSpring Jetsetter LX features a 22-jet system that includes the Moto-Massage DX jet that pushes two powerful streams of water to sweep up and down the user's back. It also has clustered precision jets that work together to target the back, neck, and calves and directional jets that target problem areas with adjustable nozzles. The hot tub's settings are easily adjusted using its wireless touch-screen control panel, which has a full-color screen and large, easy-to-read icons.
The Jetsetter LX uses a no-bypass, continuous filtration system and comes ready to install the HotSpring's Freshwater salt system. The tub is illuminated by a multicolor, four-zone interior lighting system and can be upgraded further by adding an optional wireless entertainment system and cover opener. The tub seats three and includes a base vinyl cover. Its empty weight is 480 pounds, and its volume is 210 gallons. Its dimensions are 84 by 65 by 33 inches.
Best Wood-Fired
4
Northern Lights Small 4 Person Wood Fired Tub
Photo: cedartubs.com Check Latest Price
The four-person Northern Lights Classic wood-fired tub is a good choice for off-grid hot tubbing. The tub is built of the highest-quality, clear Western red cedar and is banded with stainless-steel straps. Its wood-fired TimberLine Blaze Heater produces up to 55,000 Btu's per hour to heat quickly and includes a 12-foot stainless-steel chimney with a rain cap. The package also includes a set of custom-built cedar stairs, a drink shelf, a hexagon-style bench with one step-in seat, an insulated cover with child locks, and step-by-step instructions with lifetime technical support.
Wood-fired hot tubs operate differently than other kinds of hot tubs. They are typically used in places where electricity is not available. These tubs are usually filled with water, used a few times, then drained. Northern Lights produces a low-voltage filtration system that can be used with their tubs (system sold separately).
The exterior wood heater is superior in many ways to submersible wood-fired heat systems: It takes up no space in the tub, offers better temperature control, vents smoke for secondary combustion, and automatically circulates water using thermosiphon (no electricity required). This round tub is 48 inches high and 56 inches in diameter.
Best for Small Spaces
5
HotSpring TX
Photo: hotspring.com Check Latest Price
The HotSpring TX is a two-person tub that's ideal for corners or other small spaces. It features 11 powerful jets including a directional massage jet, a Moto-Massage jet, a rotary hydromassage jet, and eight directional precision jets all powered by a 1-horsepower, 2-speed jet pump. Its standard water filtration system can be upgraded to a circulation pump system. The interior is illuminated with a dimmable multicolor LED lighting system.
This hot tub is compatible with numerous HotSpring accessories including cover lifters, a built-in entertainment system, steps, and more (all sold separately). Its dimensions are 72 by 72 by 29 inches. Its empty weight is 635 pounds, and its volume is 190 gallons.
Best Large-Capacity
6
Jacuzzi J-365 Large Comfort Open Seating Hot Tub
Photo: jacuzzi.com Check Latest Price
The Jacuzzi J-365 offers ample seating for up to seven in its ergonomically designed open-seating layout. Guests will enjoy the comfort of adjustable headrests and a total of 46 jets, including Swedish upper-back seats with leg and neck massage jets, lower-back jets, and deep-tissue jets with thigh coverage throughout. A unique hydromassage pillow provides outstanding head and neck massages with a soothing cascade over the neck and shoulders. LED lighting allows for safe and easy entry.
This hot tub's filtration system includes a circulation pump and two diverter valves, plus UV-C technology to eliminate 99.9 percent of waterborne pathogens without chemicals. Its dimensions are 84 by 91 by 38 inches. Its empty weight is 805 pounds, and its volume is 395 gallons.
Best Corner Tub
7
Master Spas Twilight Series TS 240
Photo: masterspas.com Check Latest Price
The Master Spas TS 240 is a cozy corner hot tub with seating for three. It is loaded with features such as out-of-the-water jets targeting the head, neck, and shoulders; strategically placed biomagnetic therapy magnets to reduce inflammation; cluster jets at the foot area for intense massage therapy; and a mineral-based standard filtration system for easy water care. An LED lighting system illuminates controls, water features, and the tub interior.
Available upgrades include a Bluetooth sound system, Wi-Fi module, quiet-flow circulation pump, and more. Dimensions are 78 by 78 by 34 inches. Its empty weight is 715 pounds, and its volume is 205 gallons.
Best Inflatable
8
Intex 85In x 25In PureSpa Plus
Photo: amazon.com Check Latest Price
The Intex PureSpa Plus inflatable hot tub is a good choice when a traditional hot tub is too heavy, expensive, or just too much of a commitment. This model seats up to six, can be used outdoors as temperatures permit, and is safe for use on soft surfaces like grass. The kit includes what you need to enjoy a hot soak: an inflatable tub with 170 jets and an insulated cover, a blower, a heater, a water treatment system, an LED light, two filter cartridges, two headrests, a thermal ground cloth, an inflation hose, a carry bag, a floating chlorine dispenser, and a test strip.
The PureSpa takes only about 20 minutes to set up before it's ready to fill. Its dimensions are 85 inches in diameter by 25 inches deep. Its empty weight is 244 pounds, and its volume is 290 gallons.
FAQs About Your New Hot Tub
If you still have questions about how to shop for, operate, and maintain a hot tub, read on.
Q. Can a hot tub go inside your house?
Yes, some hot tubs can go inside, but it's important to do some due diligence before you go shopping. Before you buy a hot tub, be sure to measure available space for the hot tub and the access route (gates, doorways, etc.) through which the tub must travel before it is installed. The floor beneath the hot tub must be able to handle the weight of a heavy tub that's filled with water and people, so it may need to be reinforced. The tub area must have adequate heat and adequate ventilation to avoid moisture buildup. Also, because the smell of chlorine cleaner can be pretty intense indoors, you might consider using a saltwater system to maintain the tub.
Q. How often do you need to clean a hot tub?
A hot tub's filtration system should run constantly. Skim leaves and debris out of outdoor tubs right away, and keep it covered when not in use. The tub surface and jets need weekly cleaning with white vinegar to keep scum and scale at bay. Its exterior should be cleaned weekly with a 10 percent bleach solution to protect against mildew. Full water changes must be done every three to four months or more often if it is used frequently by multiple guests.
Q. How do you move a hot tub?
Moving a hot tub is no easy feat. With planning, patience, a strong back, and a few friends, it can be a do-it-yourself project.
First, plan the move: Measure the hot tub's dimensions. Measure the access dimensions along the route you'll move the tub. Know what obstacles you will encounter. Hot tubs weigh between 500 to 1,000 pounds or more, so you'll need to recruit three or four strong helpers.
Next, gather your supplies. Rent a truck, if necessary. Depending on your route, you may need four-wheel furniture dollies, a two-wheel appliance dolly, 2-by-4 boards to help with loading and hauling, tie-down straps, and moving blankets.
Prepare the tub by disconnecting and draining it (consult the owner's manual for instructions on how to drain your specific model). Dry the tub and remove its cover, and move the cover separately to avoid damaging it.
Make sure the hot tub is secure as you move it to its new location. If you're using furniture dollies on a hard surface to transport the tub, be sure to secure it to the dollies so it doesn't slip off. If you're moving the tub in a truck, use tie-down straps to secure it to the truck, and place moving blankets under the straps to protect the hot tub's finish from abrasion.
If at any point the tub must be moved on its side (if you have to carry it up stairs, for example), elevate the side of the tub with no access panels. Secure the edgewise hot tub to a two-wheel appliance dolly at one end, using the tie-down straps. Raise the end opposite the wheels, allowing the wheels to carry the bulk of the weight.
A few extra moving tips: Lay plywood on grassy areas and other soft or uneven surfaces to facilitate the use of four-wheel furniture dollies. If using a pickup truck, load the tub on its edge and use tie-down straps to secure it. If using a trailer, be sure to balance the tub over the trailer axle and secure it to the trailer frame with tie-down straps.
Once the tub is in its new location, fill, heat, and enjoy.
Q. How long do hot tubs last?
Inflatable hot tubs last about five years. Installed/portable hot tubs have a life span of about 20 years. Custom, in-ground hot tubs can last many decades.
Tags:
how to install jets in bathtub