Ahh... the humble small bathroom vanity. Quite literally, part of the furniture when it comes to keeping an organized bathroom, this storage staple is essential when hiding away your haul of cleaning sprays, toiletries, and other miscellaneous bathing items.
Now, there's no point eyeballing what you like in-store or online and just buying it. When looking at small bathroom ideas – you need to be more considerate with your purchasing decisions.
How will you get it into the space (is it flat-packed or pre-assembled)? Where will it be positioned in the bathroom? Can you add a mirror above it? What lighting would be appropriate for above this cabinet? Will it fit? And, can you open and close the drawers with ease?
All of these questions and more have been answered by us as we explore the suitability, functionality, and styling potential of these bath consoles. We'll even look at different small bathroom types so you can be confident enough to produce fine results for itsy-bitsy ensuites, pint-sized powder rooms, weeny water closets, and more.
Small bathroom vanity ideas that are super cute
'A grey bathroom vanity can soften the look of your bathroom,' says Sarah Fishburne, director of trend and design, Home Depot.
'Not quite as striking as black, but more unique than white, gray vanities can suit any style of bathroom. If you want a clean-looking neutral for a small bathroom, but don't want a white vanity, consider a light gray vanity instead. Weathered gray vanities blend beautifully with a rustic home, and glossy gray vanities are perfect for transitional or modern styles.'
1. Add a cute vanity in your powder room
Your powder room might be a pinch too small for a full-blown suite of storage, but if you're a half glass full sort of guy or gal – you need not skimp on style. Holding this unusually-shaped pink Nouveau basin by West One Bathrooms, this small bathroom vanity will add a glam touch to your toilet space.
With a touch of marble and brass, why not use this bathroom cupboard as a space to put on your makeup and store your cult cosmetics, q-tips, and cotton pads for the cutest Instagrammable interiors. It's certainly one of the best vanity units we've seen.
2. Go for an industrial boho feel
Whether you call it Primark or Penney's, we can all agree that this industrial boho bathroom is refreshingly raw and unapologetic in style. From the exposed brick wall, to the small bathroom bathtub, this edgy-yet-exotic space can transport you to a far-flung destination.
But, what we're swooning over is the rustic green small bathroom vanity. With its weathered effect and visible glass panels, it's both stylish and functional. And, if you can't track it down in the Irish fast-fashion retailer's store – why not have a go with upcycling your own by finding a second-hand storage unit from a thrift store or online marketplace.
3. Amplify your ensuite with ample storage
When looking at bathroom organization, a small bathroom vanity will help you to plan your space out and tuck away toiletries when guests come around. But, storage opportunities don't stop there.
Unless you're partial to a regular cosmetic declutter (looking at those all-important period-after-opening or PAO symbols), you may find yourself struggling to open or close your drawers. But remember, if things don't fit in the small bathroom vanity, you can always add a portable bathroom trolley too.
'Movable bathroom storage makes sure your things are close at hand where you need them – like fresh towels by the shower!' says Becky Martin, interior design Leader,IKEA UK & Ireland.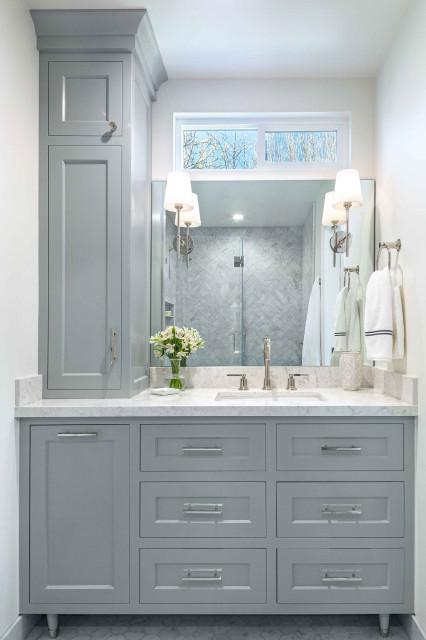 4. Think about the storage around your vanity too
Small bathroom layouts rely on smart planning, product research, and interior know-how. Whether you're remodeling a whole space from scratch, or just swapping out an old small bathroom vanity for something different, the ENHET series, available from IKEA makes it easy to start fresh with a new bathroom solution.
This base cabinet for wash-basin has two handy drawers for all your essentials, paired with white fronts that brighten the room. It has plenty of storage space and is a perfect fit in smaller bathrooms since the base cabinet is only 60 cm wide.
ENHET (meaning 'unit' in Swedish), comes in white to create a clean, bright, and fresh design that is versatile enough to fits with almost every interior scheme.
5. Add brass lighting accessories for a vintage feel
Get a hold on your under sink storage units and add a personalized touch by choosing the handles for your small bathroom vanity carefully. This beautiful blue-grey model in Carla Salsone's (aka @casasalsone) home features a wall sconce by The Montauk Lighting Co. which acts as task bathroom lighting, especially in the evenings.
'Task lighting in the bathroom is where it all begins.' explains Marie Botsis-Premici, co-founder and director at The Montauk Lighting Co.
'Some pretty important jobs are undertaken in the bathroom, including makeup application, shaving, and other daily grooming routines. The best place to start with light is at eye level - mounting wall lights on either side of a mirror provides you with shadowless illumination and the best results for your vanity area.'
'Think about how your vanity or bathroom space will work and light it up accordingly. If you have a single vanity, a light on either side of the mirror is perfect. When you have a long vanity with double basins and perhaps a makeup area in between, give this a little more thought. You may need to focus your lighting on the central area, or if budget allows, think about installing four lights across the vanity for maximum impact.'
6. Keep your vanity plain in a busy patterned bathroom
We can always count on Swedish brand Ikea for their snazzy designs and innovative interiors... So when we saw this black and white bathroom, we were obsessed. Mosaic small bathroom tiles that create 'stripes' to lengthen a snug bathroom, adding interest and drawing the eye up, trendy monochrome towels with the inverse shower curtain detail, and, if you look closely in the mirror's reflection – a maze-like wall art design.
But, so this scheme doesn't give you a nauseating feeling in the morning or make you feel dizzy and disorientated after a few sherberts, the bathroom vanity is kept plain and simple in light of the impactful backdrop.
7. Add interest with a small mosaic tile backdrop
Make your morning routine run like clockwork – even in a small space – with this wash-basin cabinet (with plenty of storage), mirror with shelf, and all your bathing essentials. The NYSJÖN small bathroom vanity, available at Ikea is a perfect fit in the smallest bathrooms since the base cabinet is only 19⅝" wide, but can fit in your toilet rolls, towels, bottles, and hair accessories.
Though the product is plain, we love the sea green and blue small bathroom tile backdrop which adds interest to the walls and floors.
8. Go for a modern rustic feel with a wooden vanity
'Rustic bathroom vanities showcase the beauty of natural wood. These vanities are often complemented by simple accessories and pull in muted metal finishes.' says Fishburne.
9. Add a bold black vanity in a luxury bathroom
This scheme is living proof that you don't need masses of floor space to create a chic bathroom setup. Our favorite elements include the herringbone flooring and that marble small bathroom shower enclosure which feels like you've snatched a section of a spa and brought it home.
But, to stop this washroom from feeling too washed out with white, bold black elements in the form of the mirror, window frame, toilet seat, and small bathroom vanity.
This Burlington Chalfont 650mm Single Drawer Unit in Matt Black, available from Sanctuary Bathrooms features gentle curves and is traditional in style with a sunproof lacquer. This small bathroom vanity also has a soft-close feature with a quiet and sleek operation... perfect in ensuring little fingers don't get trapped!
'Black bathroom vanities are versatile and can be incorporated into a range of styles.' says Sarah Fishburne, director of trend and design at Home Depot.
'When paired with other black decor, they can make large bathrooms feel intimate, making them a great choice when you need large bathroom vanity ideas. When paired with lighter decor, they can be an eye-catching accent piece. Mid-century modern bathroom vanities and modern bathroom vanities both look striking in black.'
10. Go for a dark and dramatic vanity
Gothic glam isn't just for grand main bathrooms – so be persuaded to go to the dark side with a black downstairs toilet idea. Black and brass are a bold combo, and this small bathroom vanity, along with the arched [small bathroom mirror] is serving us mysteriously cool cathedral vibes.
11. Fake more space with a floating vanity
If you're wondering how to make your small bathroom look bigger, there are some tips and tricks you'll need to know before you take your credit card out to commit...'A floating bathroom vanity creates a modern, airy look.' explains, Fishburne.
'It can create the illusion of more space by opening up the floor space underneath. This makes them ideal for small bathrooms. Cleaning is much easier with a floating vanity since the entire floor is easy to access.'
'A wall-mounted sink is an attractive addition to the style of a floating vanity. Since vanities in that style have limited storage, you can mount floating wall shelves that coordinate with your vanity.'
'Rolling carts, bins, or baskets are also an option to hold towels or other bath needs neatly tucked under the vanity. A floating vanity is also a good opportunity to add a tile wall or backsplash.'
What kind of vanity should I use in a small bathroom?
'When you need small bathroom vanity ideas, start with a corner vanity,' explains Fishburne.
'A corner vanity can open up your bathroom and give you more room to move around.'
'Choose a light-colored vanity. Light-colored vanities will bounce light around the room, helping a small bath or powder room feel more spacious. A dark, dramatic wood can also be effective. When paired with lighter decor, a dark-colored vanity draws your attention and can make the surrounding room feel larger.'
Tags:
how to install a freestanding bathtub australia