Desperate builders needing to finish jobs are turning to online auctions for materials, causing some products to sell for thousands above their retail price.
West Auckland sole trader builder Mike Glamuzina sent Stuff a screenshot of a Trade Me auction where bidding for 26 sheets Gib board had topped $5100. The same product is normally listed for sale at Bunnings for $33.82 per sheet before any trade discount is applied, meaning the auction winner paid about six times the usual price.
"It made me laugh, but not in a good way," Glamuzina said.
Another Trade Me auction saw bids on a stack of 50 sheets of plasterboard rise above $6000.
There is a nationwide shortage of building materials, especially plasterboard, with Fletcher Building subsidiary Winstone Wallboards having stopped taking new orders until June.
Trade Me head of marketplace Lisa Steward said there was "no doubt" that the building section of its site was showing the effects of supply chain shortages.
It has seen a 19 per cent year-on-year increase in prices across its whole building materials section.
Steward said that listing views in Trade Me's plasterboard category had "trended" higher than any other category on the site last month.
Lower Hutt Builder Paul Taylor has run his own business for 16 years and says the building industry "seems like it is imploding".
"I've got a small bathroom en suite to start, and I need eight sheets of plasterboard, but I have no idea when I will be able to do it. I've basically been shut out."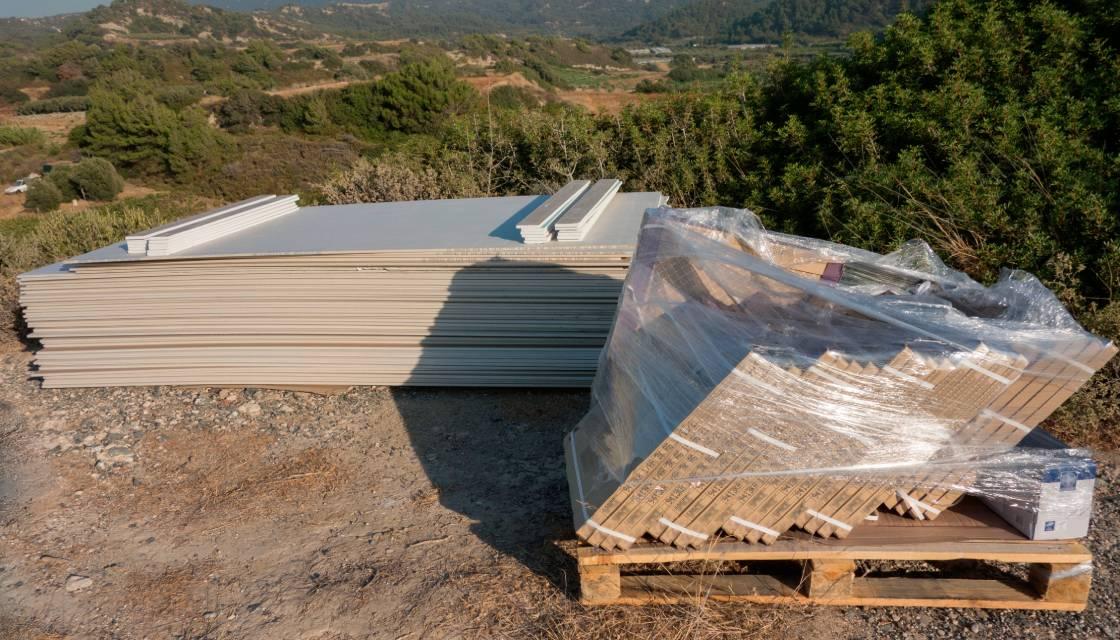 Taylor believes that small building firms are unable to get supplies because large firms are making large orders and stockpiling materials.
"If you walk into any PlaceMakers in Wellington, they have thousands of sheets of plasterboard stacked up to the ceiling, but we're being told it's already been sold."
A spokesperson for PlaceMakers, which is also a subsidiary of Fletcher Building, said it was trying to address the issue of stockpiling by "redirecting orders where necessary".
They said it was working on a "just in time" delivery model for plasterboard to reduce the amount of time products were stored before installation.
"Where sites are not ready to install​, we are redirecting [plasterboard] to other builds that are ready to keep our supply chain moving."
They said a new allocation model to be introduced in July would also help to address the issue in the long term, but it would take a while to work through the backlog.
Asked if the allocation model would ensure a steady supply for smaller firms, PlaceMakers said: "We are actively working with all customers to ensure we can supply as many as possible during these challenging times."
Stuff also contacted Carters' relationship manager and general manager of marketing, but neither would comment on whether the allocation model would ensure supply for its customers.
Are you a builder that has evidence of stockpiling? Contact jonathan.killick@stuff.co.nz
Meanwhile, the Commerce Commission is investigating whether "any factors" may be affecting competition for the supply of key building supplies used in residential buildings.
In an issues paper released earlier this year, the commission said Fletcher Building controls 94 per cent of the supply of plasterboard in New Zealand.
The commission has invited the public to send submissions on topics discussed in the paper to buildingsuppliesmarketstudy@comcom.govt.nz. Its draft report is due out in July this year.
Tags:
how much to install bathtub nz