Living On the Hedge
Right by the wealthy enclave's golf course, this ornate home features bright design and formal spaces.
BySarah Anne LloydMarch 16, 2022
In the ultra-ritzy Broadmoor gated community by the Washington Park Arboretum, this 1931 Spanish Colonial Revival home has opulent gardens, bold architectural detail, and pretty historic touches.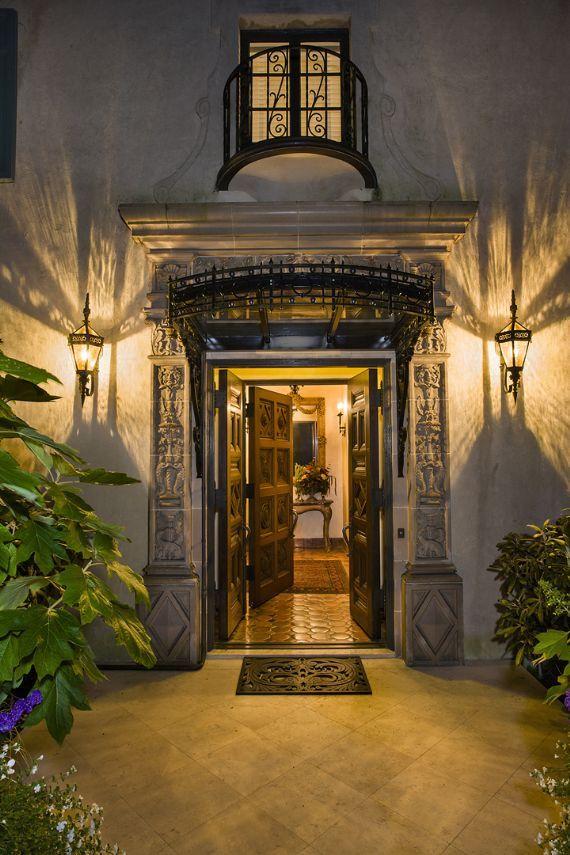 A circular path winds through a box garden to a front door decorated in wrought iron and trimmed with painted tile. Inside, follow colorful terra-cotta tiles through an archway for a two-story stunner of a living room.
The cathedral ceiling's exposed beams are even more eye-catching than most: The rafters have ornately carved designs where they meet the wall, with decorative legs reaching up into the ceiling's peak. On the far wall, a bold overmantel towers above a wrought-iron hearth, bookended by oversized recessed arches. Opposite, tiles with bright floral designs trim an open staircase and lofted hall above. An arched set of wrought-iron double doors open to a formal dining area that can easily seat ten. These two rooms share a patio overlooking the showy back garden for free-flowing indoor-outdoor gatherings.
Past the large well-equipped kitchen with abundant storage, a less-formal gathering and dining area still has the same vintage charms, like arched built-ins and the same Colonial style casement windows that appear throughout the home. Head down to the basement for a blanket-ready media room with more modern, entertainment shelving. On the second floor, an enclosed patio has a window bench.
Three bedrooms include one with its own, less dramatic cathedral ceiling and another with a private balcony looking over the front yard. The bathrooms, keeping with the vibrant feel of the rest of the home, are all colorful in their own way: One has royal blue porcelain and tile paired with gold-tone hardware. Another more busy bathroom is done completely in teal right down to the towel racks.
More box hedges get their chance to shine in the backyard. One square with a mazelike design leaves space for a tree at the center. Other tidy rectangles surround a raised stone patio with an ornamented trellis. Painted tile lines the inside of a shallow water feature by the patio.
One of the things that makes Broadmoor so posh is the private golf course that cradles the entire neighborhood, complete with dress code. This home is right next to the road to the course's clubhouse, which comes with a non-golf-related perk: There's a back way to the Washington Park Arboretum just outside.
Listing Fast Facts
2111 Parkside Dr ESize: 1,740 square feet/4,000 square feet, 3 bedroom/2.75 bathList Date: 3/15/2022List Price: $3,795,000Listing Agents: Laura and Katherine Halliday, Realogics Sotheby's International Realty
Filed underMadison Park, Property Watch, Home Buying, Home SellingShareShow Comments
Tags:
should i install bathtub on top of tiles