Adding more space is the dream of many homeowners and it's one with solid benefits. Not only do you get more space but you also get an increase in property value.
Adding a bump-out addition to your house can be a good alternative to building an expensive, full-scale addition. Though small, a bump-out addition is a complex project best left in the hands of a contractor. For many homeowners, it's a highly worthwhile project with both personal and material benefits.
Looking For Complete Home Makeover?
When planning a home renovation or remodel, consult and book top-rated Home Improvement contractors on HomeAdvisor.
Explore Options
What Is a Bump-Out Addition?
A bump-out is a minor addition to a house that increases its total square footage but doesn't reach the scale of a full addition with multiple rooms.
A bump-out can be as small as two or three feet that push out the side of the house, or as large as a single room.
Usually, bump-outs are used in kitchens or bathrooms to accommodate vital elements such as showers, bathtubs, countertops or cooking areas. But bump-outs are sometimes added for other features such as walk-in closets or window seats.
A typical bump-out addition in a bathroom can extend the wall another 12 to 15 square feet. Bathing facilities are then moved to the bump-out, freeing up the rest of the bathroom for the sink, countertop, and open floor space.
When to Add a Bump-Out
Like building an addition, adding a bump-out is an exterior construction project that can be built in all but the most inclement weather.
Though a section of the house will be open for a while, skilled crews can help minimize that amount of time. Plus, they can temporarily cover up the opening.
If you are adding your bump-out during a popular building season, such as the time from spring to fall, you may find yourself competing with other projects in contractors' queues.
Instructions
1. Assess Area For Bump-Out
Ideally, the bump-out addition should be limited to just one room to avoid additional structural considerations. Ground-level bump-outs will be less expensive and easier to build than upper level bump-outs.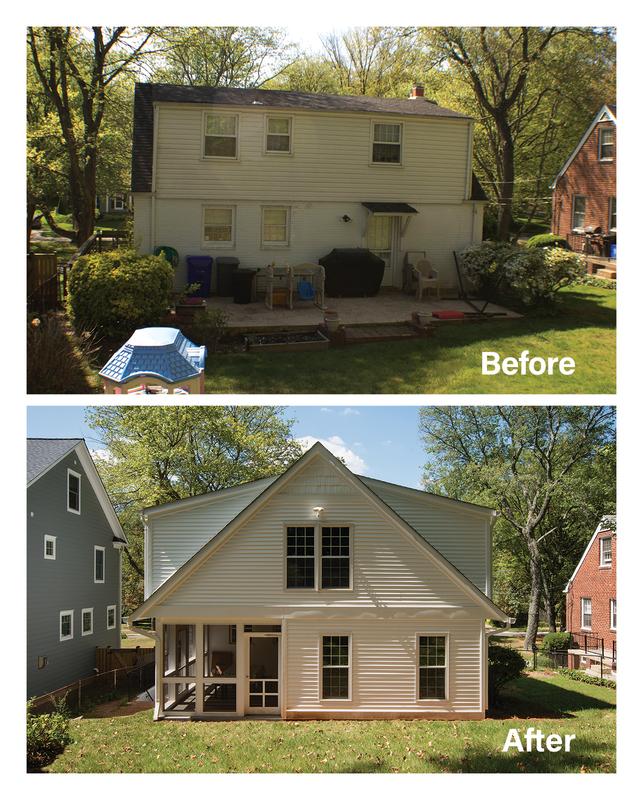 Ground-level bump-outs' foundations can rest on the ground or they can be cantilevered (PS: A cantilever is any structure that extends horizontally, with no support below.). Upper level bump-outs require additional support from below the bump-out or they may be able to be cantilevered. Cantilevering limits the depth of the bump-out to two or three feet.
2. Develop Bump-Out Addition Plans
Consult with an architect or contractor to create plans for the bump-out.
Be sure to consider how the house will open into the bump-out. Existing doors and windows adjacent to the planned bump-out have headers that may be able to be used to open onto the new area once it's finished.
But most homeowners want a large opening, often, one that's the entire width of the bump-out. This involves adding a support beam, likely laminated LVL lumber, to span the entire distance, along with more vertical supports on the sides.
3. Apply For Permits
Building permits are required for any work that opens up the side of the house or adds onto the house. Other permits may be required for electrical and plumbing work.
4. Install Temporary Support Wall
Inside, build a temporary wall of studs near the exterior wall. This wall will act as support for the ceiling, walls and any upper floors when removing sections of the existing exterior wall.
5. Create Foundation
For bump-out additions that rest on the ground, footers and a foundation wall must be built. Soil is dug out by hand or with a small excavator. The depth is dictated by local building code, often to a level below the frost line—sometimes, as deep as 36 to 42 inches.
The foundation wall will be built either from concrete blocks or poured concrete. The blocks are stacked and mortared into place. Poured concrete requires wooden forms to first be built. Next, the concrete is poured by a mixer into the forms.
6. Cantilever Flooring (Optional)
Bump-out additions on upper levels—and even some small ground-level bump-outs—can be cantilevered out from the side of the house.
Cantilevers usually cannot extend very far: only a few feet. The size of the joists is one factor that determines a cantilevered bump-out's depth—that is, how far out from the house the bump-out can extend.
One rule of thumb is to multiply the width of the joist by a factor of four to determine a cantilever's maximum depth.
For example, a two-by-ten joist has a true width of 9-1/4 inches. Multiplying the width by four produces 37. So, the maximum distance of the cantilever would be 37 inches, or just an inch past 3 feet.
7. Open Wall
After electrical circuits are shut down, remove drywall and exterior siding, exposing the studs. Temporary plywood sheets may be fitted in place from the outside to cover up the opening at the end of each work day.
8. Move or Remove Wires and Plumbing
Electrical wires that run through exterior walls must be cut and re-routed. Plumbing for kitchen or bathroom sinks, showers or baths must be stubbed out.
9. Create Header
With the wall removed, a header of LVL laminated wood or doubled-up two-by-eights should be installed in place of the wall.
10. Build Walls and Subfloor
Stud walls with windows should be built to the specified height. Many bump-out additions' ceilings remain lower than the ceilings of the attached house due to the width of the header.
Joists are added, then a subfloor of 3/4-inch tongue-and-groove plywood is screwed on top of the joists.
11. Build Roof
Many bump-out additions are small enough that they can be built with a lean-to style roof. This roof begins higher than the opening to the house, then slopes down in one direction toward the exterior.
12. Add Siding, Drywall and Insulation
After sheathing and siding are added, the walls are insulated with spray foam or with fiberglass. Drywall is then installed over the insulation. After the drywall is finished, it is primed and painted.
13. Add Finishing Touches
Floor covering such as tile or resilient flooring is installed, if this is a bathroom bump-out addition. For kitchens, a wider range of flooring can be used—from durable materials like tile and vinyl flooring to DIY-friendly laminate flooring or premium engineered hardwood flooring.
Compare Quotes From Top-rated Addition Contractors
Free, No-commitment Estimates
Find a Contractor
When to Call a Pro
Building a bump-out addition is usually a project that requires a contractor. Though the size of the project is small, relative to full-scale additions, it's still a structurally-dependent exterior building project that opens up a side of your house. Most homeowners are not qualified to take on this project.
A bump-out is a unique type of addition. So, carefully review contractors' portfolios to make sure that they have previously done this type of work and that clients have been satisfied.
Your Home. Your Decisions. Our Support. Get expert advice on your home, design tips, how much to pay for pros and hiring experts, delivered to you daily.Thanks & Welcome to the Forbes Advisor Community!I agree to receive the Forbes Home newsletter via e-mail. Please see our Privacy Policy for more information and details on how to opt out.
Tags:
how to install a bathtub in a mobile home