Auckland-based Diana Simons had a big choice to make – move into a retirement home, or move into the basement of daughter Rachel's home in Napier.
Simons had found herself in a rest home temporarily in Auckland after breaking her right arm. She was exposed to a virus and ended up in hospital for several weeks with double pneumonia.
"The hospital wanted to send me back to the rest home, but my Auckland family stepped in and said 'no'," she says.
Diana subsequently sold her property in Auckland and made the decision to come down to her daughter Rachel and son-in-law Richard's place in Napier.
While the family helped her gain her strength back, they commissioned Sophia Rodyhouse-Ross and Mike Ross of Refresh Renovations to project manage a conversion of their "very basic" basement into a separate apartment.
And Diana says she has never looked back: "I am so happy. It is working out really well. Obviously I am with family – they are above me, and I see the grandchildren often. The house is so much warmer than what I had in Auckland."
But the basement conversion was a major project that didn't happen overnight. Diana says what mattered most was that her new place felt like home – with a bright and stylish interior, and room for her furniture and precious items she has collected on her travels.
The basement had been used for storage and didn't have any plumbing or heating. It was cold, damp, and dark, which made Diana apprehensive about moving in – she even nicknamed it "the dungeon".
However, as soon as Sophia and Mike visited, they saw its potential. It was just a matter of capturing it with the right design. They consequently worked closely with their architect partner to design the entire renovation.
Several practical improvements were required to transform the "dungeon" into a comfortable home. Changes included installing a fire-resistant ceiling, new electrical wiring, a plumbing system, insulation, security alarm, and a floor-mounted heat pump. In addition, the basement and main house would receive their own infinity gas systems.
As the basement was to become a separate dwelling, the new design also needed to include two off-street car parks, which proved tricky. But Sophia and Mike found a solution in reducing the size of the existing deck. The pair handled the application process for council consent, and once approval was obtained, the project got underway.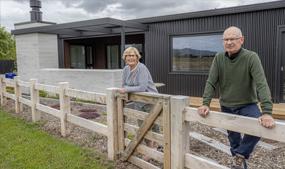 Then the floods came, and Covid delays
It wasn't all smooth running, however. A week into construction, Napier experienced a once-in-a-hundred-year flood. While the renovation was scheduled for 8-10 weeks, the floods affected the property and restricted tradespeople from working, pushing out the timeline.
Sophia and Mike helped expand the project scope to include new stormwater drainage for avoiding future flood damage.
The effects of Covid-19 also caused delays in the delivery of materials, including the new kitchen's large marble splashback. Thankfully, the materials were not essential to install immediately, so everyone was happy to wait for their arrival.
Taking these challenges in their stride, Sophia and Mike were able to have most of the self-contained apartment built in four months, with minor installations a little later. Overall, the project ran close to the original budget of $200,000, only extending by $20k to account for the necessary changes and new drainage.
Tasteful kitchen
The kitchen is a testament to Diana's good taste. "She picked out a gorgeous white marble benchtop that's continued in the splashback," says Sophia. "Harnessing the power of white was an excellent move to brighten up the kitchen, making it appear more spacious. In contrast, black cabinetry and fixtures perfectly balance out the white, while timber flooring brings a natural warmth to the space."
Just as requested, the kitchen has been established with adequate shelving to display Diana's precious possessions. "Her beautiful blue china now stands proudly along the kitchen's back wall."
Maximising sunlight was essential, so the double-glazed windows and glass sliding doors have been built as large as possible to capture the sun without compromising the property's structure.
Timber slats beneath the upstairs balcony have been painted white to reflect all light downward and into the lower level. "This change truly enhances the amount of light the apartment receives. And with semi-sheer curtains decorating the interiors, Diana can still maintain privacy while allowing the sun to filter through."
Spacious, yet compact
While the apartment is compact, it features all essential elements of a home – without feeling crowded. In the front of the apartment, the bedroom, living area, and kitchen share the space with a cohesive, modern design.
Meanwhile, the laundry and bathroom are combined in a separate room with a smart layout.
The walk-in wardrobe makes up the third room and boasts plentiful built-in storage for Diana's clothes, shoes, and books. "With her beautiful matching tallboy, chest of drawers, and wall-hung mirror brought in, the room certainly feels like her own," says Sophia.
Sophia and Mike cantilevered the deck as far as possible without compromising the off-street car parks, leaving Diana with a generously sized deck that captures the sun. Now, she can spend her mornings relaxing outdoors, watching her grandchildren head off to school.
And the verdict? Diana is overjoyed with the apartment, which she has made home, with every box ticked: "I will never have to go back to another rest home," she says.
"Sophia and Mike were so lovely. They even put up hooks and pictures, and Sophia would take me to the kitchen place, and off to look at blinds and curtains. I can't praise them enough."
Tags:
how much to install bathtub nz