If your perfect weekend morning involves rolling out of bed and straight into a bathtub, then this gorgeous bedroom with a bathtub in it takes this idea of relaxing bliss to its logical conclusion.
Salt Lake City-based design psychologist Amber Dunford has created a bathroom idea to end all bathroom ideas – or is it a bedroom idea? We can't quite decide, but after speaking to Amber about her experience of transforming her bedroom into a relaxing oasis, we quite agree with her view that this design statement is 'probably the coolest decision ever.'
Amber Dunford explains* that she moved into her current place when seven months pregnant, 'and after a year of living in our bedroom, we started calling it the torture chamber—and not lovingly.'
The demands of new parenthood and the sheer amount of time Amber and her partner were spending in the bedroom called for a remodel – 'the first thing we decided on was having a bathtub in the bedroom. At first we picked out a more traditional ceramic tub, but when we sat with that for a minute, we knew something wasn't feeling right. When we started looking into it, we found the Native Trails tub, which looks awesome with the floors.'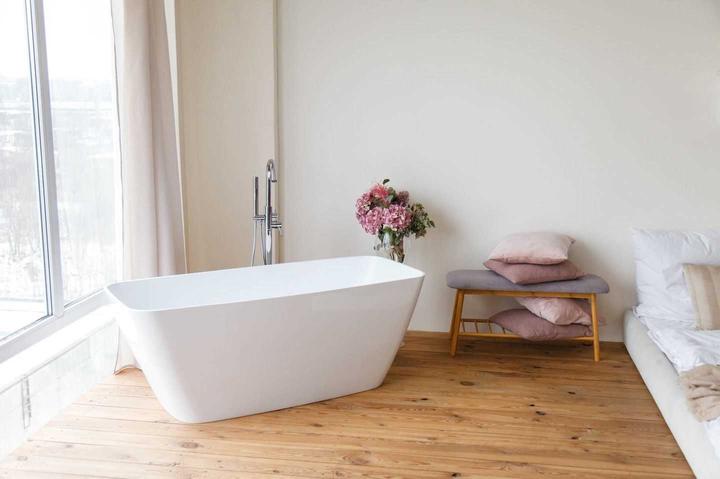 The modern design, with a limestone wash on the walls and concrete slab flooring, creates a clean and relaxing look to the space, 'and we have a little garden area just outside the window for when we're in the tub.'
The decision to match the modern-looking tub to an overall modern, open-plan design creates a coherent design and prevents the tub from looking like it was haphazardly planted in the room. As Amber explains, she already has had a bathtub in the bedroom of her previous home, 'but it didn't feel cool or on purpose. It just felt like they couldn't fit the tub in the bathroom. But we loved it and knew we wanted to incorporate that vibe in this house, but in more of a modern way.'
From a psychologist's point of view, having a bath in the bedroom works on multiple levels. On the one hand, it has a mental decluttering effect: 'I love the idea of baths being a ritual and part of self-care that is separate from the bathroom. You know, you get ready in the bathroom. It gets messy.'
Amber explains that the reason the idea of incorporating a bathtub into the bedroom rather than the bathroom seems ridiculous is just habit, and the fact that 'some people like to recreate chaotic spaces because they're familiar with them, even though they know they're not healthy.'
All you really need to do to change your mind is experiment a little, and 'explore some universal reactions to space and texture and color and materials, and how people respond.'
A serene, open-plan space where the ritual of bathing is separated from toilets, bathroom cupboards, and brushing your teeth? We can definitely see how this may well be the more natural way to have a bath than the way we're all used to.
*Quotes first appeared on Native Trails
Tags:
how to install a bathtub on a concrete slab