If you're at design stage and looking for inspiration from the best basement laundry room ideas, listen up. Because, although a laundry room is no doubt one of the most hardworking spaces in any home lucky enough to have the spare square footage for one – this space needs to work a little bit harder than you might think.
That's because basement rooms are often windowless, they can be small and, more often than not, they have low ceilings. Making this work for all the functional and stylistic needs of a laundry room can be tricky, but that's not to say that you can't strike the perfect balance.
Darren Watts, Wren Kitchens Design Director says: 'There are a lot of great benefits of transforming your basement into a luxurious utility room. Not only does it promote organization for both your kitchen and laundry space, it hides away all those messy and noisy items. The basement space specifically is great for this because it diffuses the noise emitted by washing machines and tumble dryers and can keep these to a minimum. Having a laundry room in your basement also often means that you have more space to work with which gives you extra freedom when it comes to designing the space.'
How to make your basement laundry room pretty and practical
When it comes to designing a laundry room, the key is to strike the balance between the functional element and the aesthetics.
From the positioning of your best washing machine to the tiles you choose, keep in mind how you can make your basement laundry room a place you'll want to be. Especially if you've got stacks of dirty laundry to wash, dry, and fold on a daily or weekly basis.
To help you do just that, we've spoken to the experts, rounded up the best ideas and compiled everything you need to know when it comes to cleverly combining beautiful basement ideas with your laundry room.
1. Choose a natural color palette
Color is king when it comes to the hue of your basement cabinets and the same can be said for your walls too.
As Emma Bestley, Creative Partner for YesColours, explains 'If your laundry room has low ceilings, is in the basement or has a limited amount of natural sunlight, consider a light palette of warming neutrals or muted pastels. A softer yet refreshing scheme can really help to lift and lighten the space, making it feel much bigger and brighter.'
2. Place everything in a cupboard
Cupboards and cabinets will prove to be invaluable when it comes to keeping your basement laundry room organized, functional and fun. So choose wisely.
Al Bruce, Founder of Olive & Barr tells us: 'Maximising space is a critical part of planning and designing your ideal laundry room.
'As well as an area for white goods and counter space for folding, you'll also want to consider plenty of cupboard spaces for cleaning products, mops, brushes and a vacuum cleaner.'
3. Go upwards and add a ceiling air dryer
If space allows, hang your clothes dryer on the ceiling. Not only does it make way for extra cupboard space (because you can never have too much storage) – but by choosing to keep things off the floor, it also creates the feeling of a bigger room.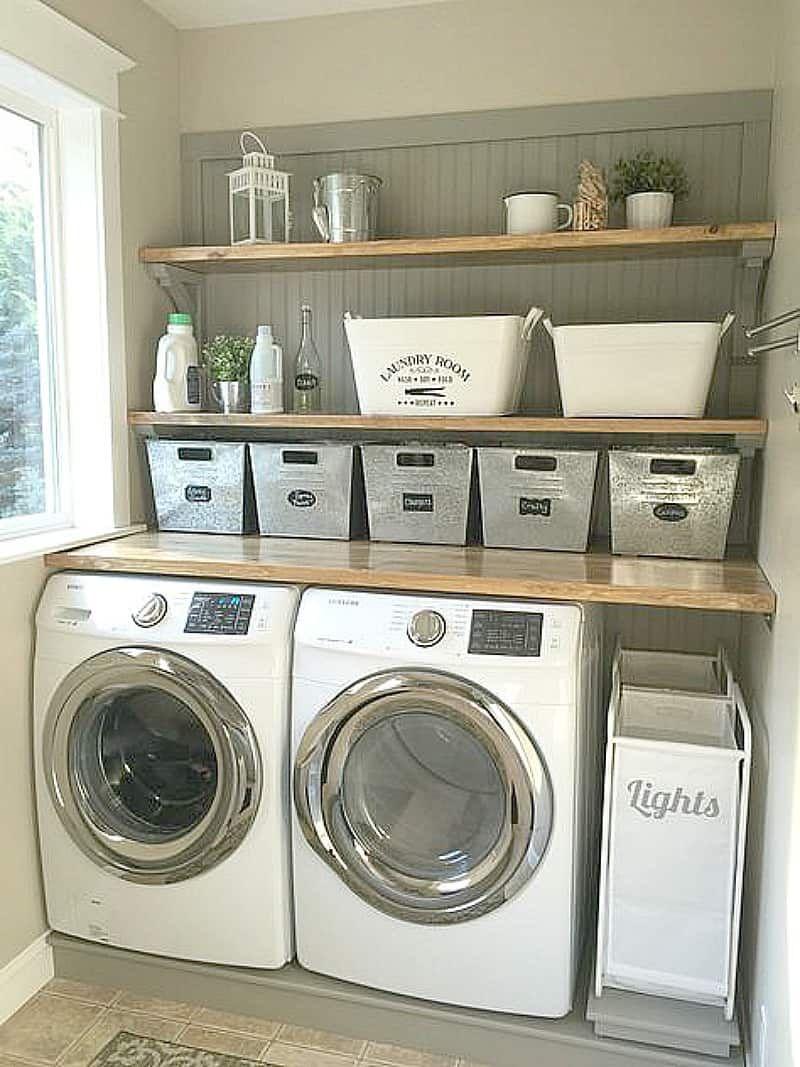 Bruce explains, 'Save on floor space with a ceiling air dryer that can be raised and lowered on a pulley system, erasing the need for bulky freestanding airers.'
4. Choose hardwearing surfaces
Durable surfaces are super important in any laundry room. Especially because your laundry room has to stand up to everyday dirt and grime, along with the wear and tear that comes with using your wash space on a weekly basis.
As Darren Watts, Wren Kitchens Design Director explains, 'With the laundry room being such a hardworking place, it means that you should choose durable materials which can withstand the hustle and bustle of the space.
'A great worktop surface for this is a luxury laminate or durable quartz. Likewise with flooring, choosing a durable yet easy to clean material is key in a laundry room.'
5. Invest in a deep sink
Many of the best basement laundry room ideas start with a big sink.
Watts says: 'Having a large, deep sink is ideal as it offers extra space to empty mop buckets or handwash your favorite top. Otherwise, let your imagination run wild!'
If space is at a premium, a corner laundry room sink might prove useful. While if space is no problem, opt for a Belfast or Butler style to make a slick statement.
6. Be clever with lighting
Although your basement can make for the perfect laundry room, the bottom floor of any home can be lacking in light. Especially of the natural kind.
So, if your basement laundry room is windowless, make use of clever lighting solutions by dotting sources of light around your space. Along with overhead lighting, you could also consider LED strips, spotlights or mirrors to help bounce light around your space.
7. Max out on any height you do have
We can't all be blessed with big laundry room basements. Nor can we all be blessed with laundry room basements that have vast amounts of height. However, if there's one thing all laundry room basements can house, it's cabinetry that makes use of every inch of space you've got.
No matter how big or small your ceiling height is, invest in fitted cabinets that utilize the space, working with what you've got. That way, not only can you fit all your washing must-haves into your space, you can keep your mop, ironing board hidden.
9. Make use of shelving
Sometimes, the best ideas aren't the fanciest. They just do the job they've set out to achieve. And this shelving unit from IKEA is just what any laundry room basement ordered.
Stash laundry detergent on it, spruce it up with faux plants, and pile your freshly washed and dried linen on it. The options are endless and the results are indispensable.
10. Choose a built-in ironing board
A built-in ironing board might just be the thing you never knew your basement laundry room needed. As well as being space-saving, having a built-in ironing board means you can also save on the height of your cupboards.
Just remember, if you do decide to go down this route, choose a position where you will be happy ironing. As these built-in and foldable designs will be fixed in one place and set to a specific height too.
How can I make my basement laundry room look nice?
You might not think your basement laundry room can be just as aesthetically pleasing as the rest of your home. But with a few quick tricks, you can absolutely make it a space you love being in.As Emma Bestley, Creative Partner for YesColours, says: 'Instead of treating your laundry room as an afterthought, give it as much attention as you would to any other room in the house.'
'We have to spend a lot of time in one, so to help lighten the chore, brighten up your walls and cabinets with a color that you think rejuvenates and energizes you – that way you'll always enjoy this small pocket of your home.'
One of the best and easiest ways to do that? Accessorize. Whether it's baskets from Amazon, frames, candles, a rug or artificial plants – make sure you inject accessories and homewares into your space and only add pieces that bring you joy.
Plus, if you are trying to make your basement laundry room look brighter and airy, pop a mirror up, add spotlights or fit under-the-counter LED strips as another source of light.
What do you put under a washer and dryer in the basement?
If you're placing your washer and dryer in your basement, help lighten the load, reduce noise pollution and protect your flooring by ensuring your machines are level.
Secondly, consider adding anti-vibration pads to the bottom of your machines. Even if your washer is level and is on one of the lowest spin settings, different cycles can cause your machine to rock and vibrate which in turn can cause high levels of noise in your home. However, these pads work by creating a buffer between your machine and your flooring.
Thirdly, you could invest in a pedestal. A laundry pedestal gives your washer and dryer a 12-16-inch boost which can help encourage better ergonomics. It also keeps your machines off the floor and on a sturdy surface, which again can help prevent any water damage or wear and tear to your flooring.
Tags:
how to install led strip lighting behind a mirror