When Derek Rogers started Phoenix-based Aqua Therapy Tubs eight years ago, he didn't know about walk-in bathtubs.
When his friend and former business partner told him about how they were helping seniors, it hit home. "I used to help my grandfather bathe when he was alive and it wasn't by choice, it was by necessity," he says. "[Walk-in bathtubs] would've made all the difference."
Rogers's grandfather was a disabled World War II veteran, and his inability to bathe himself negatively impacted his independence and self-esteem. Through his company and a pioneering program called Free Showers for Veterans, Rogers has been able to help hundreds of disabled vets like his grandfather navigate red tape to get free accessible bathtubs and showers via a little-known VA grant.
The grant program, Home Improvements and Structural Alterations (HISA), provides medically necessary improvements to a veteran's primary residence and reimburses them up to $6,800. Rogers notes, however, that there were a lot of hoops to jump through. "The veteran would have to do all the paperwork, they would find their own contractor and then handle all the paperwork afterward to get reimbursed," he explains. "They would have to hand-deliver all the paperwork to the VA office, take their own pictures, print them out and take the estimate from the contractor."
The process would take nearly six months to complete. According to Rogers, each case now takes less than two months from start to finish thanks to his implementation of digital tools like DocuSign. "As far as I know, I'm the only company doing that," he says. "It just made a world of a difference."
Many of Rogers' customers are low-income. He waits for the payment from the VA, so the veteran doesn't have to pay out of pocket for their necessary home improvements.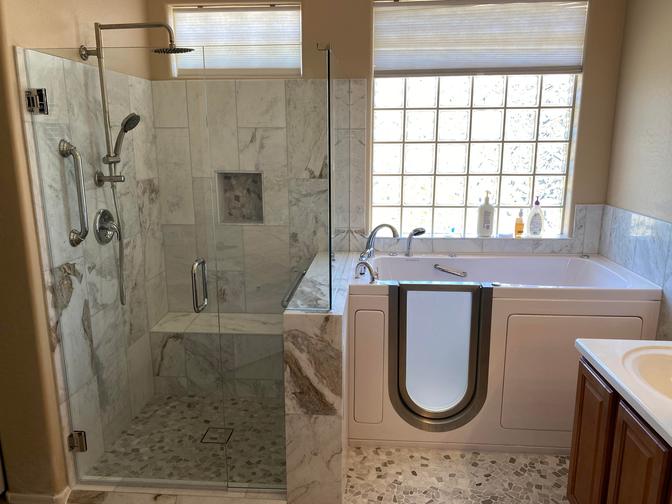 Rogers' "passion project" is extremely personal. "I come from a family of veterans. They put their lives on the line for us and I would like to do anything I can to help, especially in their later years." Rogers says his grandfather was "the best man I've ever known." Though he rarely mentioned his service, it was always something that inspired Rogers. His father was also a Navy vet.
Rogers says many veterans have been turned off by the VA over the years due to the amount of paperwork. "Taking that part off their hands has made a world of difference for them," he says. "They don't have to deal with any of that."
Word has traveled fast, Rogers says, and has served as a singular marketing tool. "Veterans tell other veterans," he says. "When it's a legitimate program that actually helps and is easy to get through, they're happy to tell their friends about it."
Managing that growth has been Rogers' most significant challenge – managing projects and finding people to execute them. He tries to hire veterans when possible. "I like to hire people with a heart to help and a heart to serve because it's kind of a feel-good business and having employees that appreciate that keeps them around longer, they appreciate their job and they love their job," he explains.
The most rewarding part? The instant gratification that comes with each installation. He recalls a woman who called him in tears after they installed a sliding bench and grab bars for her husband, a disabled veteran with terminal cancer. "Small modifications made a world of difference. She called me crying," he says. "She hugged my installer and made banana bread for us. That's the best part. You see the difference instantly."
Rogers' next step is taking the program nationwide. Veterans from other states have started reaching out after learning about Free Showers for Veterans on his YouTube channel. "They just don't know who to turn to and how to get through the grant process. They had a hard time finding contractors that want to wait for payment," he says. "I want to put together a program where I can streamline this and help people all over the country. I can find contractors for them, I can handle payment and paperwork, so it just makes it easier for the veteran, for the contractor and I can just be the middleman to help facilitate it."
Tags:
how to install 3 tape hole bathroom faucet