The best small walk-in closet ideas will convince you that these desirable features are not just reserved for massive homes or bedrooms. To have everything neatly on display and easy to reach seems like a distant dream, right? But, it can work just as well for smaller spaces, although you may need to be strategic about what clothes you choose to have in your walk-in closet – it may make sense to do some decluttering before you install a walk-in unit.
Small walk-in closet ideas
While closet organization ideas will help you decide what goes where, you will also need to figure out where the closet itself will fit, whether you'll want to add doors and whether you may need to experiment with open and DIY shelving in order to create that coveted walk-in closet look.
1. Make the most of a single wall
If you have a single free wall in your bedroom, you have enough space for a walk-in closet. Single-wall walk-in closets work brilliantly as part of small bedroom ideas. If you are clever with the design, you can easily fit in all of your clothes and shoes on the same wall. The easiest way to do this is by positioning shoe storage and any additional shelves or cupboards along the perimeter of the wall, with the main clothing storage area in the center.
2. Go for floating shelves in very small spaces
If your space is truly tiny, you may not have the depth for an enclosed walk-in unit. In this case, consider installing floating shelves and a rail – this will really minimize the footprint of your walk-in closet area. According to Chris Alexakis of Cabinet Select,'in a small walk-in closet, floating shelves are a perfect solution. They allow you to use the space above your closet rods while adding a decorative touch.' Floating shelves are a great solution for rooms where you only have space available on the side of the door.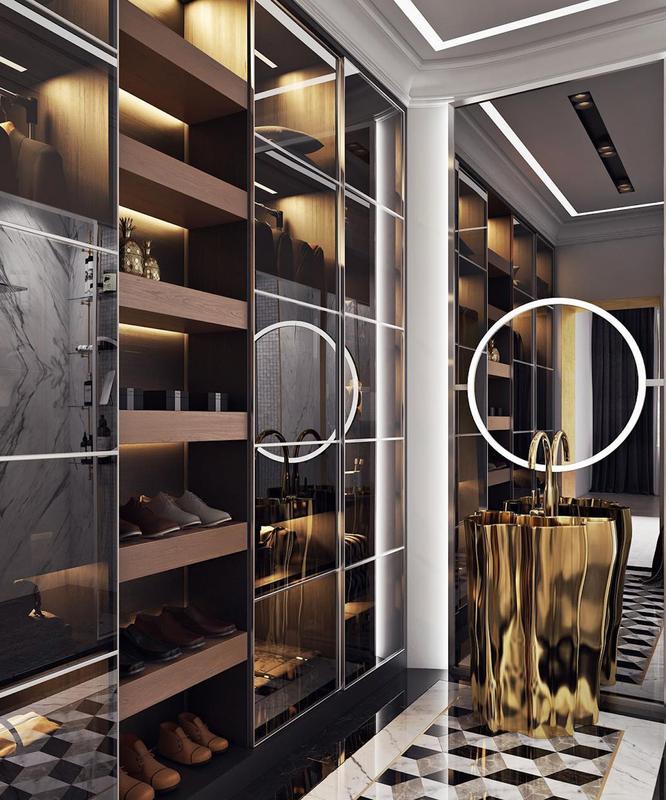 8. Combine freestanding storage units to create a walk-in closet area
Don't want to faff about with rails and screws? We hear you. If you're on a very tight budget, have a small space, and want the look of a walk-in closet, you may need to improvise a bit with freestanding storage units. For example, combine a ladder storage unit with an open shelving unit, or group together a chest of drawers and a portable clothing rail.
9. Create a small dressing room by adding a dressing table
When does a small walk-in closet become a small dressing room? At the point where you add a dressing table! Many of the best dressing tables are quite small and will fit in the space between the door and your clothing storage unit. A dressing table instantly makes your dressing area look more glamorous, and it adds even more storage if you choose one with drawer space.
How small can a walk-in closet be?
According to Moiseoff, 'as a general rule, a walk-in closet should be at least four feet wide by four feet deep.'
However, if you don't have even four feet, you could get away with just two feet, according to Chris Alexakis, 'you can consider a walk-in closet to be any space at least 2 feet deep and wide enough for you to enter.' Generally, a very narrow walk-in closet will probably be best used as a coat closet.
Is five feet wide enough for a walk-in closet?
For Alexakis, 'five feet (1.5 meters) is the minimum width for a walk-in closet, but it'sstill pretty small. You'll have to take care not to bump into your clothingwhile browsing for an outfit in this size. A five-foot walk-in closet is really only suitable for someone with a minimal wardrobe.'
So, the answer is 'maybe', if you have a pared-down wardrobe and not much else to store in your walk-in closet. What you really don't want is a walk-in closet that is rammed with clothes – this would defeat the purpose of having one in the first place. If going doorless or just using shelves will give you wider storage space, go for the more open design.
Should you invest in a custom-built walk-in closet?
If you can afford it, absolutely. The advantages of a bespoke walk-in closet design are overwhelming. Philipp Nagel explains that 'bespoke designs, unlike freestanding furniture, enable you to make the most of every bit of available space in your home – be that simply a perfectly fitted full-length wall of impactful wardrobes, or working around more awkward architectural features such as sloped ceilings, chimney breasts, and alcoves.'
So, if you have an unusually-shaped small bedroom, you should definitely consider a bespoke design. You'll also just get a bit more storage out of your walk-in closet this way – 'choosing bespoke not only creates furniture that completely fits the space in your home but it also maximizes all the available storage opportunities.'
Of course, if you rent or don't have the budget for a custom-built unit, experimenting with rails, shelves, and appropriately-sized freestanding units can still give you the walk-in closet effect. If you are able to, go for bespoke, but if you can't, that doesn't mean a walk-in dressing area is out of the question.
How to make the most of a small walk-in closet
There are several things you can do to make the most of a small walk-in closet. Priscilla Moiseoff, the Lead Stylist and Interior Designer at Walker Edison Furniture, recommends always making 'good use of your vertical space. This might mean adding some additional shelving.'
Don't neglect floor space, either, which might mean 'adding shoe organizers or bins to the space underneath where your clothes are hanging.'
Too many clothes to hang? Moiseoff has a simple hack: 'simply use thinner hangers. Bulky hangers take up more space and opting for thinner hangers can allow you to fit many more pieces of clothing into that smaller space.'
If you are planning a walk-in closet in a windowless room, Philipp Nagel, Director of Neatsmith, recommends thinking aoubt lighting and light-reflecting surfaces to make a windowless or smaller room come to life, making it a beautiful place to spend time in.' The additions that really make a difference to a small walk-in closet include 'warm recessed LEDs, mirrored door designs and decorative glass finishes'. These 'help to maximize light and a sense of space within a walk-in wardrobe or dressing room.'
Tags:
how much to install mirrored closet doors