No one knows what the future holds, but we can all agree that it's probably a good idea to be prepared for anything. That's why it's important to have a few small items on hand that can come in handy no matter what life throws your way. Here are 7 of our favorite small items that we think everyone should have!
A Small Emergency Kit
Being prepared for anything is key, and that's why item number one on our list is a small emergency kit. This can include things like band-aids, antibiotic ointment, pain relievers, etc. You never know when you might need these items, so it's always better to be safe than sorry! Of course, you could always hope that you'll never need to use any of these items.
A Mini Flashlight
In a dark world, a mini flashlight is a great small item to have. Mini flashlights can be a lifesaver when you need a little extra light. They are small and easily portable so you can keep them with you wherever you go. Plus, they are super affordable so you can buy them in bulk and have one for every situation. Whether you're looking for something in the dark or just need a little extra light, a flashlight can be a lifesaver.
A Pack of Gum
Gum is often associated with being a nuisance - something to be scraped off the bottom of your shoes or pulled out from under a desk. But gum can be pretty useful stuff. For example, it can help you stay alert and focused when you need it most. Chewing gum increases blood flow to the brain, which can improve your cognitive function. And if you're looking to freshen your breath after a meal, gum can be a handy tool.
A Lint Roller
Lint rollers aren't just for the fastidious few - they can be a valuable tool for anyone who wants to keep their clothing clean and free of lint, pet hair, and other debris. Lint rollers are relatively inexpensive, and they can be found at most drugstores and supermarkets. They're also easy to use - simply roll the lint roller over your clothes in a back-and-forth motion, and the adhesive will pick up any loose fibers. Simply run the roller over the affected area, and the hair will cling to the adhesive.
A Tide To Go Pen
If you've ever had the misfortune of spilling something on your shirt right before you have to leave the house, then you know the desperate feeling of trying to remove the stain before it sets. But don't despair! Tide To Go pens are here to save the day. Just a few quick swipes and your shirt will look good as new. So next time you spill something on your shirt, reach for a Tide To Go pen and rest easy knowing that you'll be able to make a quick fix.
A Small Notebook
We've all been there before - we're in the middle of a meeting or class, and we need to write something down. But we don't have a pen or paper! It always seems like these items are the ones we forget the most, even though we use them all the time. A small notebook can come in handy more often than you might think! For example, you might want to write down a phone number or email address that someone gives you. Or maybe you'll have a great idea for a project at work and you'll need to jot it down so you don't forget it later.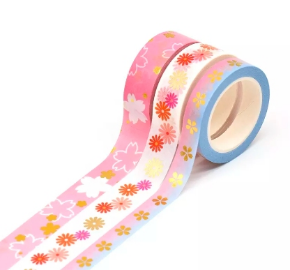 A Custom Washi Tape
A custom washi tape is a great way to personalize just about anything. We love using it to decorate notebooks, planners, and even our walls! But washi tape isn't just for decoration - it can also be used for temporary adhesive needs. Unlike regular tape, washi tape can be removed without damaging the paper or leaving behind any adhesive residue. So whether you're looking to add a pop of color to your life or just need a quick fix, reach for washi tape!
We hope you enjoyed this list of 7 small items that we think every person should have in their life. Whether you're packing for a weekend getaway or just getting ready to run out the door, these essentials will make your life a little bit easier. What are some of your favorite small items? Let us know in the comments below!