This slideshow requires JavaScript.
The bathroom is one of the most personal spaces in the home. Whether you're energizing your body or relaxing the mind, the bathroom is utilized for many reasons throughout the day. Technology is transforming how the bathroom is used, elevating these daily experiences in new and exciting ways.
"Technology enhances our daily rituals by providing a variety of sensory experiences," said Carrie Seymour, Kohler Director of Consumer Insights. "When integrated thoughtfully into the space, technology blends in seamlessly, helping us move through our routines without having to stop what we're doing to switch tasks."
Seymour shares some of the top trends that are poised for popularity in 2022 and beyond. These upgrades not only enhance your personal use and enjoyment of the space, but also add to your home's overall value.
Smart technologies
The boundaries of a smart home continue to be pushed, so it's no surprise smart technologies are transforming bathrooms nationwide. Imagine this: Wake up and go to the bathroom and turn on lights with voice-activated lighting. Wash your hands with your digital, touch-free faucet. Learn the weather forecast through your smart mirrors.
Next, step into the shower and enjoy an immersive sensory experience. The Moxie showerhead transforms the average shower with luxurious spray and a best-in-class high-quality audio speaker with sound by Harman Kardon. Whether you want to wake up or wind down, stream your favorite tunes from your digital device to the speaker, which easily detaches so you can bring it with you throughout the house as you go about your day.
Bidet toilet seats
Bidets are standard in many European countries, yet are considered a luxury throughout the U.S. Bidets have many benefits, including warm water that cleans while also cutting down on paper waste. However, most people don't have the space or money to install a separate bidet. That's why bidet toilet seats are a simple solution being seen in more and more homes.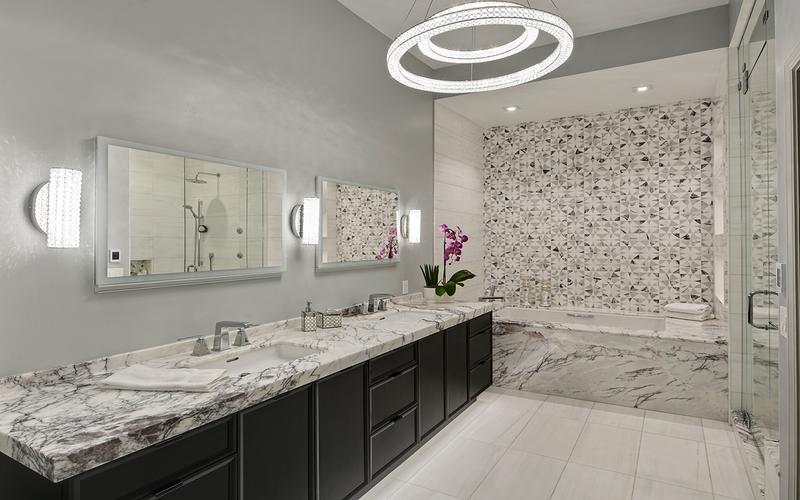 For example, the Kohler C3-230 bidet toilet seat has a slim, low-profile design made to fit most elongated toilets. This heated seat comes with an easy-to-use touchscreen remote that allows you to adjust water temperature, pressure, seat temperature and air-drying. A built-in night-light illuminates the bowl, and the self-cleaning stainless steel wand uses UV light for added cleanliness.
Comfort and convenience technologies
The bathroom is transforming into a space that serves as a personal oasis, so people are willing to invest in things that make it feel like their own escape from the busy world. Comfort and convenience are now priorities, with enhancements often mimicking what might be seen at an upscale spa.
For example, heated flooring keeps feet comfortable, especially in cooler climates and cold seasons. Installing warming drawers or heated racks allows people to wrap themselves in a toasty towel or robe after bathing. Extras like an under-counter refrigerator keep chilled beverages within arm's reach as well as store high-end facial and personal care products.
Luxury toilets
With people spending more time at home, they're realizing the value in investing in the things that improve their life. When you think about your time in the bathroom, it often involves the toilet. And if you're going to sit on something multiple times throughout the day, you might as well make it spectacular.
Luxury toilets are the ultimate indulgence, such as the Kohler Eir intelligent toilet. This upscale toilet starts with artistic style, featuring flowing lines and personalized finish detailing with a sleek tankless and skirted design. With a full complement of convenient features including heated seat, customizable cleansing, night-light, hands-free opening/closing, automatic flush, plus a touchscreen remote, nothing else compares.
"Technologies are transforming the bathroom experience to enhance all the senses," said Seymour. "No matter your budget, there's something for everyone to make the bathroom their own."
Brandpoint Content
Related
Tags:
how to install a bidet faucet