When it comes to my nails, I usually play it safe. Like any pre-teen with a penchant for Nirvana and thick black eyeliner, when I first started wearing nail polish, I only wore black. I rocked the patron manicure of angsty teens for years, baring my chipped and bitten nails with pride. Eventually, I grew out of it, but I had forgotten how fun expressing myself through nails could be. That is, of course, until I took the plunge and switched out my tried-and-true tones to experiment with the best spring nail colors 2022 has to offer.
I'll admit it: For a few years, I didn't even paint my nails at all. Instead, I chose to focus on repairing my nail health after years of biting them down (ouch). But over the past few years, nail art has come back into favor. After all, there's nothing like the power of a good manicure—and this trend is a great reminder of exactly that. The bold nail looks abound, and they're inspiring me to try something new. There's no time like the present to be adventurous with your nails.
Truly, what is spring for but reinvention? The turning of the seasons always fills me with inexplicable excitement. Suddenly, anything and everything feels possible. The sun starts shining again, the days get longer, and countless opportunities spread themselves out in front of me. The call to try something new can't be denied, and I'm diving in deep. A low-stakes way to channel this fervor for change? A DIY mani-pedi, of course. This year, I'm finally trying all the nail inspo I've saved on Instagram and committing myself to switching things up.
Feature image by Belathée Photography.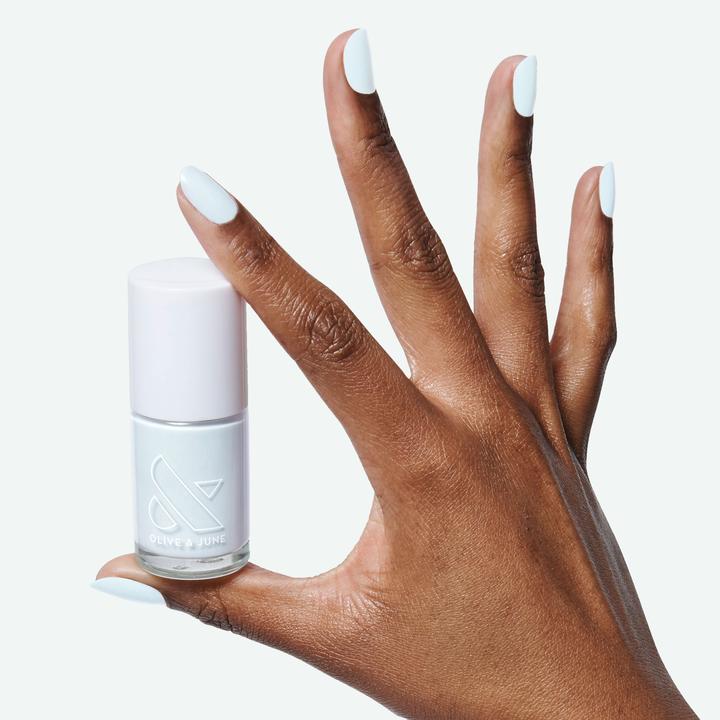 To get the lowdown on all the best spring nail colors and trends, I consulted celebrity nail stylist Fleury Rose. She gave me the scoop on all the best trends to try for spring, how to choose the right one for you, and some of her favorite shades. Read on for some major manicure inspiration.
What nail trends do you predict being big this spring?
According to Rose, people are itching for any opportunity to express themselves. The season's bright, bold nail trends reflect that. "With the mask mandates ending, people are really wanting to see and be seen after what feels like an eternity of isolation," she notes. "This makes me think that people will really be serving looks as the weather heats up, nails included! Think fun bright colors like green, long lengths, and lots of expressive nail art like the girls from Euphoria. My clients have been loving the tiny 3D gummy bears I make on their nails—totally sweet for spring."
How do you pick the best nail color for you?
If you've ever experienced that fresh-from-the-salon feeling with a new shade on your nails, then it goes without saying: Color can change how you feel. "When choosing a nail color, I generally consider how it makes me feel when I look at it, but also how I'd like to feel," says Rose. Pick something aspirational. Whether you need a little confidence or a warm-weather mood booster, a fresh-color mani has you covered. Rose's take: "We've just entered March, and it's still QUITE cold. A lot of clients have been doing bright, neon, and dopamine-inducing colors to boost their moods 'til the weather warms up. It's a great time to express your individuality through your nail colors if you dare!"
What are your spring nail colors recommendations?
Go big or go home, says Rose. "I love a green nail for spring! There's a specific neon, pastel green that seems to be turning up all over my Instagram feed. OPI's 'The Pass is Always Greener' is super pretty even as a French nail! I'm also obsessed with Megan Fox and her matching green mani-pedi. So cute! Gucci's 'Melinda' would be so perfect!"
Without further ado, dive into the best spring nail colors for a mood-boosting mani.
Which spring nail colors are you dying to try? Share in the comments!
Tags:
how to install a faucet with only cold water