Maybe it's weird to be idealistic about shopping, but let me ask: What would happen if everyone reading these words developed an annual ritual of giving artist- or artisan-made gifts at the holidays? What if we bought handmade items from people we might run into at the grocery store? Or started a tradition of commissioning something original each year?
One of the best ways to support artists in this town is to buy what they make, and this is a great time of year to do that. To support you in your shopping resolutions, I did a little sleuthing in area boutiques and came up with 15 things that are among the best gets in Milwaukee right now. Many of the shops mentioned below and other favorites, like Olson House in Shorewood or Sparrow Collective in Bay View, have deals and events this weekend, particularly for Small Business Saturday. And don't forget the Pfister Marketplace and Hovercraft, both coming up soon, too.
A golden pendant
This tiny, solid-gold pendant of an open hand is the prettiest thing, fine and unexpected. It is surprisingly weighty for such a wee object. It's the creation of Milwaukee jewelry artist Paloma Wilder and you'll find it in the case at Form Fine Goods, 700 S. 5th St., in Walker's Point, along with other pieces by her. Cover your ears while I look at the price tag, as there may be a little scream ($460).
A bold backpack
Jess Goehner's Moon Backpack ($325) is, as the name implies, full and round, a weirdly bold and modern shape for a backpack. It'll hold a ton and is made from leather that will conform to your body over time. You can't beat the handsome hardware either. There's a cross-shoulder version too. Goehner's company is called Directive. You can find her bags at The Waxwing, 1800 E. North Ave.; LocalMKE, 407 E. Buffalo St.; and Orange and Blue Co., 1809 N. Hubbard St.She's taking special orders for the holidays, but it takes three weeks to create a bag, so get movin'.
Loopy mugs
I spotted one of Ethan Kastner's mugs (prices vary) at Form months ago and finally took one (OK, two) home with me. I love the exaggerated loop of the handle, which is handier than it looks. Kastner also makes tiny pipes with the same loop, a signature shape for him.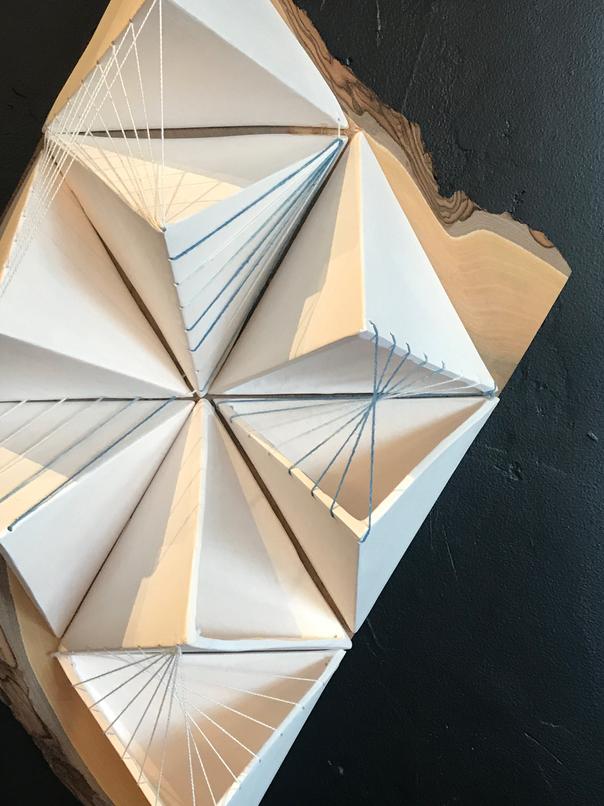 One of a kind jugs
These memory jugs by Becca Kacanda are encrusted in cheap, plastic rosaries, shells, bits of toy-related detritus and countless other doodads. These expressive, maximalist, kind-of-apocalyptic wonders invite the question – what would you keep inside. Potions seem to be called for. Kacanda does business as Rotto Grotto and these jugs ($200 and $375) are on the shelf at Specter, 700 S. 5th St., which now shares storefront space with Form.
A glowing sphere
Ever heard of a Marimo? Me neither. It's a glob of emerald-green moss that grows naturally in a perfect sphere and can live for 200 years in a cup of water. In Japan these little balls of life are given for auspicious occasions, for luck. You'll find 'em ($12) at Tippecanoe Herbs, 321 W. National Ave., a tiny apothecary that gives me hope about the world's capacity to heal itself. They make a mean Flame Cider, too. My favorite fire cider, in fact.
A Reggie Baylor shower curtain
I stopped in to see the seriously superfly Reggie Baylor and his new Walker's Point space (It made me wistful for that time when I made this thing about one of the best paintings he ever made. That's an Art City pencil in his mouth at the end). At the Reginald Baylor Studio, 211 W. Florida St., I was taken with the limited-edition shower curtains ($125). Seriously, who makes limited edition shower curtains? Reggie does, of course.
Artisanal bitters
Sure, a bottle of bubbly or Bulliet is the bomb, but the gift of bitters might be even better, more unexpected. Milwaukee-based Bittercube slow crafts artisanal bitters, which are available in many area stores and shops. But stop in at Bittercube headquarters, 4828 W Lisbon Ave., where you can sip the goods, gather drink recipes and find some varieties in both one-ounce ($8) and five-ounce ($16) sizes. This holiday season, they're releasing a limited edition Ginger Spiced Cherry Bark Vanilla Bitters.
Handmade cake stands
Jennifer Darner Wolfe creates modern, wheel-thrown pottery for everyday use. This year, the Madison artist, whose business is JD Wolfe Pottery, teamed up with Ben Hansen Woods of Viroqua to create these cake stands ($120) with ceramic bases and wood tops. They can be found at The Waxwing. The little trees on top? Those go for $20.
A custom journal
Bay View Printing Co., 2702 S. Howell Ave., is not only a welcoming place to shop, it's an inclusive space to make things, too. Indeed, why not give the gift of making. Consider a gift card for one of the print shop's "Drink & Ink" events ($30). On Saturday, visitors who buy gift cards may get a tote bags with typography or T-shirt. They'll also be taking orders for custom journals ($24) and stationery sets.
Lovely leather
t's hard to pick just one object to highlight from Permanent Baggage, 914 E. Hamilton St., a bohemian handbag and jewelry company in Milwaukee and one of my favorite places to shop every year. This leather wrap bracelet ($28) will do nicely, though. As a runner-up, check out the set of the embossed leather coasters ($42), which would be nice for rugged-but-design-minded types in your life. Permanent Baggage is hosting a Build-A-Bag event event Saturday, where there will be deals, goodie bags and an invitation to make something from a selection of limited-edition hides.
Carrying Milwaukee under your arm
These Milwaukee Map Clutches ($125) from Tacticle Craftworks have been kicking around for a while and now can be purchased in a number of area shops, though The Waxwing was the first boutique to carry these items, now available in more than 150 shops nationwide. While incredibly handsome, I always thought they were a bit, dare I say it, obvious. Then it occurred to me – and I'm sure many of you are way ahead of me on this– how sage it would look slipped under an arm while visiting another city, like in a bar in LA or brunch spot in Seattle. There's artspeak for this – recontextualization. Anyway, they're even cooler than I realized. I'm not sure this principle applies to their flasks, travel mugs or passport wallets, but they make those, too.
Tea at the Pfister
While this tea may be imported from London, partners Amy Vrabel and Harry Woodd are bringing Brew Tea Co.'s U.S. headquarters to Wauwatosa, according to Renee Bebeau, who is coordinating the fourth annual Pfister Marketplace, a weekend of shopping at the hotel on Dec. 8 and 9. Attracted to the cheery, modern packaging, I ordered up a sampler box ($12.99) and liked what I sipped as much as what I saw. It will be showcased at the event at the Pfister, 424 E. Wisconsin Ave., when hotel rooms are transformed into boutique spaces. Don't worry, Rishi (which is also great for gift giving, especially for showing off Milwaukee to out-of-towners) I will always love you.
Cheery textiles
Madam Chino, 1737 A N. Palmer St., a small, sustainable clothing studio in Milwaukee, makes the most artful things from used textiles. Put another way, she makes art out of tossed-out jeans and sweatshirts. I've been loving Madam since her "Look Nook" first opened in the old Fortress Building. Visit the shop to commission a made-especially-for-your-body item, or check out her booth at Hovercraft, on Dec. 9, probably the most art-centric of the holiday shopping extravaganzas. She makes a lot of Crazy Quilt-esque creations, and this baby quilt ($200) is especially expressive and cheery.
Wildlife decanters
You have to see these ceramic decanters (prices vary), with their wobbly little stoppers and the carefully observed naturalist illustrations of wildlife. The fox, owl and bird's egg illustrations are so exacting and precise. Laura Zindel, a Vermont artist, creates fine pencil drawings that are silkscreened and printed onto the housewares as enamel transfers. They're perched on a shelf in a corner at The Waxwing. They are peculiar, wonderfully so.
Wearable ceramics
I called Janelle Gramling a goddess of ceramics on Instagram the other day. What can I say? I was in a mood, enjoying my shopping sojourns and pleased by what I was discovering. I gravitate toward Gramling's simple geometries and her wearable ceramics. A self-taught fiber and ceramic artist, she is everywhere right now. I saw her work in more boutiques than I can count. The work I liked the best, though – a bold, simple wall sculpture – up at Specter ($800).
Mary Louise Schumacher is the Journal Sentinel's art and architecture critic. Subscribe to her weekly Art City newsletter right here.
View Comments
Tags:
how to install pfister shower faucet