You don't need to break your budget to give your home a makeover. Instead, these easy IKEA hacks will give your place a designer look on a budget.
Never underestimate the power of contact paper and a fresh coat of paint to give old furniture a new look.
Below you'll find 14 projects you'll definitely want to try for yourself:
Boho Coffee Table
@everythingeryn
IKEA COFFEE TABLE HACK! #ikeahack #bohodecor #bohemian #boho #bohohomedecor #ikeahacks #ikeabuckethat #ikeamusthaves #ikeafinds #ikealife #ikeahaul
Why You Need To Try It: Even if you aren't handy at all, you can still make this coffee table that uses a Snidad basket.
Stylish Dresser
@emscourtney
IKEA Hemnes Dresser Hack ✨ Full step-by-step on my YouTube channel, link in bio!
Why You Need To Try It: All it takes are a few simple changes to the Hemnes dresser to make it look like something that costs triple the price.
Marble Table
@lisaherland
IKEA TABLE HACK! #ikeahack #ikeatable #fyp #learnfromme #homediyproject #diyproject
Why You Need To Try It: No one will be able to tell your Docksta table isn't actually made out of expensive marble.
Modern Desk Drawers
@lizlovery
Ikea flip for under $30! #furnitureflip #ikea #ikeahack #diy #diyproject #wfh #homedecor #decorating #homediy #easydiy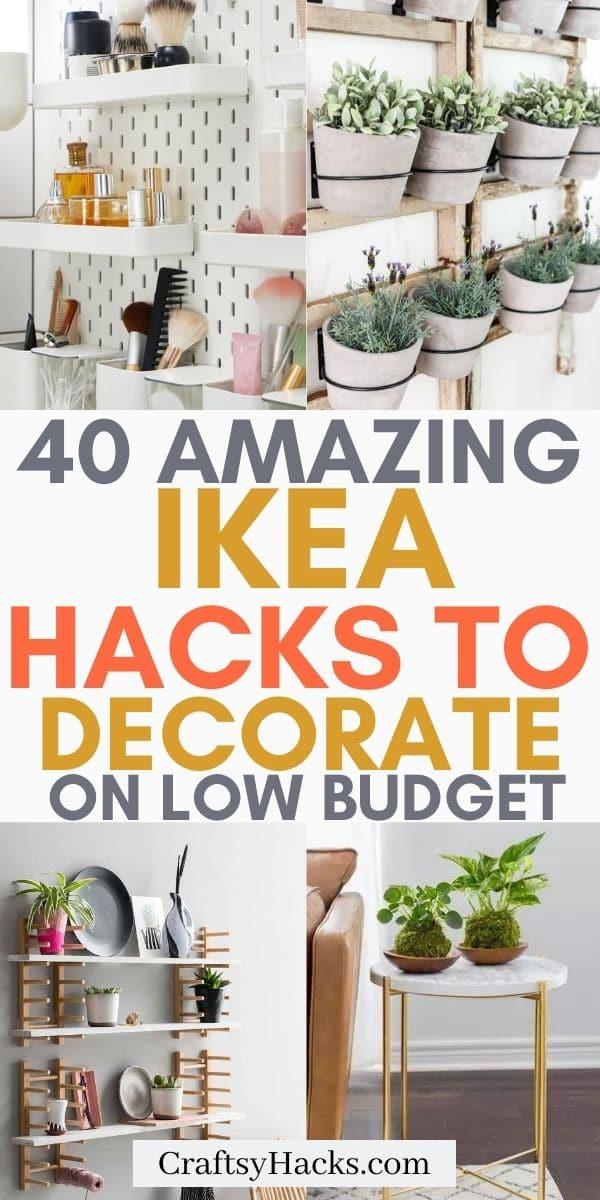 Why You Need To Try It: With just a few pieces of wood, you can give your Alex desk drawers a fresh look.
Sideboard With Burlap Door Accents
@mandy.paulino
I mean... obsessed or what?😍 #IkeaHack #kallax #kallaxhack #homedecor #home #interiordesign #ikea #ikeahacks #Diy #furnitureflip #furnituremakeover
Why You Need To Try It: Do you have an old Kallax bookcase you aren't using? If so, you can transform it into a spectacular cabinet where you can store extra dishes or even board games behind the doors.
Rainbow Doormat
@anna_truth
Hate it when things are sold out 😭 #diy #ikea #ikeahack #art #crafty #doormat #rainbow #tutorial #homedecor #decor #ikeamusthaves #haul
Why You Need To Try It: This cheerful DIY will put a massive smile on your face every time you arrive home. To make it yourself, you'll need to cut and paint the Trampa doormat.
Wood Shoe Cabinet
See on Instagram
Why You Need To Try It: You can give your Hemnes shoe cabinet a fluted wood finish this weekend.
Birch Side Table
@likethecolour
Back with another IKEA hack! #fyp #foryou #ikeahack #decor #home #diy #doityourself #gladomikea #IceCream #ikea
Why You Need To Try It: Are you tired of your boring white Gladom table? You can wrap it in two different types of contact paper to give it some extra colour.
Sideboard
@sovehome
Ikea Hack! #ikeahack #diy #littlethings #homeroutine #diyhome #fyp
Why You Need To Try It: You can repurpose an old Kallax shelf into a chic sideboard for your living room.
Boucle Chair
@lonefoxhome
I've been wanting a boucle chair but they cost upwards of $1000! Here's how I made my own #diy #diyprojects #ikea #ikeahack #furnitureflip
Why You Need To Try It: If you've been dreaming about getting boucle furniture, one affordable solution is to make one using an old Tullsta chair.
Faux Fur Stool
@asiarahimi
🔥Full video on YouTube: asiarahimi #fyp #homedecor #ikea #ikeahacks #vanitymakeup #diy #furniture #ikeadiy #lifehacks #lowbudget
Why You Need To Try It: Your Marius stool will be way more comfortable to sit on with the extra furry fabric.
Hanging Bedside Lamps
@diyswithdani
Ikea hack #fyp #foryou #foryoupage #ikeahack #diy #ikea #diyhack #housedecor #diyswithdani #forthehome
Why You Need To Try It: You can combine the Sandshult bracket, Hemma cord and Brunsta lamp shade into a hanging bedside lamp.
Hollywood Mirror
@sincerelyjaxx
Checkin' your reflection and tellin' your best friend 😉 #tiktoktutorial #diy #diyvanitymirror #foryoupage #bussit #hollywoodglow #ikeahack #vanity
Why You Need To Try It: It only takes minutes to give your Hovet mirror a Hollywood glow-up by adding stick-on light bulbs.
Built-In Bookcases
@mygrandparentschair
Let's make some arches builtins #ikeahack #budgetdiy #diyhome #budgethome #budgethomedecor #builtinbookshelf
Why You Need To Try It: You can give your home a built-in library wall using Billy bookcases.
From Your Site Articles
Tags:
how to install ikea hovet mirror